CHARLOTTE – Derek Anderson and Garrett Gilbert each missed practice Monday, leaving Cam Newton as the only quarterback. That also left the Panthers with a problem. 
They didn't want Newton taking extra reps with the scout team. 
You won't believe what happened next. 
Head coach Ron Rivera: "(Anderson and Gilbert are) both sick and unfortunately a little contagious so we sent them home. We didn't want them to spread anything to anybody." 
Punter Michael Palardy, who as a freshman and sophomore at Florida powerhouse St. Thomas Aquinas High played kicker and quarterback: "I have a little Drew Brees in me. I've got the size, I've got the frame for it. Why not, right?" (Palardy is 5-foot-11, 200 pounds; Brees is 6-0, 209).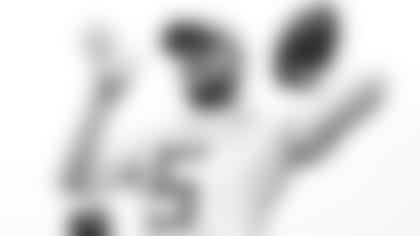 Long snapper JJ Jansen: "He was ready to renegotiate at the quarterback franchise tag level. He had some Gatorade commercials already lined up."
Palardy: "(Assistant quarterbacks coach) Cam Turner came up to me and he was like, 'Hey, are you ready for your time to shine?' … "And I was like, 'Oh, obviously! I'm ready; I'm the guy, let's do it.'" 
Jansen: "Why was I acting as his hype man? Agent gets three percent. That's important to remember."
Palardy: "Ron came over and just solidified it and was like, 'Hey, this is period five. Be ready. This is what we're doing – you've got nine passes.' And I (dropped) the helmet, started doing three-step drops, five-step drops, slinging the thing and I was ready to go. … Then (Rivera) came over and crushed me. Just crushed me."
Rivera: "He was over there warming up and I said, 'Are you kidding?' Kick. That's all we ask. Kick."
Palardy: "I was distraught. It was like somebody ripped my heart out and stepped on it."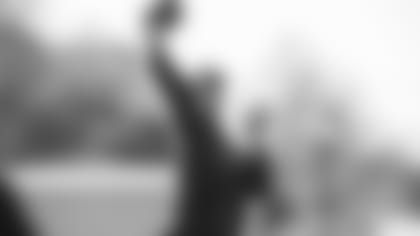 Rivera: "We had to reactivate (former NFL quarterback-turned-quarterbacks coach) Ken Dorsey. He had to play scout team quarterback for us. We figured it was safer than having Palardy do it. We figured Kenny's expendable and Palardy's a little more valuable to have somebody (accidentally) run into."
Safety Kurt Coleman: "(Dorsey) gave us a great look. He's shaking off a little rust, but I'll tell you what – he was slinging it around a little bit. He's got a little juice to him and he commanded the huddle."
Rivera: "His first throw was intercepted, so that was a good thing. I'd hate to see him complete a bunch of balls."
Palardy: "I didn't want to have to go 9-for-9 on passes, though. So the defense lucked out for sure."
(Dorsey was not immediately available for comment on this story.)
View practice photos from the week leading up to the Panthers' game against the Jets.