I hardly hear anything about Brenton Bersin. I have a feeling we won't see him in a Carolina Panthers uniform next season. What are your thoughts about that? – Eli in Charlotte
The Panthers had just four receivers at the end of last season, and Bersin was one of them. This season, when they could start with as many as six receivers on the 53-man roster, many seem to believe Bersin won't be one of them.
That's more of a compliment to the receiving corps than a knock on Bersin. And, by the way, it might be off the mark.
I can't imagine Kelvin Benjamin, rookie Devin Funchess or accomplished return man Ted Ginn, Jr., not making the roster. Jerricho Cotchery is a good route runner and veteran leader, and Corey Brown appears poised for a bigger role following a solid rookie campaign. There simply isn't room for everyone. Stephen Hill has gotten lots of love this offseason, and Jarrett Boykin and Mike Brown are intriguing additions.
There's one thing Bersin has that Hill and the newcomers are still trying to gain – the total trust of the coaches. Bersin has built that year after year and has shown improvement each season. Don't count him out.
What are some position battles going on right now that are too close to call? – Robby in Kannapolis, N.C.
Well, wide receiver is one of them – like it always seems to be. The role for primary backup to Jonathan Stewart at running back should be an interesting one, led by 2014 feel-good story Fozzy Whittaker and 2015 fifth-round draft choice Cameron Artis-Payne. On defense, head coach Ron Rivera would love for one of four candidates – Kony Ealy, Wes Horton, Mario Addison or Frank Alexander – to emerge as the clear starter across from defensive end Charles Johnson. And how the cornerback rotation specific to Bene Benwikere shakes out will be interesting, with the 2014 standout rookie likely to at least start at nickel but also expected to push for a starting role on the outside.
In addition, the battle for the last couple of roster spots should be especially compelling along the offensive line, at linebacker and – of course – at wide receiver.
In the days leading up to the start of training camp at the end of July, Panthers.com will provide a primer for all the battles with our annual position previews.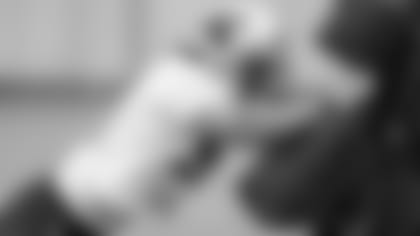 What undrafted rookies do you think have the most legit chance of making the 53-man roster or practice squad? - Dominique in Jacksonville, Fla.
The Panthers got big-time dividends from their undrafted rookie class last year. Wide receiver Corey Brown, guard Andrew Norwell and offensive tackle David Foucault made the initial 53-man roster with Brown and Norwell going on to make major contribution. Four others made the practice squad and three of them - most notably linebacker Adarius Glanton – eventually landed on the 53-man roster.
The task will be tougher for undrafted rookies this season given the depth of talent throughout the roster, but there are candidates – especially for the 10-man practice squad. Many expected Utah linebacker Brian Blechen (pictured above) and James Madison safety Dean Marlowe to be drafted. Clemson cornerback Garry Peters has the makeup of a solid pro but must recover from a hamstring injury to become a factor. South Carolina wide receiver Damiere Byrd has elite speed, and Morningside running back Brandon Wegher – who previously played for Iowa – put up numbers that are hard to ignore. And, of course, there's always a surprise.
What are the dates for the Panthers training camp? – Angie in Chattanooga, Tenn.