The 35-year-old cornerback returned to his roots at Bank of America Stadium to bolster depth at a depleted position after Jaycee Horn sustained a wrist injury against the Lions that required surgery on Tuesday.
Norman, a former Pro Bowler, played his first four seasons at Carolina from 2012-15 and most recently played with the 49ers in 2021 and Bills in 2020 – conference championship seasons for both teams. He forced an NFC-leading seven forced fumbles for San Francisco last year. So there was a lot to discuss during his first open locker room appearance.
Here's the best from Norman's first comments in his second stop with the Panthers: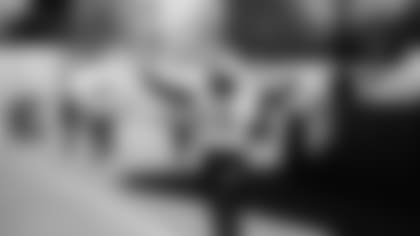 – On what's changed since he was here last:
"The space, like a lot of things – a lot of little things. It's so crazy because every room I have a memory in, like a very elaborate memory. And just even coming through the doors (to the locker room) through the weight room, there was never a middle door there. … The room I was in with the defense, it's still the same, but the memories in there just kept going on and going on. I'm still processing everything for sure."
– On what's behind the number 6:
"Well, two plus four equals six. I think high school, it's one of those things that my family always wore six, even middle school up through high school. Twenty-four chose me when I went to college, and it chose me through the whole entire time I was in the league, just about. Then coming back here, six weeks to the big dance. Just a couple of things just come through your mind, and all these things just add up. So manifestation all is in that number. It's just one of those things that stuck with me along the way."
"Honestly, man, like, I don't think y'all really noticed, but Steve's been ready for this opportunity for a long time. Even when I was here, he had that book – green book – he pulled out, like, 'I'm gonna be ready when my chance comes.' He had everything detailed and notes, and everything (was) set up when we were in the office sitting with him. So I just knew it was going to happen. And he manifested that thing 10 years ago, probably a little bit under that. But just to see it truly happen. He was born here, so it's an extra sting. And I think his story is something for the ages. And I'm sure he will write his tale one day, but it was quite special to see him actually do it. He was in the league with the Cardinals, and then he went to college, then came back, and then it happened just like that. He's the man."
– On if he'd be here if Wilks wasn't the interim coach:
"You know, I can't answer that. I really can't answer that. I can't say if I (would) or if I (wouldn't). Just how it all came about, it's a real-life true story that God has the wheel. I'm just a passenger on this ship. And it's kind of like I said out there. It's like you're in a dream or a movie, but it's actually real, and it's happening. It's like one of those – an out-of-body experience. I'm still trying to process, but you can't make it up. It's one of those trips that just has a great tale to it. Let's just come in, captivate this thing, cap it off with a win and keep on going. Laying those bricks and those foundations to building what this team can become. It's that mindset; it's that mantra of who we are – that 'keep pounding' mentality (from) when I was here. (We've) got to get that on this field, and I'm sure the guys here got that; we've just got to carry it on. Guys like myself who were in that whole time when 'Keep Pounding' was a thing, when it was really like the mantra that stuck with us, who you went out there on the field, you can feel it from each other. And they have it – just bringing it out a little bit more. We're looking forward to this week. That's the plan."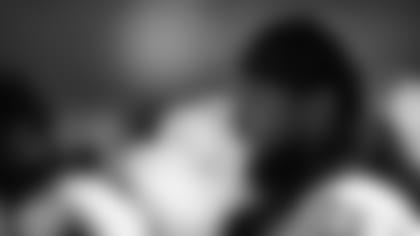 – On Tampa Bay receivers Julio Jones and Mike Evans:
"The skill has always been there. It has never been a problem with skill set. Those guys, obviously, are at the top of their game – still today. Nothing's going to change that. Their numbers are in the record books just because of who they are. Those guys know me. I know them. And you know, (we'll) see what happens on Sunday, right? So we're going to have some fun.
– On what he's been doing since the 49ers' season ended last year:
"I wasn't ever hoping (that a team would call). It was just the fact that I was just working. I was in a coffee shop (in Atlanta) working. It was pretty cool too. I was a barista, but that's a whole other story for another day. This part was, for me, it was just exciting because I knew it was only a matter of time. … This came up, and like I said, I couldn't even write the script even better from what it is. You've got an opportunity here to do something great. All that time, I was sitting down and just reflecting on all of it. And when the time came, yeah, just going to be ready."
– On if he was waiting for a team to need him for a playoff run:
"It's more so just, you know, biding my time and literally looking at it from the scope of, whenever a situation happens – I never know. That's all in God's will, it really is. ... I just was going to be ready whenever the time did come because I already knew I had it. And what we have in it is something that's quite special, unique, that only I know how to do in a sense. Whenever it is a situation where I can come in and help, I'm going to be about that. Because what we do when we get out there, we're a turnover machine. That's just how we are. It's how we operate mindset-wise and just being physical at the point of attack. That's the mindset and DNA we've always had ever since Wilks instilled that into us, so that wasn't going to ever change. It's just a matter of time when it was going to happen."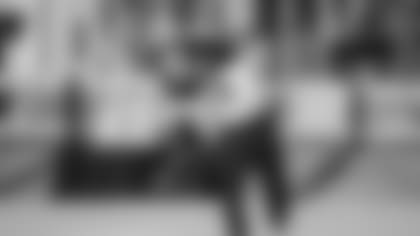 – On what it would mean to win the NFC South:
"Well, the plot would just be a little bit thicker, now wouldn't it? I think that it would mean everything because you look at the guys that came with me and before me – Julius (Peppers), Dan Morgan, like all those guys, and even like Luke Kuechly, Charles Johnson, Roman Harper, Kirk Coleman, Peanut (Charles Tillman), all those guys. You can't really write a script like that. But I carry all that with me, too, in a sense, because all those guys played here. And they were a part of that championship, so you know what it feels like not to win it. And so if we get an opportunity, you know, we're going to do everything we can to get us to the point, that's for sure."
– On playing against Tom Brady:
"He's the greatest player at that position. I think it's going to be cool. I got tons of respect for that guy. He knows that. We're good friends. So I'm looking forward to it. And I'm sure he will be too. A lot on the line, a lot at stake. So we're going to have fun, that's for sure."
View photos from Wednesday's practice as the Panthers get ready to travel to Tampa Bay this weekend.