EAST RUTHERFORD, N.J. – Bryce Young kept it cool in his second game as a Panther. And though the result wasn't so flashy, the offense did show improvement.
A Young-led offense against the Giants converted five first downs, made it into the red zone, and led a lengthy scoring drive for a field goal.
Though he only played in two series, Young recorded 17 plays and led the offense through the second quarter. Young's numbers were similar to his first outing, as he went 3-of-6 passing for 35 yards, no interceptions, no touchdowns, and a 7-yard sack.
Young's first drive against the Giants got off to a clunky start. New York defensive lineman Dexter Lawrence II was called for a neutral zone infraction on first down, setting up for a first-and-5. Young held onto the ball in the ensuing play, gaining 1 yard on a scramble, and handed it off to running back Chuba Hubbard (once again starting in place of Miles Sanders while he recovers from a groin injury) for 1 yard on the next.
Faced with third-and-3, Young tossed a short pass toward fellow rookie Jonathan Mingo. While the ball was well-placed, Mingo missed the catch after appearing to slow down on his route – ending the first drive in a three-and-out.
Young and Mingo's connection improved on the game's second series, as Young threw a completion to Mingo for 15 yards – his longest connection of the night. He recorded a second-straight first down through the air, hitting Adam Thielen for 7 yards on third-and-6.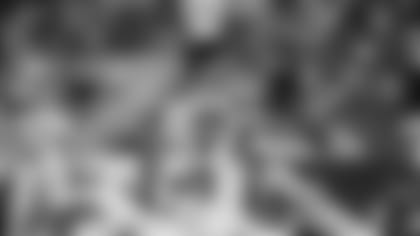 Young failed to convert a third down near midfield later in the drive, but when Lawrence was called for roughing for pushing Young's head late in the play, the Panthers' offense set up at the New York 26-yard line.
The Panthers continued to drive into the red zone off Hubbard runs, reaching the New York 10-yard line before Kayvon Thibodeaux sacked Young for a loss of 7 yards. Thibodeaux blazed past left tackle Ikem Ekwonu on the play.
Back-to-back delay of game and holding penalties created a third-and-31 situation, which Young's 13-yard connection with DJ Chark Jr. couldn't make up for. Fill-in kicker Matthew Wright kicked the 37-yard field goal to cap off the 15-play, 62-yard drive that went 10 minutes and 21 seconds.
Young played against the same five offensive linemen throughout his two series – a switch-up from last week's revolving door at right guard. Rookie guard Chandler Zavala, who wasn't active in the first preseason game as he recovered from a hamstring injury, anchored the right guard spot in both series, though he was called for the late holding penalty.
Young lasted for three series in the preseason opener against the Jets and completed 4 of his 6 passes for 21 yards.
Check out scenes from the Panthers' second preseason game against the New York Giants.