CHARLOTTE – Like all of us who grew up playing Madden, a young Christian McCaffrey used to create himself in the game and boost his attributes for a 99 rating.
Well, no need to do that anymore.
The Madden adjustors officially awarded McCaffrey with a 99 in Madden 20. Last week against Atlanta, the Panthers' star running back became the first player in NFL history to rush for at least 1,000 yards and have at least 500 receiving yards in the first 10 games of a season.
"This means a lot. It's really cool. I played Madden my whole life," McCaffrey said after receiving the commemorative 99 trophy following Thursday's practice. "Getting a 99, to be in that company means a lot. It's definitely very humbling."
Here are some facts from EA to put the accomplishment in perspective:
Barry Sanders, Marshall Faulk, LaDainian Tomlinson, Chris Johnson and Adrian Peterson, are the only running backs who ever had a 99 rating
McCaffrey is the youngest RB to get to 99
McCaffrey, who is 23, is the youngest 99 in the game
What makes it even cooler is the fact that McCaffrey's former college teammate at Stanford – actually the running back behind him on the depth chart – works for Electronic Arts as a Madden ratings adjustor (among other things) and was part of the team that boosted McCaffrey to a 99.
Barry J. Sanders, son of the Hall of Fame running back, started working for EA after he finished his college career at Oklahoma State. Sanders transferred there from Stanford for his final season of eligibility.
He traveled to Charlotte for Sunday's game against the Falcons and informed McCaffrey that he was on "99 watch." It also gave them a chance to catch up.
"Yeah, that's wild," McCaffrey said. "Barry J. – he's a good dude. Now he's helping me out here."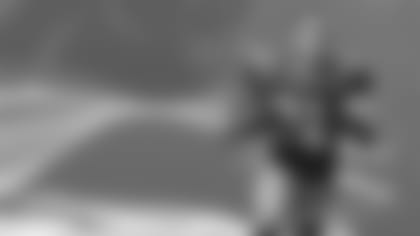 Sanders said everyone in the Stanford program knew McCaffrey was different at the onset.
"He came in ready to play," Sanders recalled. "(Current Jets RB) Ty Montgomery was our guy when Christian got there. Montgomery was all purpose – receiver, running back, returner. But Ty got hurt one game and Coach (David) Shaw told the team he was going to put Christian in that role. And he just kept making plays."
As the son of a legendary running back, Sanders knows a special ball-carrier when he sees one.
"People say my father is great in space," Sanders said, "but Christian is the best player in space that I've ever watched live… I knew he was MVP caliber."