Around the world people are housebound due to strict social distancing guidelines to combat COVID-19. With no live sports, no new movies and limited activities available, streaming has become more important than ever. As a result, streaming guides have seen a lot of traffic, too, as everyone searches for the next bit of content to help pass the time.
Here are some shows and movies keeping Panthers entertained during their quarantines.
"I've been watching a couple things, but the main thing has been 'Martin.' I've got all the discs, all the seasons, I've been rewatching that. I watched 'Tiger King' and that was kind of crazy, I ain't going to lie. I binge watch a lot of stuff. I watch anime, too, so like 'Naruto' to 'Hunter x Hunter,' all kinds of things. I've got Disney+, so I've been watching all the old cartoons, like 'The Amazing Spider-Man.'"
"I've been watching 'Ozark' a lot. I just started to pick back up on it about a week ago. There's a new season out, and that's kind of what prompted me to start watching again, but I'm still on season two just finishing up. It's a really good show. I need to get through it before it's spoiled all over online. I watched all of 'Tiger King,' too, and that was definitely a crazy documentary."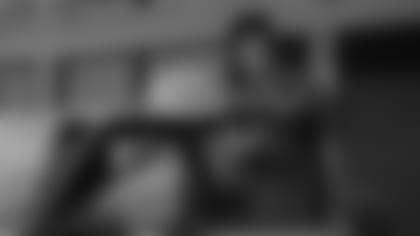 "First off, 'The Office,' is one of the best shows of all time. I'm rewatching it all, because it's some very comforting TV in a time like this. It's something that I have familiarity with, and something that I know is going to make me laugh. In times like this, sometimes they say laughter is the best medicine. I'm a pretty goofy person, I don't really take much too seriously, so 'The Office' is great. 'Tiger King' and Joe Exotic, though, it's a different type of funny. I used to watch Animal Planet a lot growing up. I liked big cats, so that's really why I tuned into it. I think it came at a great time because it gives a lot of people something to talk about on social media."
"No particular show but the wife and I keep it on the BabyFirst network. As long as we can keep the baby entertained, we're good as parents."
"I'm sure everybody's seen 'Tiger King' by now, because I was a little late to the party. It's crazy. There's so much stuff to watch, but I started back watching 'Prison Break' again. I thought it was a hell of a show, so I decided to watch it again since I've got so much time on my hands. I started three days ago and I think I'm on season three now."