CHARLOTTE – Of course Cam Newton and Antonio Brown respect each other's game. They're two of the best players in the NFL.
But their friendship really took hold as a result of mutual admiration for their workout habits. And their drip.
Scan any of Newton's recent Instagram posts and you'll find comments from Brown applauding the Panthers quarterback's style. Newton has also popped up in Brown's comment section. After Carolina and Pittsburgh squared off in the preseason finale, Brown went so far as to call Newton "drip king" in an Instagram post.
"There are a lot of people applying pressure for the Sauce God in the NFL," Newton joked. "I'm just happy to be in contention."
Newton considers Brown to be one of the most stylish NFL players, and he loves seeing other stars around the league take risks with their fashion choices.
Shots of players arriving and strutting their stuff in carefully chosen ensembles on game day have become some of the most widely shared images. That certainly could be the case when Newton and the Panthers visit Brown and the Steelers on Thursday Night Football.
"Let me tell you this – people don't realize football players have just as much style as other (athletes)," Newton said. "At worst, we only get 16 opportunities to show. NBA has 82, plus playoffs. Any time you get an opportunity to kind of show what you can do, you want to put extra emphasis on it.
"Not saying going out and wearing an orange suit that favors Lloyd from 'Dumb and Dumber,'" said Newton, referencing his attire last Sunday, "but if you can pull it off, pull it off, you know what I mean?"
Brown, like Newton, has pulled off some memorable looks. It's no coincidence both players have been featured in spreads for GQ magazine.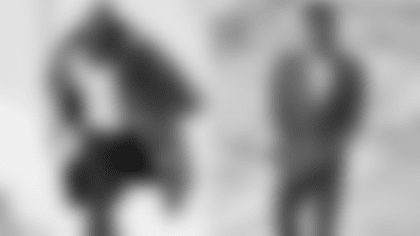 They share a common interest in fashion, but it's their offseason work ethic that initially got them talking.
"To be honest with you, I just reached out to him and a couple other players this past offseason," Newton said. "I'm always trying to find different wrinkles to implement in my own game.
"I told him, 'I want to come work out with you and I want to document it.'"
So Newton flew to Miami to link up with Brown. And then they got to work.
"He's literally like a nocturnal beast," Newton said of Brown. "I thought I was bad. We had late workouts, talking 10 p.m.-ish. Whenever he feels the urge to work, he works, and I respect it.
"He looks down on people – as any competitor would – if your workout mentality isn't up to his standards. He refused to have people around that don't push him.
"It's no wonder why he is who he is. His work ethic is superior and it shows on Sundays."
Newton said he was in awe of Brown's drive. The Steelers wide receiver is arguably the best player at his position. He's posted more than 100 catches five straight seasons and he's led the league in receiving yards twice. But he still works like he's an overlooked sixth-round draft choice from Central Michigan.
"He still goes like he has something to prove," Newton said. "I got even more respect for him spending those couple of days with him and his family and seeing how he works and grinds.
"I told him, 'Man, I'm a fan.'"
Brown would surely say the same.
"We all are fans of each other," Newton said. "I know on Sundays we try to rip each other's heads off and try to show this macho side of us, but it's kind of cool to have other people's respect."