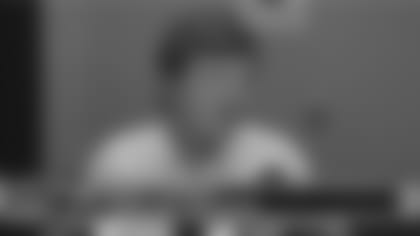 ](http://www.panthers.com/media-vault/videos/hurney-meets-the-press/470c90fe-5f8d-48fb-9d84-34f5fe29cf2c)
Click above to watch general manager Marty Hurney answer questions on Thursday.
---
On what he thinks will happen in the next week: Again, it's just processes. We franchised him, and it's no different than other players who've been franchised. It's part of the franchise process with the non-exclusive tag. When we franchised Julius, we franchised him with the intention of having him back, and that's where it stands.
On whether he has confidence Peppers will come back: Yes … We've known Julius for seven years and it's been a good seven years. I think he knows how we feel, and we feel like he's been happy here, and, again, nothing's changed. We franchised him and when we franchised him, we knew there was a period for the process to take place. When that process goes through, then he's going to be back.
On whether there have been offers from other teams: We haven't had any involvement in anything.
On whether there is cause for concern: I think you go by your conversations with the player and what you know of the player. Again, this is all part of the process. Really, nothing has changed. We've said all along that we franchised him with the intent of Julius being back. Really, that's where it stands … The process is the process, where you can get an offer sheet from a team. Again, our stance hasn't changed.
On Jake Delhomme: Jake's our starting quarterback and everybody knows how much we value him. We have conversations with a lot of players and their agents (about contract renegotiations), and that's no different. Obviously we want Jake to be here for the long term … I never get into any individual contract stuff (with the media), but you just have conversations. You can't put a timetable on anything, really.
On what is 'long-term' with Delhomme: I don't know. There are a lot of quarterbacks in that age range, and you have to look at each case individually. Jake is young for his age as far as how many years he's played and his physical condition. Again, I don't really get into stuff like that much (publicly). We value Jake, and obviously if something can be worked out, we would like it to.
On looking back at the Arizona loss in January: As a team, we were frustrated, certainly. None of us were happy with the result. It's a game that we didn't play as well as we'd hoped as a team.
On whether Delhomme can get the team to the Super Bowl and win it: Jake's won a lot of games for us. His record (54-32 as a Panthers starter) speaks for itself. Whether it's a cliché or not, you judge a quarterback by wins, and his win record speaks for itself.
On whether this draft has to provide the defensive equivalent of what the offense received from last year's draft: Not necessarily. If you look at it, probably our greatest loss as far as offseason departures was depth on the offensive line. We did release Ken Lucas, who was a starter, but we've always felt like Richard Marshall has had the ability to start - and really, we've kind of regarded him as a starter as a second-round pick. I think you look at it just like we have every other draft - that you just go into it and try to get good players. Whether it's offense or defense, you try to get the best players there. We've had success doing that in recent years, and it pays off taking that approach.
On whether not picking until the 59th selection alters the scouting process: Not at all. It's harder right now to figure out who might be available at that pick. Again, the philosophy when you go into the draft is that you always try to cover every scenario. You do the same thing; you stack the board from top to bottom. Last year, going into the draft at this time, we didn't know that we were going to have an extra first-round pick. You always prepare the same way; where it gets difficult is trying to figure out which players might be available at 59. It's a little harder, but when you're in the first round, it's hard, too. You just let things play out. I've said it a lot, but I think one of the keys to being successful going into the draft is being flexible and open-minded. You just prepare for every scenario.
On whether there's a chance that the first pick does not come at No. 59: There's always a chance of anything. That's what I mean by being open-minded. You just don't know. At this time last year before the draft, I couldn't have told you that we were going to have two first-rounders. You're always looking to do things in the draft. That's part of the fun of it and part of the challenge of it. You're always trying to look at how you can make yourself better. There are some years you don't move at all; other years you move more. It's just going in being prepared, open-minded and flexible.
On areas of need: We're set up where we have several areas where we can help ourselves, and then it depends where the board stacks up and what players are there. In the past, we've taken players fairly high, where you can argue we didn't have an immediate need there. I think it helps you long term. But obviously there are several areas you'd like to help, where you're always going to try to focus. We're always going to keep our offensive and defensive lines strong; I think that's part of our philosophy.
On whether he was surprised that unrestricted free-agent offensive linemen Frank Omiyale and Geoff Hangartner were signed as quickly as they were: No. Our depth on the offensive line was a big reason for our success last year. Geoff and Frank were very good players. I don't think we were surprised at all, no.
On whether it has been hard to be so quiet in free agency: No. When we started this in 2002, our whole philosophy was to build through the draft and keep your core players. Really, I think that philosophy is working as well as it has. I think we have helped ourselves in drafts. We have a young nucleus. This is really the way you want to do it. I don't think this is unusual. There are a lot of teams that I regard as successful that have followed the same approach and aren't very active in free agency. We've kept our nucleus together. We have a lot of starters back from last year. We have some young players that can help our depth. We feel good about the makeup of our team and we hope to help ourselves in the draft next Saturday.
On acquiring JJ Jansen from Green Bay: The trade (for) J.J. Jansen doesn't prohibit us from doing anything. But we like J.J.; he's a good, young talent as a snapper. You just go in terms of what the situation is today. We made a trade of a conditional pick to get a good young snapper who was going to be Green Bay's long snapper. It's just part of the competition.
On this year's draft: Obviously, I think wide receiver is going to be an extremely deep position. There'll be a high number of players drafted in the first two rounds at that (position). It's a draft where there's good players positioned throughout. There are several positions that have some depth to them, but wide receiver would probably be the deepest.
On the other positions with depth: Defensive line, the secondary, there are some very good linebackers up top. There are very good players positioned throughout the draft. At this time of year, this is a subjective process. Every team has that same feeling - where they like certain players throughout the draft. You just see how it works out.
On the 59th pick: At 59, it's hard to figure out what happens. Every draft is different. I think that we feel confident there will be a good player at 59, but it's very hard to determine what that is. You don't look at it in terms of positions; you look at it as trying to get the best player.
On whether you can find a starter at the 59th pick: You sure hope so, but we have a large number of our starters coming back. We really feel like we can get a good player there, somebody who can help our team. In what role that is - you find out through competition.
I think at any position, if the right player's there, you look at them. I feel like we have some good young receivers. Again, it comes down to who's there rather than what position - in any round.
On how high Jeff Otah would go if he were in this draft: That's hard to say. I think he'd go high. But it's hard to compare drafts year-to-year.
On how Jason Carter and Ryne Robinson are faring in their rehabilitation processes: I think they're doing well. They've been working out here and they're coming along fine.
On whether defenders recovering from injury will be on the field at minicamp: I can't tell you that right now. Obviously we're focused on the draft, then when we get focused on mini-camp, we'll get to that.
On whether the rehabilitating defensive players are up in the air for training camp: I don't believe so, but again, it's early.
On whether the draft board is set: Yeah, pretty much. You fine-tune it. This is the time where you go back and start questioning a lot of things. Every year is the same. It's like a roller-coaster, and then you get a little closer to the draft, and by Saturday you have a real good idea what you're going to do in those situations.