With the two new defensive tackles and Greg Hardy getting attention, is Charles Johnson poised to have a breakout season under the radar? – Joel in Boiling Springs, S.C.
I believe Johnson had a breakout season two years ago, yet he remains under the radar when it comes to national recognition. I said so much in this article on NFL.com, where I broke down the five most underrated Panthers of all time. Johnson is a soft-spoken sort, especially when compared to the never-shy Hardy, but he has the potential to put together a season that screams Pro Bowl. For that to happen, Johnson must be consistent, and the team must enjoy consistent success right along with him.
Johnson racked up a career-high 12.5 sacks last season despite not recording any in 10 games. That's understandable given that favorable matchups can lead to multiple sacks in a game while difficult matchups can lead to sack shutouts. Johnson has shown the ability, however, to get to the quarterback regardless of the matchup, as evidenced by the stretch late in the 2010 and early in the 2011 seasons in which he recorded at least one sack in 13 of 15 games.
Sacks can be random, with a great rush sometimes yielding nothing on one play and then a quarterback virtually landing in a defender's lap on the next. Johnson can play at a Pro Bowl level regardless of his numbers, and if he keeps up the effort he's put forth since becoming a starter, everything else should eventually take care of itself.
First off, great piece on the NFL top 100. Great read all around. My question is, are there any rumblings about getting all four linebackers on the field at once? – Eddie in Fort Bragg, N.C.
Thanks for the kind words. The short answer to your question is no, at least not in the traditional sense that you see in a base 3-4 defense. The Panthers plan to continue mixing in a 3-4 look to keep offenses off-balance, but when they've done so in the past, they've tended to use a defensive end as the fourth "linebacker." I could see a fourth linebacker on the field in a passing situation, but he likely would be employed as more of a fifth defensive back than fourth linebacker.
It also isn't set in stone who the fourth linebacker will be. When healthy, Jon Beason, Thomas Davis and Luke Kuechly are the starters. Head coach Ron Rivera was impressed by the versatility of veteran Chase Blackburn and rookie A.J. Klein during offseason training, and returning linebacker Jordan Senn has already proven his ability to fit in where needed.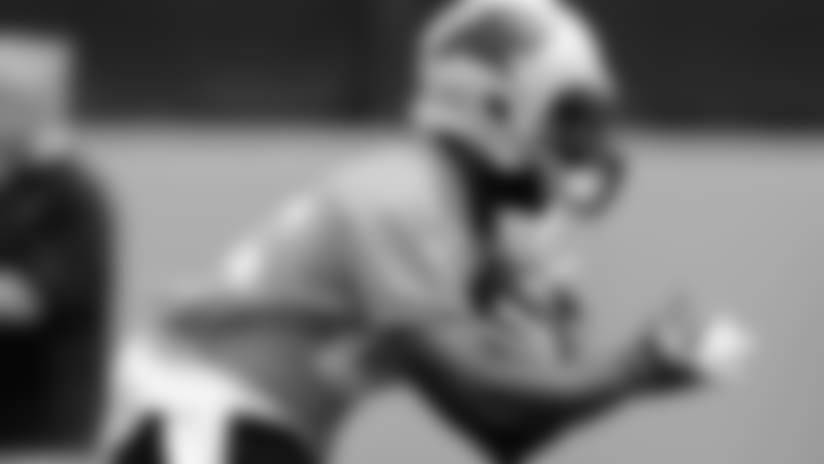 I'm thinking about drafting Kenjon Barner late in fantasy this year as a deep sleeper. Are they going to use him in the read option game more than people think? – Danny in Long Island, N.Y.
It's never too early to talk fantasy football – as I'll do even more when my fantasy column gets rolling again soon - but it may be too early to bank on Barner as a fantasy performer.
I love Barner's game and potential, and I could see a scenario where he proves to be such a weapon that the Panthers are compelled to get him on the field. But the success of fantasy players often is more a case of opportunity than ability, and he's joining a loaded backfield. DeAngelo Williams and Jonathan Stewart rank first and second in team history in rushing yards, and Mike Tolbert isn't called a "touchdown vulture" in fantasy football circles for nothing. And by the way, quarterback Cam Newton led the Panthers in rushing last season.
If you are in a very deep league and want to take a flyer on a player that could hit big but that you don't have to depend on for fantasy success, I like the idea of targeting Barner. I just wouldn't take him in a situation where you're counting on him producing as a rookie.
I would love to go Panthers training camp and see Cam Newton. What's the schedule for this season? – Shiori in Orlando, Fla.
Ask and you shall receive. We actually just posted a detailed schedule on Panthers.com. Any day is a great day to check out the action, but the first day is always a fun one, with the plenty of events scheduled around practice on Wofford's home field.
Is the 2013 Fan Fest free? If not, what are the prices? – David in Atlanta
You a Falcons fan? If so, there is a charge.
Just kidding, of course. The annual event, scheduled for Saturday, Aug. 3, at Bank of America Stadium will again be free of charge. It's always an awesome opportunity to see the Panthers in action, in their home environment.
Further details for this year's event are still to come. Stay tuned to Panthers.com for updates in the coming weeks.