CHARLOTTE – There's never room on an NFL roster for five specialists, but there is room across the league for the five that spent the offseason with the Panthers.
And all parties have to be happy about how things turned out even after parting company.
Incumbent kicker Graham Gano and upstart punter Michael Palardy won closely contested competitions and stayed in Carolina along with longtime long snapper JJ Jansen.
The trio is the better for the preseason presence of veteran punter Andy Lee – signed by the Cardinals shortly after his release - and rookie kicker Harrison Butker, who was signed off the Panthers' practice squad earlier this week onto the Chiefs' 53-man roster.
"I told anybody who wanted to hear it back then that we had four really good kickers, and through three weeks now, everyone has a job and is performing," said Jansen, in his ninth season with the Panthers. "We knew whoever we ended up with was going to be really good, and obviously Mike and Graham have done exceedingly well. I know Andy will do a great job in Arizona, and I think Harrison has a long career in front of him starting in Kansas City.
"I'm awfully proud of the way they handled really the last six months. Obviously, everyone points to the first three games, but I'm really proud of how they've handled the last six months because that's a tough spot to be in."
The tough spot for the individuals involved helped put the Panthers' kicking units in a good spot. Gano is 8-for-8 on field goals so far, one of just two kickers to make at least that many without a miss.
"I feel really good about how the way I'm hitting the ball," Gano said. "I'm feeling healthy, which is definitely helpful after I struggled with the foot injury last season.
"Competition brings out the best in everybody, and that's what Coach Rivera was looking for throughout the offseason. It was fun. I'm very excited whenever I get to compete with somebody, and I thought it went well. I told Harrison that he made me a better kicker, and he told me the same thing."
While Butker will make his regular season debut on Monday Night Football, Palardy and Lee have been at it since Week 1. Numbers don't tell the whole story for punters - particularly through just three games - but the two have similar stats much like in the preseason. Most impressively for Palardy – with a little help from his friends – his net average of 40.8 and gross average of 44.4 means that opponents aren't getting much of anything in the return game.
"Hopefully we don't get too many opportunities – hopefully we're scoring more than we're punting – but from a punting standpoint we've done pretty well so far," Palardy said. "For me, I always want to try to perform like I have somebody coming in who is trying to take my spot. If you have that outlook, I think it motivates you a little bit more each and every day.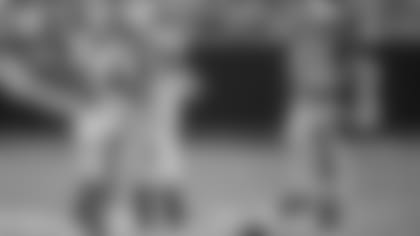 "I want to be able to put the team in great position to win football games – that's my job. Part of that is doing my job when it comes to holding for field goals for Graham so that he can execute and do his job. We're all in it together."
Togetherness matters for specialists, and this group began to form its bond over the second half of the 2016 season. While Gano and Jansen have been paired together since midway through the 2012 season, Palardy didn't really come into the picture until last November. He did spend two months in the spring with Carolina in 2016, but got his real break when the Panthers brought him back to replace an injured Lee for the final seven games of the season.
"This combination had the opportunity to work the last seven games last year, and I think that time together helped," Jansen said. "Mike was able to learn my idiosyncrasies, and that's really helpful between snapper and holder/punter. He has learned how my ball travels, and I learn how he likes to receive it. I want to put Mike in a position where he's in position to set up Graham well.
"I'm not surprised by how anyone has performed."
View photos from the Panthers' week of practice leading up to their game against the Patriots.