CHARLOTTE – It's safe to say Luke Kuechly left his mark on Charlotte.
Just drive by The Brickyard in South End and you'll see for yourself. The former linebacker has been immortalized in a stunning mural.
"Everyone in the city has always been so appreciative and supportive," Kuechly said. "Nothing really says that more than somebody doing something like that. It takes a lot of time, a lot of effort and a lot of thought. This is really unique."
In eight seasons with the Panthers, Kuechly put together one of the most decorated resumes in franchise history, and along the way, he cemented himself as an all-time fan favorite. That's why football fans across the Carolinas were so shocked and saddened by the linebacker's surprise retirement last month.
Muralist Matt Moore was among those trying to come to terms with how the Panthers would look without their star linebacker on the field.
"As a Panther fan, it's definitely a bit of a blow. I think he's been if not the most, one of the most exciting things to watch over the last eight years," Moore said. "As a fan, I hated it, but personally, it was kind of like, way to go dude. I'm stoked for him to be able to go fishing and do whatever he wants to do."
Unlike other fans, though, Moore's profession gave him a larger platform where he could share his appreciation for Kuechly's time with the Panthers. In the shadows of Bank of America Stadium lies The Brickyard, a bar and live music joint, and now, thanks to Moore and his partner Matt Hooker, Kuechly is part of the establishment's identity.
Anthony Cardone, the owner of the bar, had previously reached out to Moore and Hooker about painting some sort of Panther-themed mural in the parking lot of his bar. The duo toyed with a few different ideas, but couldn't decide which direction to pursue. Then came Kuechly's announcement.
"The day Luke retired, Matt called me up and said, 'I got something that's going to be good,'" Cardone explained. "When he showed me the mockup of it, I was blown away."
Over the course of a week, Moore and Hooker completely transformed the wall. Now, stretched across the exterior of The Brickyard, is Kuechly's face – half human, half panther.
"I really wanted to showcase his power, his intensity, his animalistic side," Moore said. "I think it's really cool that he started and ended as a Panther. You can't say that about everybody."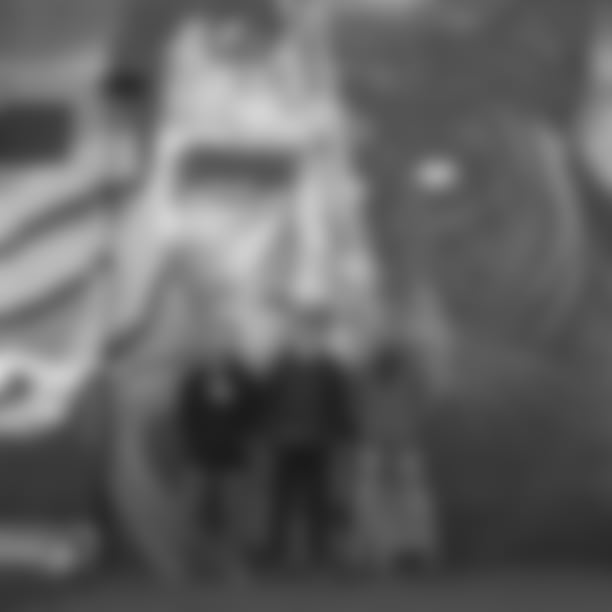 When it came down to deciding how they wanted to represent Kuechly, Moore and Hooker were debating between an action shot and a head shot. Ultimately, they chose the latter, and the decision ended up being simpler than they thought.
"Every woman in the city would have revolted if we'd covered his face up," Hooker joked.
Moore added: "He's the most handsome football player of all time, so we've got to paint that jawline."
Whether it's the chiseled jawline or the ridiculously realistic painting, fans have been flocking to the mural all week to snap pictures.
Kuechly got a chance to see it right before completion.
"It's, like, perfect. And it's all spray paint! That's the amazing part," Kuechly said. "I had no idea they were doing it. I showed up when it was 99 percent done. Matt wanted to show it to me. It's so well done."
The mural isn't the only tribute to Kuechly's career in Carolina, though. Moore and Hooker partnered with Charlotte photographers and videographers Uncle Jut and Matt Spivey to produce a video documenting the creation of the mural and thanking Kuechly for his dedication to the Panthers. On Sunday, the group offered an open invitation for Panther fans to come and be a part of the video thanking the linebacker.
"We set up a bunch of cameras and mics the other day and we had Panther fans come out in all their Luke gear and everybody just said thank you to Luke, told their favorite moment, shouted 'Luuuuke' for the camera," Moore explained. "Here's 30 people out in the parking lot, everybody's having a good time pouring their heart out to Luke, and then he walked up. It's hard to describe what a moment like that is like, it's almost surreal."
Kuechly said the weeks that followed his retirement announcement have "gone as well as it could have."
"People have stopped me at the grocery store when I've been running errands just to say how much they enjoyed having me in Charlotte and watching me play on the team," he said. "Other guys in the league have reached out. It's cool, because you try to do your best and hope that people appreciate it. That's what you go for."
Even though Kuechly may not be suiting up for the Panthers anymore, Cardone guaranteed No. 59 will be a permanent addition to The Brickyard – at least as long as he's in charge.
Moore said he hopes the tribute to Kuechly will do more than just show support for one of the all-time greats, but show support for the Panthers and Charlotte as a whole.
"I think it's the perfect time to remind the organization that the city is behind it," Moore said, "and remind the city that we've got the best football team in the league and we should be proud of it."
View photos of the new mural of Luke Kuechly and a Carolina Panther at Brickyard in the South End area of Charlotte.