On average, I take about 2,000 photos a game. Of those, maybe 200 get edited. Game after game, season after season, a lot of the photos begin to look the same, making difficult this question at the end of each year: "What are your favorite photos?"
Very rarely are my favorite photos of peak action or big plays. As I have mentioned before in this series, my favorites are almost always of moments that show emotion and connection.
As I went through photos from the 2017 season, I found it difficult to narrow it down to 10.  Despite the repetition, there are always photos that stick out in my mind, or that I find myself lingering on when I go through that game folder. Without further ado, in no particular order, here are my favorite photos from the past season.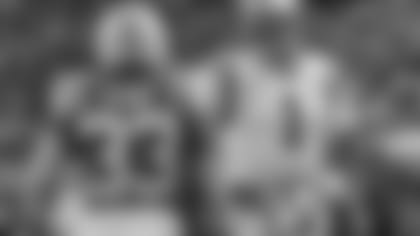 This is one of my three favorites of the year. I love Cam Newton's towering defiant stance and "just-try-to-stop-me" facial expression towards Jets safety Jamal Adams after successfully making his way into the end zone. Newton's audacity, and his willingness to display it on the field, is one thing I will never tire of shooting. I will take photos of it all day. I love it. It is one of the reasons he is the most fun player to shoot in the NFL (which is not only my opinion, but also the opinion of several photographers who cover Panthers games from time to time).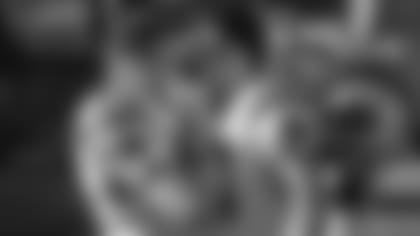 Sometimes celebration photos can be subtle and not over-the-top. After kicking a game-winning field goal against the Patriots, on their turf, there was a quick but touching moment between long snapper J.J. Jansen and kicker Graham Gano. They were walking off the field after the game, and Jansen came up to Gano and grabbed his hand with a raw, energetic happiness. For a second they shared a celebratory embrace that, to me, not only signified their bond as teammates, but as real-life friends.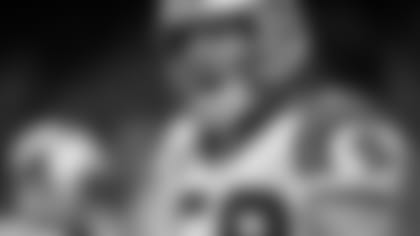 Everyone knows that linebacker Luke Kuechly is the nicest person in the world. It is a fact. However, when he steps onto the field, he taps into his game mode and is a different person. That is also a fact. I find that when Kuechly is in game mode, he gives me some of the best photo opportunities because his level of intensity is unmatched. Case in point, this photo of him getting fired up during the regular season game against the Saints in New Orleans. That was a tough loss so there was plenty to be fired up about, but seeing Kuechly's face, one that is normally quick to smile, morph into that of a defensive beast is something to behold.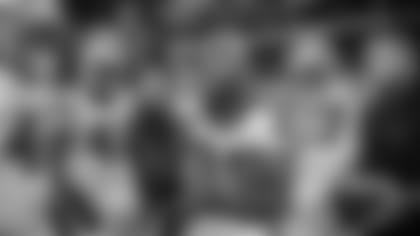 Speaking of intensity, one thing I made sure to always be in place to photograph was the pregame pep talk among the defensive back group, often led by Kurt Coleman or Mike Adams. Here it's Adams in the center with an injured Coleman and younger defensive backs huddled around intently listening. At the end of the speech there was always a call and response, at which point the energy got revved up before joining raised hands in the huddle and breaking. I loved seeing the energy and brotherhood in that group, as well as the teaching moments between the veterans and the guys who are still learning.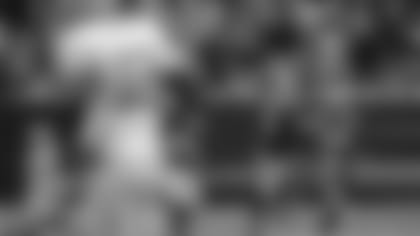 One of those young defensive backs, cornerback James Bradberry, made a play that helped me make my favorite action shot of the season. I wrote about this back in December, but this stands out because of how well it tells the story of an entire game in a single image.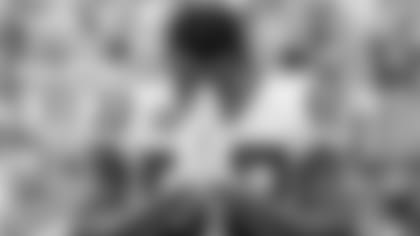 This image is one of my favorite of linebacker Thomas Davis since I've been with the Panthers. It was taken during the home game against the Saints. It was the Sunday in which several players had planned to kneel or show a sign of solidarity during the playing of the National Anthem. Normally Davis places his hand over his heart and sings along with the anthem, but that day he placed his hands in bright white gloves at prayer and bowed his head to meet them. It was a beautifully powerful moment and a routine he kept for the remainder of the season.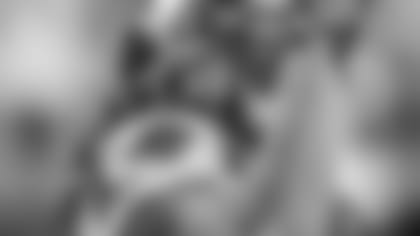 This photo is not an award-winner or caught in a pocket of beautiful golden light. I like it mostly because of the sentiment attached to it. During the preseason opener against the Texans at home, wide receiver Kelvin Benjamin caught a touchdown pass. During his celebration, his eyes were fixed skyward. After beating his chest twice with a closed fist, he pointed a single finger in the air to acknowledge his mother who had recently passed away. It was a special moment for him and one that I am sure he would have wanted his mom to see in person, so it was difficult to not feel a pang of sadness during this otherwise happy moment.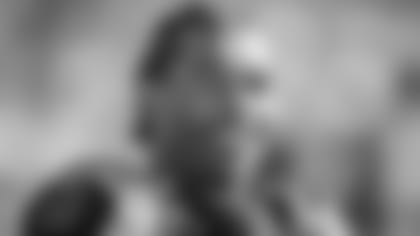 To say that I enjoyed photographing defensive end Julius Peppers this past season is an understatement. Picking just one photo of him to include in this list was my most difficult tasks of the offseason. Rough life, I know. This one stands out because I feel it perfectly encapsulated his mood about returning to the Panthers.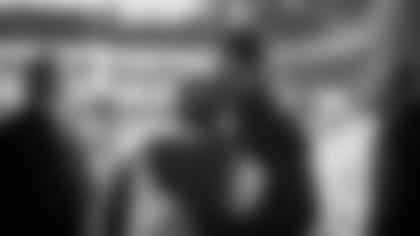 This photo is definitely one of my favorite images of head coach Ron Rivera. Before Rivera walked onto the field ahead of the team for the NFC Wild Card in New Orleans, his daughter walked up. Coach and Courtney shared a hug and a few words, and then Coach Rivera leaned in and kissed his daughter's head before heading to the sideline. Photos of coaches on game day tend to show stoicism and intensity. Rarely do you get to see moments of tenderness, so this was special moment to capture.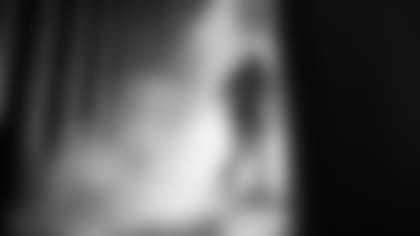 A fitting image to wrap this up is another one of Davis. It is a rare photo for me, as I am normally on the field in front of the introductions. It was a different perspective and made for a few nice frames I was happy with, none as much as this one. Several elements came together to make this such a well-balanced image. Light filtered in at the angle at which Davis is exiting, which also illuminated the smoke trailing behind him, balancing out the black edges of the image. It is a simple image, but a significant one, especially when paired with Davis' announcement that 2018 would be his final season.