CHARLOTTE – Quarterback Cam Newton and running back Jonathan Stewart practiced fully Thursday after taking limited reps the day before. Newton, who is still in the concussion protocol, returned to the field Wednesday for the first time since Week 4 in Atlanta, while his running back has been sidelined since Week 2.
"It felt good," said Stewart, who has been sidelined by a hamstring injury. "Missing time with my teammates and being out on the practice field is something I've been waiting to get back to, and especially the games. Being injured is not fun. I've just been patient and done treatment and have done my job to get back."
Cornerback Robert McClain (hamstring) remained limited for the second straight day, while wide receiver Kelvin Benjamin was limited with some knee discomfort that head coach Ron Rivera considered normal coming off surgery and rehab. Defensive end Charles Johnson (quad) took limited reps after sitting out Wednesday.
Cornerback James Bradberry (foot), defensive tackles Vernon Butler (ankle) and Paul Soliai (foot), tight end Ed Dickson (illness), long snapper JJ Jansen (not injury related) and tackle Michael Oher (concussion) did not participate.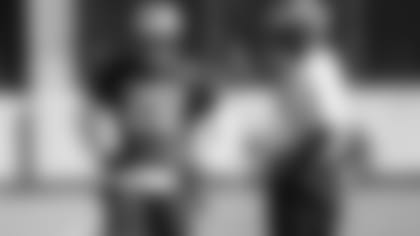 TACKLING TURNOVERS: The possible return of Newton and Stewart should help the offense in all aspects, but it could be all for naught if the team's turnover troubles continue.
Carolina turned the ball over just 19 times all of last season but already has turned it over 14 times through five games this season – the most in the league.
Taking care of the ball has been a theme in practice, but offensive coordinator Mike Shula said it can't be the central theme.
"It's a fine line," Shula said. "Being around it for so long, you have to make sure you talk about it and you practice the techniques and decision-making process. But if you harp on it, then guys think about it too much.
"I've been on teams where we worked hard every day on ball security, and we still didn't hold onto the ball. I've been on teams where we didn't work hardly at all on it, but we were really good at it."
Shula said the key from a preparation standpoint is to work on it in practice but to trust the players to practice what has been preached during the week without cutting into their aggressive approach on game day.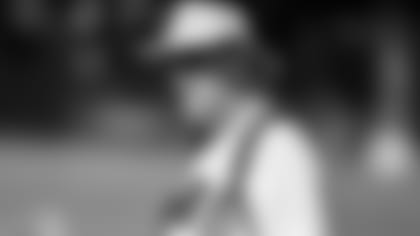 DEHAVEN DOING WELL: Practice this week has been brightened by the presence of former special teams coordinator Bruce DeHaven, who transitioned to senior advisor in August so he could concentrate on his cancer treatments back in Buffalo.
DeHaven attended the Monday night game against the Buccaneers and plans to travel to New Orleans for Sunday's game against the Saints before resuming his treatments.
"I've had a lot of people ask me if I'm coming down here to try to give these guys some help. I don't know if I'm helping them, but they're sure lifting my spirits, seeing all these smiles from these guys that I love so much," DeHaven said. "I love this team, and it has lifted my spirits up. I'm just thankful I've had a chance to spend some time with them."
HARPER HARKENS BACK: You can't exactly say safety Roman Harper is pulling for the Panthers to turn things around – especially not this week – but he knows they have a leader in head coach Ron Rivera with a knack for righting the ship.
Harper, back with the Saints after two seasons with the Panthers, was a part of the Carolina team that rallied to make the playoffs in 2014 despite a six-game slide and that continued to roll last season.
"He has the utmost belief in his team. He's not lying when he says that," Harper said. "I was there two years ago when we went two whole months without winning a game. Nobody believed in the team besides Coach Rivera. He harped on that every single day and because of that, it just really breathes confidence in his players, throughout his staff and his team that, 'Hey, if nobody else believes in you, I'm the head man and I believe in you. And I believe in each one of you guys that go out there, that we can do this and get this win.'
"Sometimes, not everything is going to work out the way it is but you have to continue to ride the ship. Eventually, we're going to get to some calm water and get a nice ride going, but when the waves are rocking and things like that, nobody wants to be the captain but Coach Rivera does. For that, you truly appreciate how great he is."
---
Senior writer Bryan Strickland and digital media intern Connor Keith contributed to this report.
View photos of the Panthers' week of practice leading up to their game against New Orleans.