CHARLOTTE – One day after Sunday's emotional loss to the San Francisco 49ers, another potential loss weighed heavy on cornerback Captain Munnerlyn's mind.
"I really don't want to leave this locker room because I don't know if it's the last time I'll be in this locker room," Munnerlyn said. "This is home for me."
Munnerlyn is one of several players who signed one-year contracts with Carolina this past offseason whose history with the team predates 2013. That group, along with long-tenured players like left tackle Jordan Gross and players whose rookie contracts are expiring like defensive end Greg Hardy and wide receiver Brandon LaFell, has laid down roots with the Panthers.
In the NFL, that only serves to make tough offseason decisions tougher still.
"The biggest mistake you can make is making emotional decisions," Panthers general manager Dave Gettleman said. "We have to make business decisions, and it takes time."
At Tuesday's press conference looking back on the 2013 season and looking forward to the 2014 offseason, Gettleman and head coach Ron Rivera said they'll spend a month evaluating this past season to set a game plan for what the roster will look like next year.
"We played 16 games before Sunday. You have to view it as a whole," Gettleman said. "If you are looking at a young player, how much did he progress during the course of the year? If you are looking at an older guy, did he lose something at the end of the year? These are all things that take time. We need time as a staff to get away from the disappointment of the loss and evaluate our team."
In addition to decisions on players with a long history in Carolina, a group of unrestricted free agents that joined the team for the first time in 2013 (i.e. safety Mike Mitchell, wide receiver Ted Ginn and defensive tackle Colin Cole), must also be addressed.
While Gettleman said the process isn't personal, there is a personal element in that the mix of players – from a career Panther like Gross to a newcomer like Mitchell – meshed together to create a positive vibe the Panthers want to capture again.
"We've got something special going," Munnerlyn said. "I really think we can keep this thing going if we keep the pieces together."
CAPPING IT OFF: Given the limitations created by the salary cap, rare is the team that can keep all of its pieces together. Add to it that Gettleman inherited an especially challenging cap situation, and there's no doubt some difficult decisions must be made.
Gettleman, however, doesn't feel like a cloud is hanging over the financial situation and can also see a silver lining.
"It's not going to change this year," Gettleman said. "We've got to sit down and talk over the next month and figure out what we're going to do. But I like the position we're in, and I feel strongly about our evaluation process. I'm going to make the best decision for the Carolina Panthers moving forward, like we always do.
"The Lord willing and if the creek doesn't rise, we'll be out of it in two years."
Gettleman pointed out that even in the most stable of situations, the last few spots on the roster turn over because of the draft. He confirmed that the Panthers currently have one pick in each round of the 2014 draft, saying the team acquired a seventh-rounder from the New York Giants in the Jon Beason trade. Carolina had traded this year's seventh-round choice to the 49ers for special teams stalwart Colin Jones prior to the 2012 season.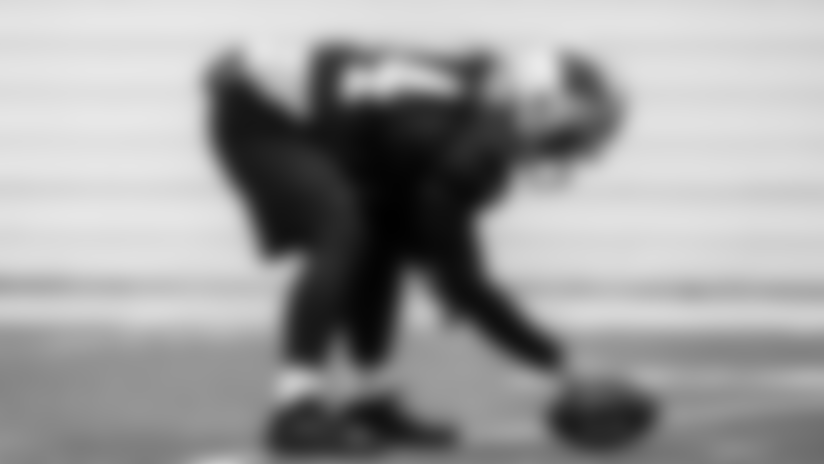 PRO BOWL ADDITION: Long snapper J.J. Jansen, who enjoyed another error-free season, has been added to the five Panthers already selected to the Pro Bowl.
Jansen joins Hardy, quarterback Cam Newton, linebacker Luke Kuechly, center Ryan Kalil and fullback Mike Tolbert as Pro Bowlers. In addition, the Panthers coaching staff will head up one of the two teams that will be drafted next week in advance of the Jan. 26 game.
"I got a call from Mr. Gettleman about it late last night, and my wife and I were thrilled," said Jansen, who has made a glaring error on just one of 702 snaps in five seasons with the Panthers. "It's such an honor to be able to represent the Panthers, and it only adds to it to be one of six Panthers players in addition to the coaching staff being selected.
"It's reflective of the year that Brad Nortman and Graham Gano had as well. As a long snapper, you don't get recognized if your punter and kicker don't do well. They were deserving of the Pro Bowl as well."
MORE HONORS: The list of winners for the 44th annual NFL 101 Awards includes Kuechly as NFC Defensive Player of the Year and Rivera as NFC Coach of the Year. Kuechly also has been named All-Pro and All-NFC by the Professional Football Writers of America (PFWA) and was selected to the USA Football All-Fundamentals Team. Kalil joined Kuechly on the PFWA All-Pro and All-NFC teams, while Hardy made the All-NFC team. In addition, defensive tackles Star Lotulelei and Kawaan Short made earned PFWA All-Rookie honors.