CHARLOTTE – They say winning cures all, and although that may not be entirely true, head coach Ron Rivera wants to share a victory with the Carolinas after all the region has been through in the wake of Hurricane Florence.
"If you win there is a lot of healing, believe me," Rivera said Wednesday. "It takes care of a lot of things."
Quarterback Cam Newton often speaks about using football as a mechanism to spread joy. Sunday's game against the Bengals at Bank of America Stadium is the perfect opportunity to do so.
"Without a doubt," Newton said. "Mother Nature threw us a curveball and those are the things we can't prepare for. I know for me, I take extreme pride in knowing that doing what I do is not necessarily about me. I bring so much joy, not only to myself, but to other people. Each and every time I touch the field, I know my responsibility is to do his (God's) will and try to spread as much joy as possible.
"We just have to make sure we put a lot of smiles on peoples' faces."
Rivera said that's exactly what happened when he and offensive coordinator Norv Turner were working together in San Diego back in 2007 when wildfires devastated the region.
"We had the fires and they talked about moving the game," Rivera recalled. "Coach Turner and the Spanos family did not want to move the game because they felt it would be really good for the community. We did play at home and we did win.
"To be able to play at home this week could be a really good thing for this community."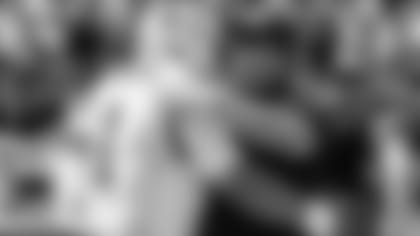 SELFLESS OFFENSE: Much has been made of running back Christian McCaffrey's 14-catch performance against the Falcons, which tied Steve Smith's franchise record for catches in a single game.
It marks the second week in a row McCaffrey has led the team in targets and receiving, and he ranks second in the NFL in catches with 20 through two games.
That's a bit atypical, and it's not something a lot of wide receivers are used to experiencing. But veteran wideout Torrey Smith summed up the situation nicely.
"If you're so focused on yourself and what you need or what you feel like you need, it's only going to lead to your own demise," Smith said. "I've been there where it's like, 'Man, I'd like to be more involved', but who cares? What are we going to do to win the game? If this is going to help us win the game, then that's what we're going to do. That's my approach to everything, just trying to continue to spread that.
"That's going to be our team. There's not going to be a guy – besides C-Mac – that's consistently getting a million balls. So just be ready when you're opportunity comes and take advantage so our offense can be the best that it can be."
Newton said McCaffrey's high number of targets are simply a result of taking what the defense gives. Rivera, meanwhile, believes it's an encouraging result of Newton going through his progressions.
"He went through his reads and didn't try to force balls in," Rivera said of Newton, who has completed 69 percent of his passes so far. "He threw the check-downs when he needed to. That was huge.
"He's made a lot of good decisions these past two games. I'm really excited about the progress that Cam has shown understanding and getting a feel for what Coach Turner wants."
And deep down, we all know receivers want the ball. Rivera believes McCaffrey's early success will create more downfield opportunities for his teammates.
"They (wide receivers) understand too that now all the sudden those linebackers might not be dropping 12 to 15 yards deep anymore," Rivera explained. "They may be right at about eight (yards). Those digs are going to start opening up, those post routes, those bang-eights across the middle – they are going to start flashing a little more. It's all going to work together."
CLARK TO THE RESCUE: Rivera heaped praise on Chris Clark after he joined the team midweek and played every snap as the starting left tackle against Atlanta.
The former MVP quarterback and the veteran leader of the O-line did the same on Wednesday.
"I met him Wednesday. He started Sunday. And played his (butt) off," Newton said of Clark. "I'm excited for what he brings to this offense. Very low-maintenance type of guy."
Low-maintenance is a dead-on description of Clark, who barely had any time to familiarize himself with Carolina's playbook before taking the field in a hostile road environment.
"Chris Clark – incredible attitude, incredible work ethic," center Ryan Kalil said. "Tremendous amount of respect for a guy that can come in off the street with two days' worth of practice before a game with all our code words, all our different cadences, all the variations of how we run certain plays. He played a hell of a game."
INJURY UPDATE: Wide receiver Damiere Byrd (knee) returned to practice Wednesday as a limited participant after missing last Sunday's game at the Falcons, but guard Trai Turner and two players who exited the Falcons game early did not practice.
Turner, who didn't play against the Falcons, did make an appearance at the walkthrough portion of practice but did not participate. He and safety Da'Norris Searcy remain in the concussion protocol. Cornerback Donte Jackson, who like Searcy didn't finish the Atlanta game, also didn't practice.
There's still no timetable for the return of wide receiver Curtis Samuel, who is yet to make his regular season debut because of a medical illness, though Rivera said Samuel has done some workouts and that the situation is "promising."
View photos from the third week of practice as the Panthers prepare for their game against the Bengals.