GREENSBORO, N.C. – "We'd like to grow together with you."
That was Panthers team president Tom Glick's message during his closing remarks at a special session with regional business leaders. The event, which was co-hosted by Deloitte, was held at the Grandover Resort & Conference Center. The team held a similar event back in training camp at Wofford College.
The Panthers are growing, that's for sure. Glick detailed that growth for the assembled audience.
Behind the leadership of owner David Tepper, the organization is doing more across the board. One slide in particular summed it up nicely: "More Access, More Experiences, More Content."
From the Coca-Cola catwalk during player arrivals on game day, to the Hall of Honor expansion, to the expanded players' cafeteria and the Fifty3 – a premium VIP experience – Glick detailed many of the notable steps that have been taken.
He then talked about investing in the future with a discussion about the Atrium Health Dome, which provides obvious value for head coach Ron Rivera and his team and also serves as a functional space for a variety of events.
You could hear the excitement in Glick's voice as he described the eventual Rock Hill headquarters – 235 acres of space for mixed-use development that is expected to be operational in the summer of 2022.
"This is the future of the NFL," Glick said. "It's a real game-changer for us."
Meanwhile, more brands are joining the movement and more events are coming to Bank of America Stadium.
What about Major League Soccer? Glick again expressed confidence in Charlotte soon becoming the home of the 30th franchise.
"If we get it, then MLS will be wildly successful in our region," Glick said. "We are convinced."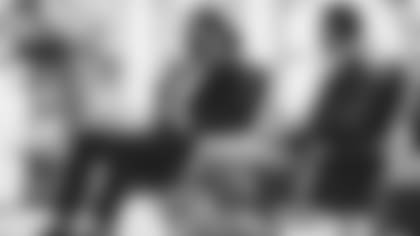 Former Panthers Julius Peppers and Wesley Walls were among those in attendance, and both participated in a lengthy Q&A session.
They talked about the similar paths they took in football, as it took some convincing for both to try the sport in high school. In college at Ole Miss, Walls was moved from defensive end to tight end. At North Carolina, Peppers was moved from tight end to defensive end.
As we all know, the rest is history.
Peppers closed his remarks by sharing how the organization's culture made such a positive impact on him personally.
Walls echoed that sentiment and touched on what lies ahead for the organization.
"You see all the stuff Tom (Glick) just showed you," Walls said. "It means so much to players and the fans to have that commitment."