CHARLOTTE – The Carolina Panthers had a number of problems in Sunday's loss to the Falcons.
And as they say, it all starts up front.
To say Carolina's O-line struggled against the Falcons would be an understatement. On Sunday, Panthers quarterback Kyle Allen was sacked five times and hit another five. As a result, Allen threw four interceptions – three of which occurred while he was under duress.
"We've got to be able to protect him," head coach Ron Rivera said of Allen. "It was unfortunate that we didn't protect the quarterback the way that we're capable of. We have too many good football players not to do a better job. But I also want to give the other team credit, too."
Rivera is right – the Falcons' pass rush has come alive the past three games. After totaling just five sacks through the first seven weeks, Atlanta's defense has recorded 13 sacks in its last three outings.
So, what was it that made the Falcons so difficult to block up front? It's not like they were bringing exotic pressures to gain a numbers advantage. On each of Atlanta's five sacks, they only rushed four men. On one third down, they flushed Allen from the pocket with just three rushers. Nothing special, just lining up and beating the man across the ball.
And the rush appeared to affect Allen, who got himself into trouble on occasion by trying to escape the pocket too quickly.
"They're just good pass rushers," left guard Greg Van Roten said. "Those guys get after the passer and we didn't do a good job of protecting Kyle and making him feel comfortable back there. That's just not a good recipe to win games. You've got to protect the quarterback."
Van Roten was one of the few members of the unit who didn't give up a sack. After right tackle Taylor Moton got beat on Allen's first interception and then again on the quarterback's first sack, Rivera decided to briefly replace Moton with Daryl Williams.
"We wanted to give Taylor an opportunity to catch his breath," Rivera said. "He got beat on a couple of plays and we wanted to just settle him down, give him a little bit of a reset and get him back on the field."
Moton didn't have much time to catch his breath. It wasn't long until Williams was beaten for a sack, too, and Moton found himself back on the field.
"Today I think it was all me. I didn't play up to my own ability," Moton said. "Obviously in the NFL we play tremendous players every week, and they have a good defensive line, but that's not an excuse. I can't speak on the whole offensive line; I can only speak on myself and how I need to be better."
One question mark entering Sunday's matchup was the left tackle position. With starter Dennis Daley sidelined due to a groin injury, Greg Little returned to game action for the first time since Week 4 after spending six weeks in the concussion protocol.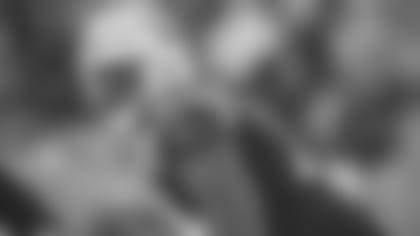 The good news is Little played the entire game and came out healthy. The bad news is that he's got a bit of rust to shake off. Little gave up two sacks, including one on a critical fourth down attempt in the third quarter.
After missing out on a significant portion of his rookie season, Little said he knows there are things that will take a few weeks to get used to, like his timing and ability to identify different rushes.
"It feels good just to get back in the swing of things," Little said. "I've just got to get used to seeing certain things again. That'll come with just playing again, but next week I'll get better and keep moving."
Rivera knows it will take time, too, but that's a price he's willing to pay right now in hopes of a bigger return down the road.
"Again, growing pains when you play young players," Rivera said. "It's kind of tough for that group to build a little bit of cohesiveness when they don't get an opportunity to work together as often as you'd like. It's unfortunate, because Greg's a good, young football player who's going to learn."