The Panthers possess one of the most talented linebacking corps in the league, and in 2013 they'll get a chance to prove it.
Luke Kuechly, the 2012 Defensive Rookie of the Year, will continue to man the middle. Three-time Pro Bowler Jon Beason will return from an injury-shortened 2012 season to man the weakside spot. And after a rejuvenating comeback season in 2012, Thomas Davis will line up on the strongside.
"I don't know that there's a better linebacking corps on paper than what we have in Carolina," defensive coordinator Sean McDermott said.
Added first-year linebackers coach Al Holcomb: "Obviously, everyone is looking to this position group as the leaders and the bell cows on the defensive side of the ball. We certainly are going to do our part to get this defense where it needs to be.
"They are an unselfish, talented group of men that possess a collective, dominating, urge to win."
Luke Kuechly
Ninth overall selection in the 2012 NFL Draft and the 2012 Defensive Rookie of the Year. ... Led the NFL and set a new team record with 164 tackles (205 based on coaches' review). ... Recorded one sack, two interceptions, eight passes defensed and three fumble recoveries. ... Started all 16 games – the first four on the weak side and the final 12 at middle linebacker in place of injured Jon Beason. ... Will continue to play in the middle in 2013.
Jon Beason
Three-time Pro Bowler missed the final 12 games in 2012 due to knee and shoulder injuries. ... Recorded 28 tackles and one interception in four starts at middle linebacker before being placed on injured reserve. ... Missed 15 games in 2011 due to a torn left Achilles tendon. ... Never missed a game in four seasons prior to 2011. ... Led the team in tackles in all four of those seasons. ... Will play weakside linebacker in 2013.
Thomas Davis
Returned from three torn anterior cruciate ligament injuries to his right knee in less than two years to play 15 games with 12 starts at weakside linebacker in 2012. ... Became the first known NFL player to return and play a full season after having three ACL surgeries on the same knee and finished second on the team with 118 tackles, his second career 100-tackle season. ... Will play strongside linebacker in 2013.
Jordan Senn
Played all 16 games in 2012 and finished second on the team with 15 special teams tackles. ... Was special teams captain in 2012. ... Started the first seven games of his six-year career in 2011, posting 71 tackles, primarily at weakside linebacker.
Jason Williams
Played five games for Carolina in 2012 after playing two for the Philadelphia Eagles. ... Tallied five special teams tackles. ... Started two games for the Panthers in both 2010 and 2011.
Doug Hogue
Played in nine games after Panthers claimed him off waivers and notched eight special teams tackles. ... Played in the Detroit Lions' first five games and logged two special teams tackles before being waived.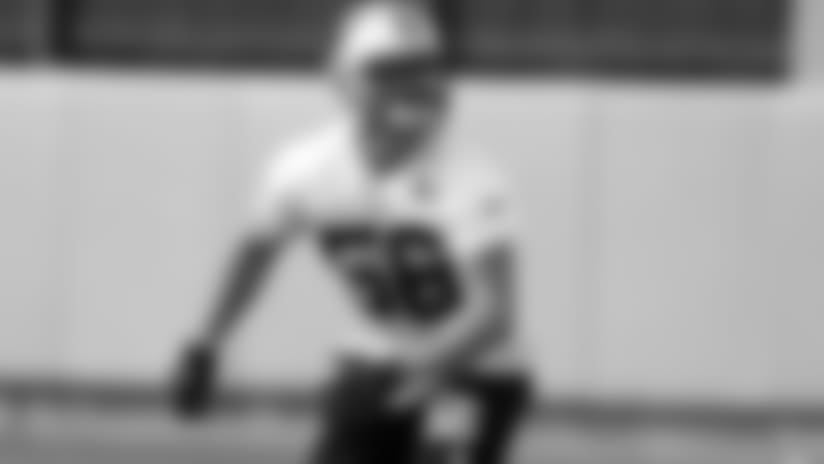 A.J. Klein
The Panthers' fifth-round pick in the 2013 NFL Draft out of Iowa State. ... Three-time All-Big 12 Conference choice made 21 starts at middle linebacker, 12 at strongside linebacker and five at weakside linebacker. ... Finished career with 361 tackles, 20 tackles for loss, three sacks, one forced fumble, two fumble recoveries, five interceptions and nine passes defensed.
Chase Blackburn
Signed as an unrestricted free agent in April. ... Spent previous eight seasons with the New York Giants, winning the Super Bowl following 2007 and 2011 seasons. ... Started 15 games for the Giants in 2012, recording 98 tackles, three sacks, six passes defensed, one interception and four forced fumbles.
Ben Jacobs
Signed as a free agent in May. ... Spent time on the practice squad for Cleveland and Cincinnati in 2012. ... Signed as an undrafted rookie free agent by Cleveland in 2011 and played in five games.
Ryan Rau
Claimed off waivers in May. ... Signed as an undrafted rookie free agent by Philadelphia in 2012 and played in last four games. ... Logged three special teams tackles.
---