Christian McCaffrey aside, about the best thing you could say about the Panthers' starters during their preseason game in Tennessee on Saturday was it didn't count.
Coming off Thursday's lackluster joint practice, Carolina seemed to sleepwalk through much of the first half of the 34-27 loss. The first quarter was especially rough, with the Titans 17-0 lead aided by a pair of Panthers' turnovers.
Carolina will now head home with a 1-1 preseason record. Next up: a Thursday night date in Jacksonville.
—Welcome to the end zone, rook:
—There's something different about this kid:
—Wide receiver Brenton Bersin landed awkwardly on his right shoulder on the Titans' sideline after trying to make a catch late in the third quarter. He did not return. It's been a rough preseason for Bersin, who left the preseason opener against the Texans with a bruised quad.
—Safety Dezmen Southward immediately grabbed his lower back after making a tackle just before the half. He eventually walked off under his own power and was back out there for the start of the second half.
—Linebacker Luke Kuechly, who's been dealing with sore ribs, was held out for precautionary reasons. He and center Ryan Kalil, who again rested his surgically repaired shoulder, joined Kuechly for some medicine ball work shortly after they arrived at the stadium.
—Wide receiver Curtis Samuel got in a handful of sprints and short routes pregame. The Panthers are slowly bringing the second-round pick back from a sore hamstring.
—List of other guys who didn't make the trip or dress: wide receivers Fred Ross and Keyarris Garrett, cornerbacks Devonte Johnson and Corn Elder, running back Jalen Simmons, guards Chris Scott and David Yankey, defensive tackle Toby Johnson, tight end Scott Simonson and defensive tackles Kyle Love and Vernon Butler.
—The first 10 minutes were peak preseason for the Panthers' offense. That's the most positive way to look at it, at least. The first three possessions, which totaled eight yards, looked like this: one play – Devin Funchess' fumble; three-and-out; one play – Derek Anderson interception. Carolina didn't pick up its initial first down until the final minute of the opening quarter. It's just the preseason. It's just the preseason. It's just…
—But that guy wearing No. 22 in blue looked pretty good, didn't he? McCaffrey finished with 33 yards and a touchdown on three carries, plus two receptions for 39 yards.
—Credit to guard Andrew Norwell and tight end Ed Dickson for opening up a hole on the right side during McCaffrey's scoring run.
—Because there's been no reason to put him on the field much, it was somewhat surprising to see defensive end Julius Peppers dressed to play. It was also strange seeing him standing on the sideline for the start of his first game in a Panthers' uniform since 2009. After watching Charles Johnson and Mario Addison get the start, Peppers entered with the Titans already in Panthers territory. It took just three plays for the Hall of Famer to make an impact as he drew a holding call against tight end Jonnu Smith. Peppers later slid inside on a Titans' third down, and on this play, he likely scared the heck out of backup quarterback Matt Cassel: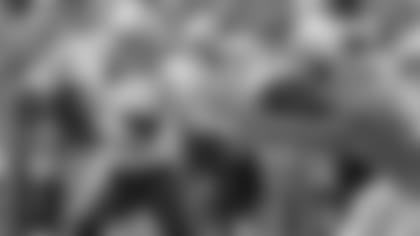 —The second-team defense, which struggled to get off the field against the Texans, was awfully leaky again. Injuries at defensive tackle and safety have left that unit dangerously thin right now.
—Running back Cameron Artis-Payne pleased coaches in the preseason opener, and he continued to make an argument to stick around for another season. The third-year back provided a much-needed spark with five carries for 70 yards and a touchdown.
—Sixth-round fullback Alex Armah is probably still too much of a project to make the final roster, but it was a nice moment for him when he was greeted by a wave of teammates after scoring his first NFL touchdown late in the third quarter.
—Saturday's honorary captains were Norwell, linebacker David Mayo and long snapper JJ Jansen.