CHARLOTTE - Sadness crippled those in the Panthers locker room who got word of special teams coach Bruce DeHaven's death before going to bed late Tuesday or upon rising early Wednesday.
But by the time the team headed out for a mid-morning practice and a train rolled by – always one of DeHaven's favorite moments of the day – tears had turned to laughter.
That's just the way DeHaven would have wanted it.
Long snapper and close friend JJ Jansen addressed the entire team in the wake of DeHaven's death at the age of 68, then the subsequent special teams meeting featured one of DeHaven's favorite things to say. The words ring true for those charged with the often thankless job that is NFL specialist, and the words resonated on a deeper level Wednesday.
"All right, enough of that. You have a job to do. Onto the next one."
That's exactly what DeHaven's players mustered the strength to do, even while celebrating the fact that there won't again be another one quite like him.
"The three years that Brad, Graham and I got to spend every day with him, we had a blast," Jansen said in reference to former punter Brad Nortman, kicker Graham Gano and himself from 2013-15. "It was a great family. We had a special bond that was pretty rare. I don't know that I'll ever find that again. I love him."
Nortman signed with the Jacksonville Jaguars last offseason, but he planned to join Jansen and Gano next week to visit DeHaven in his Buffalo home. Before they got the chance, DeHaven's year-and-a-half battle with prostate cancer came to a close.
"It's incredibly sad. We knew he wasn't doing too well, but he's such a fighter," Jansen said. "He hadn't been doing well for 18 months really, but he fought and was always in good spirits, and he would never let him see us if he wasn't in good spirits."
That spirit was alive Wednesday despite the devastating news that came in the night.
"It was tough to hear. I'm not a big crier, but I definitely cried last night," Gano said. "We love that guy. It's tough, but today we had so many laughs just thinking about all the good memories we have with him. He touched a lot of people's lives in a positive way.
"He's just a great man. I can't say enough great things about him. Even talking about him now, I'm smiling because we had a lot of good times with him. I feel very blessed to have known him."
DeHaven's prized pupils hadn't seen him since he summoned the strength to make the trip to New Orleans to see the Panthers play the Saints on October 16. DeHaven transitioned from special teams coordinator to senior advisor in August to concentrate on his health, and his communication with team members since the Saints game had been mostly limited to texts.
"He texted me after games," special teams stalwart Colin Jones said. "He would always congratulate me on a good play, and when I'd try to ask about him, he'd just say, 'Get back to work.' "
There's always work to be done in the NFL, but there also was always time – pretty much every day – for DeHaven's players to think about him, whether they actually planned to or not.
Even little things like getting a cup of coffee – DeHaven would argue with anyone that Peet's Coffee was the best – would trigger thoughts in recent weeks.
And, of course, there were and always will be the train tracks that run alongside Bank of America Stadium and weave their way past the practice fields.
"He loved trains," Gano said. "When he was a kid (in the 1960s), he jumped on a train just to see where it would go, and it took him 70 miles out of the way. That was a different day and time – he had to hitchhike back into town.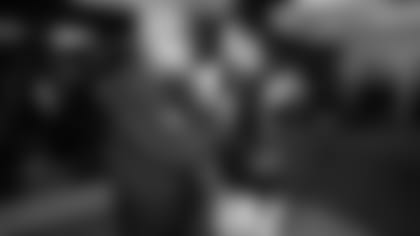 "He was full of stories like that. He'd say, 'Stop me if you've heard this before.' And every time we'd look at each other and say, 'We've heard it, but we want to hear it again.' "
And yes, some of DeHaven's stories were about football, as you would expect from one of the most storied special teams coaches the game has ever known. But even the nature of those stories speak to the kind of man that DeHaven was as much they reveal the kind of football coach he was.
"What we know as special teams today goes through the lineage of George Allen and Dick Vermeil and Marv Levy and Bruce DeHaven," Jansen said. "But he was most fond of his eight-man football team back in Kansas."
DeHaven helped – in a major way – Levy's Buffalo Bills advance to four consecutive Super Bowls in the early 1990s, but he was just as likely to talk about the ninth-grade team he coached in his native Kansas more than 40 years ago. He'd speak of the feeling of sadness that enveloped him on the team's bus ride back from winning the state championship.
Why? Because there wouldn't be a practice the next day.
"To him, it was more about the young man. It wasn't just, 'He's a football player; I've got to coach him up,' " head coach Ron Rivera said. "It was about the young man because he knew if the young man was right, he'd be right on football field. If things are good for them around here and around home, then things are going to be good on the football field. He understood that."
On the surface – and perhaps fittingly so - thoughts of Coach DeHaven seemed to take a back seat to thoughts of Bruce DeHaven on Wednesday. But, upon closer inspection on an introspective day, those thoughts really are one and the same.
"The biggest impact in most athletes' lives are their coaches – their dads and their coaches," Jansen said. "I was very fortunate and still am that my dad is one of my biggest coaches, but to have another father figure, another mentor, that's pretty rare.
"Everyone has their own style. His was unique in that he really was more worried about your life and your family and your personal well-being than football. And that's saying something because he put football about as high up there as anybody can.
View photos of the Panthers as they prepare for their game against Tampa Bay.