Athletes don't just wake up one day and decide they want to play in the NFL; it takes time and tools to develop the skills for success. It's the same way in any walk of life, and Lowe's through its Track to the Trades program aims to equip its employees with the ability to turn pro in the fields of construction and contracting through educational opportunities. Hopefully they, like the Panthers rookies, will thrive.
CHARLOTTE – Terry Godwin is about six weeks into his journey as a professional athlete, the wide receiver having been selected in the seventh round of the 2019 NFL Draft by the Panthers.
Looking back, today could have been the four-year anniversary of his pro career if he had chosen another path.
"I miss it from time to time," Godwin said, "but I know where my heart is."
Four years ago today, Godwin was selected by the Atlanta Braves in the 33rd round of the 2015 Major League Baseball Draft. At that point he had been enrolled at the University of Georgia for just a few days, thinking that he'd play baseball for the Bulldogs after his freshman football season was over.
But Godwin never played baseball for Georgia or for the state of Georgia's pro team. He soon totally turned his focus to football and has never looked back. The 5-foot-11, 185-pounder was a productive pass catcher for four seasons in college, and now he's working toward becoming the same for the Panthers.
"I'm working on knowing the offense inside and out, like the back of my hand," Godwin said after organized team activities wrapped up last week. "The first couple of days out here with the older guys, stuff gets flying around and you're out here, fresh into the playbook. It got a little shaky, but as time went on you get deeper in the playbook and learn how to practice."
Virtually all of Godwin's days at Callaway High School in Hogansville, Ga., were spent at one practice or the other. He played football, baseball and basketball, and as programs on the next level began showing interest in him, he wasn't sure if football or baseball was the way to go.
He chose football and the University of Georgia, but nine days after enrolling he got a text from one of his new teammates that was a cause for pause.
"Isaiah texted me," Godwin said, referring to current Bills receiver Isaiah McKenzie, "and he was like, 'Congratulations dude, you just got drafted in the 33rd round by the Braves.' I thought he was playing with me.
"As soon as I texted him back, my mom called and said the same thing. I just like, 'Wow, this really just happened. What am I going to do?'"
The Braves, who had worked Godwin out back in high school, were intrigued by his tools as a center fielder. Godwin said he was filled with emotions, but he went home to talk it out with his parents and quickly came to a decision.
"It was a blessing, but at the same time as an 18-year-old kid coming out of high school and your mom calls you and tells you what's going on, you're shocked and amazed," Godwin said. "You're at the college you want to be at, and you want to play football and baseball. You're stuck between a rock and a hard place.
"I went home and talked to my parents and I got on my knees and prayed that night, and it led me to the right decision."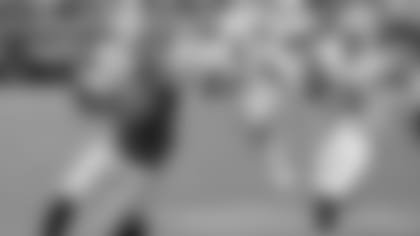 Godwin left baseball in the rearview mirror midway through his freshman year. He caught 35 balls for 379 yards as a true freshman, ranking second in both categories on an offense that leaned on running backs Sony Michel and Nick Chubb. His thoughts of playing baseball in the spring fell by the wayside when Georgia relieved football coach Mark Richt of his duties after the season and hired Kirby Smart.
"I was going to go out for baseball, but that's when we had the coaching change. There was just too much going on, so I stuck with football," Godwin said.
He continued his growth under Georgia's new coaching staff, finishing his four years in Athens with 134 receptions for 1,800 yards and 11 receiving touchdowns. Now he's beginning his efforts to become a success on the pro level.
"I'm working on knowing everything that's going on on the field," Godwin said. "As I enter the league, I just want to be the best there is, want to accomplish everything that I can."