CHARLOTTE – When a tackle is made or a flag is thrown on a punt, you can almost hear the play-by-play announcer shuffling through his roster card and searching for the name of the tackler or guilty party.
Then someone has a moment like Kaelin Clay did Sunday, and all the unmentioned moments are worth it.
"We've been one tackle away, one block away, and week after week we've been closer and closer," special teams coordinator Thomas McGaughey said Monday. "You could see it on the tape – just a block here, a block there.
"Then we went out there yesterday, and it all came together."
Clay's 60-yard punt return for a touchdown early in the fourth quarter Sunday gave the Panthers the breathing room that made all the difference in a 35-27 victory at the New York Jets.
Clay didn't mind the adulation that came with it – especially in light of his constant battle to be taken seriously as a pro – but for this unique subset of players within the roster, it's not about having something they beat their chests about.
It's about having something they can celebrate by tapping each other on the chest.
"These guys love football," McGaughey said. "These are the type of guys who would do it for free. They love football, and they enjoy being out on the field with each other. They enjoy being in the meeting room, enjoy practicing, enjoy being around each other.
"There's a synergy and oneness with these guys."
Such a synergy can be difficult to come by for a unit that must often endure change. By and large, special teams are composed of offensive and defensive players that come and go each year. Only a select few stick around based exclusively on their special teams talents.
Coaching changes are inevitable as well, and in the case of Carolina, change was born of tragedy. McGaughey was hired following the 2015 team's run to the Super Bowl to assist Bruce DeHaven, and he was promoted to coordinator six months later when DeHaven took a step back before eventually losing his battle with cancer. Former Panthers linebacker Chase Blackburn was a coaching intern that offseason who was promoted to assist McGaughey.
With longtime long snapper JJ Jansen and kicker Graham Gano setting the tone – "two of the best human beings you can be around," McGaughey said – McGaughey and Blackburn went about setting up shop.
"When me and Chase got here after Bruce stepped down, it took some time," McGaughey said. "The combination of me and him dibbing and dabbing, trying to tinker here and tinker there and putting in new terminology and the nuances of what we wanted to teach – probably the last three or four games last year you started to see it come alive a little bit. Guys started to buy in, and then they took the bull by the horns in training camp.
"It's a pure reflection of what they've done – it isn't a reflection on me or Chase. It's Ben (Jacobs), it's Shaq (Thompson), it's David Mayo, Colin (Jones) and the things they've done."
McGaughey set up the meeting room to promote open dialogue, to create a place where guys aren't afraid to ask questions or make suggestions. He said it helps "get things ironed out before a mistake happens."
So far this season, mistakes have been few and far between.
"The guys are playing fast, and they're enjoying themselves," McGaughey said. "It's good to see."
---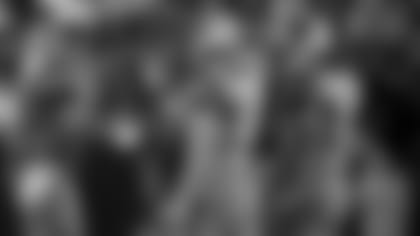 McGaughey offered his take on some of the Panthers' prominent special teams contributors.
On Gano, who is tied with former teammate Harrison Butker for the NFL lead among qualified kickers in field goal accuracy (96 percent), one season after hitting 79 percent of his kicks: "Sometimes it's just how you start. Last year he missed that one early (to win Super Bowl rematch at Broncos), and sometimes it gets in your head a little bit. But over the summer he recommitted himself to some different technique things, worked through it, and he came to camp ready to rock. He had a lot of success early, and going against Harrison was one of the best things that could have happened to him. You see what Harrison is doing now – well, those two competed like crazy at camp, and that part of it really helped."
On Michael Palardy, who in his first full season as a starter ranks fourth in the NFL in net punting (43.7 yards): "Michael has done an outstanding job so far. He's getting better every week. As far as him being a pro and learning his routine and how he wants to do it, he's grooving that in and is a weapon for this football team. … I can't wait to see what is in front of him because this kid has really good potential."
On linebacker Ben Jacobs, who has helped the Panthers rank fourth in punt coverage by making plays and preparing teammates to make plays: "Ben has kind of become our captain in terms of taking the bull by the horns. He's a guy that guys look to because he's a student of the game. His notes are immaculate. You look at his notebook; it's like a coach's notebook. And he studies it. Sometimes, I'm walking out of the door, and he's still here. He works at it. It's not by accident that guys follow him. They know that Ben knows."