CHARLOTTE – I remember it like yesterday, in large part because not nearly as much has changed as you might think.
Shortly after I joined the Carolina Panthers organization in 2010, my first truly unique interview opportunity was with linebacker Thomas Davis. Standing just outside the team's training camp locker room at Wofford College, I asked Davis about how his recovery from a torn anterior cruciate ligament was going.
"I'm in great spirits," Davis said. "I'm excited where I am right now."
It was hard to be excited then. Clearly it isn't now.
"I never imagined any of the stuff that is happening in my life could have possibly gone the way that it has, but I'm truly grateful that it has," Davis said just the other day. "Being on this team as long as I have been and continuing to play at a high level, being 15-1, winning the Man of the Year Award. It's been a dream come true.
"Ending the season in San Fran with a Super Bowl ring – it gets no better than that."
At the time of that 2010 interview, Davis was less than two months removed from his second blown ACL, and of course he didn't know at the time that he wouldn't make it back to play that season and even more tragically would play just two games in 2011 before suffering the same injury a third time.
Since the beginning of 2012, however, Davis has played in 67 of Carolina's 69 games – including the playoffs – and he's determined to play in Super Bowl 50 despite suffering a broken arm in the NFC Championship. If he does return, he'll join four other teammates – yes, just four - who were at that training camp in 2010. Center Ryan Kalil, running back Jonathan Stewart, defensive end Charles Johnson and long snapper JJ Jansen are the others.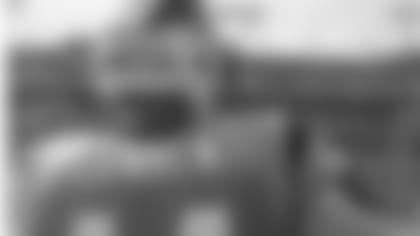 That team in 2010, alas, finished the season 2-14. And yes, a lot has changed since then – obviously with the win-loss record and obviously with the roster – but more has actually stayed the same than you could possibly imagine.
"Those guys have been through winning divisions, and they have been through 2-14," said linebacker Luke Kuechly, who joined the party in 2012. "For them to have the same mindset and willingness to work and to believe in the process, and to have Coach (Ron) Rivera come in and believe in what he does and still set the standard of how we do things in Carolina, it's why we are here now.
"Those guys have really set the foundation for what we have."
And in many ways, despite all the losses in 2010 and all the player and coaching turnover since then, the foundation was already established. Thanks to the tone strongly set by Owner/Founder Jerry Richardson well before I set up shop in Bank of America Stadium, it quickly felt like I was joining a family with the best intentions off the field and with the intention to be the best on the field.
When my first season and John Fox's tenure as head coach ended, Fox stood at the top of the stairs as players and staff boarded the team plane bound for home from Atlanta. Fox took a moment to thank each person for their contributions to his time in Carolina, including me, who had very little time to get to know him.
That way of doing business was already established, and the five players who Fox thanked that day who soon will be boarding a plane bound for Super Bowl 50 have passed it on. In that way, not nearly as much has changed as it may appear.
"Because we have a way of doing things around here, once you come in and once you're a part of it, it's instilled in you," Davis said. "I think it really starts with Mr. Richardson – from the top down – and goes to Mr. Gettleman (hired as general manager in 2013) all the way down to the players.
"We understand what it expected of us around here, and that's the way we carry ourselves. Whoever comes in here has to understand that, and we've done a good job as veteran leaders of showing the guys how things are going to work."
It's a message delivered to everybody on the roster, from a late addition to the practice squad to the guy who stands second to none – No. 1, Cam Newton.
"I'm lucky to have great leadership and still have guys that were on that team still be here with me - Ryan Kalil, Thomas Davis, guys of that sort," said Newton, who joined the Panthers in 2011. "Everyone is on the same page now, and if you're not you stick out like a sore thumb and we will find ways to get you out of that locker room.
"It's safe to say we are in a position right now that everyone is pretty much selling out for each other. We could care less about individual accolades. Those will come if we are doing what we have to do, but at the end of the day our main focus is to win football games. If we are winning, we will be right where we want to be."
The culture that pre-dates Newton and me and all but a select few that remain from the birth of the organization is hard to express in words, but it's something you can feel. Those five players who have been here longer than me understand it better than most, and those who have been brought into the fold since understand how much those guys deserve to enjoy the ultimate success in their sport.
"Our longest tenured guys on this team that have been here, it's fun for those guys and obviously for everybody - for me too - to see where we started a couple years ago to now," Kuechly said. "We've added pieces and we've become a unit, and a team, and a family, and it's been a lot of fun.
"Hopefully we can go out there and get a win and make it that much sweeter."