SPARTANBURG, S.C. – For everyone involved, training camp is a grind.
But at least once a day, it's worth a grin.
Now that the 21st and final day of Panthers training camp is in the books, here's a day-by-day look at some of the best moments - from a professional and personal perspective – beginning with the Panthers.com crew's early arrival on Thursday, July 26.
DAY 1Professional: The vision of undrafted rookie free agent Brenton Bersin, a 2012 graduate of Wofford College, leading lost-looking rookies around campus.
Personal: The Panthers.com crew's traditional training camp kickoff meal at Outback Steakhouse. For one team member, it was his first ever trip down under. Don't know how that's possible.
DAY 2Professional: Just when it looks like move-in day might prove a bore, wide receiver Steve Smith rolls up with a beastly beard and an "I Love My Life" cap. Smitty sported a new hat nearly every day but kept the beard.
Personal: Another first for two Panthers.com rookies - their first "Hot Doughnuts Now" experience at Krispy Kreme, in the ultra lounge section of the sparkling Spartanburg store no less.
DAY 3Professional: When Pro Bowl center Ryan Kalil addresses the media for the first time since taking out his Super Bowl ad, I break the surprising silence by deadpanning, "Anything been going on with you?" After the group laughs, Kalil responds, "Not a whole lot."
Personal: My wife, 7-year-old son and parents come down to camp for the first time in my third year on the job. My mom is especially excited that now she'll have a visual image of where I am when she thinks of me. Gotta love moms.
DAY 4Professional: Wide receiver Brandon LaFell backs Smith's earlier statement that the offense could double its numbers from a year ago. That would require averaging 50.8 points per game and amassing exactly 5,000 more yards than the record-setting Saints offense produced last season.
Personal: Watching long snapper J.J. Jansen take part in drills with the linebackers and holding his own.
DAY 5Professional: South Carolina Gov. Nikki Haley visits practice to declare it "Carolina Panthers Day" in South Carolina, doing so as the first padded practice of camp takes place just a few feet behind her.
Personal: Seeing Panthers Owner/Founder Jerry Richardson honored in the process with the 76-year-old's high school football coach among the attendees.
DAY 6Professional: The sight of fans hanging in through a rainstorm to watch their Panthers practice, including quarterback Cam Newton breaking into the "Bees' Knees" dance in celebration of a rushing touchdown.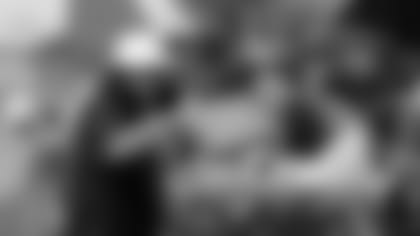 Personal: The players get a 24-hour break, affording the staff a lesser but a no-less appreciated break. The Panthers.com crew dares to take in a movie - "The Watch," which we proclaim to be the worst movie we've ever seen and leave after 45 minutes to catch the final minutes of "Ted." Only marginally better.
DAY 7Professional: In the first two-minute drill of camp, Newton completes 7-of-9 passes, capping the touchdown drive when Smith snares a pass in the right corner of the end zone and drags his feet to stay inbounds. Hope to see that a lot this season.
Personal: The Panthers.comers enjoy lunch at The Beacon Drive-In, Spartanburg institution since 1946 complete with a Carolina Panthers room (not since 1946). I order the "Double Chili Cheeseburger A-Plenty," a platter that features enough french fries and onion rings to feed the starting offensive line.
DAY 8Professional: During the two-minute drill, watching head coach Ron Rivera teaching both sides of the ball a finer part of clock management. If the defense jumps offside with three seconds left, Rivera notes, the offense shouldn't flinch to draw the flag but rather take the "free play" and thus get another shot with an untimed down if needed.
Personal: Watching Newton razz the referee for a pass interference call on a pass from Derek Anderson to Joe Adams in the end zone. The duo hooked up for a touchdown on the very next snap, to which Newton bellows, "We don't need your flag."
Professional: Rivera causing somewhat of a stir by calling cornerback Captain Munnerlyn the "defensive Steve Smith."
Personal: Heading home late Friday night after eight consecutive nights in the dorm and spending a little time with my family before Fan Fest.
DAY 10Professional: Rookie linebacker Luke Kuechly leaves the field early at Fan Fest with a bloodied nose, then returns and flashes his nose for the football with a remarkable interception.
Personal: My son running across the field several times in pursuit of Newton's autograph, his face going from determined to teary and finally to overjoyed.
DAY 11On the 11th day, they rested. And it was good.
DAY 12Professional: Rain forces practice into the gym, prompting 285-pound defensive end Charles Johnson to borrow a basketball from a Wofford player and show off his mad dribbling skills.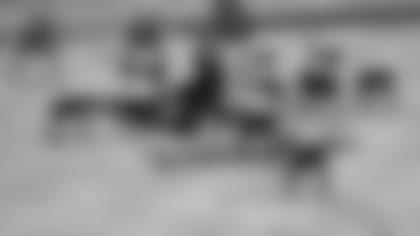 Personal: Listening to the determination in cornerback Nate Ness' voice. A part of 25 non-gameday transactions in less than three years as a pro, Ness picked off two passes at Fan Fest.
DAY 13Professional: Munnerlyn shows why he is the defensive Steve Smith – with a smile on his face. "They might be coming for my job, but I'm coming for Chris Gamble's job. I want to be the No. 1 corner," Munnerlyn said.
Personal: Playing basketball for the first time in about 18 months, albeit a one-on-one, halfcourt game with Panthers.com staff writer Max Henson, who outlasts me. It took me about four days to recover.
DAY 14Professional: Rivera stops practice and calls the entire team together, sharing some choice words about their intensity level. The team responds in kind.
Personal: A schedule change that moves practice to earlier in the day allows some members of the Panthers.com team a little more personal time. We take advantage with our first visit to another Spartanburg institution, Gerhard's Cafe, for a little outdoor dining. Very unique atmosphere.
DAY 15**Professional: Talk to defensive end Thomas Keiser about the strange concoction he's been carrying around camp. His habit of drinking chia seeds in water goes viral in no time.
Personal: The Jersey boy Henson enjoys another first at another Spartanburg institution, trying sweet tea for the first time at Wade's.
DAY 16Professional: On the eve of the preseason opener, Munnerlyn gets three field goal attempts from 12 yards to give the team a chance to skip evening meetings. He misses the first but comes through on the second. Rivera said he picked Munnerlyn "because Captain gave me the best chance for him to miss."
Personal: I answer my first slew of questions in our newest feature, "Ask Bryan." I'm overwhelmed by the response: 81 questions in the first 24 hours from spots like Idaho, Australia and the United Arab Emirates. Keep 'em coming.
DAY 17Professional: The Panthers open the preseason at home against the Houston Texans, but the biggest news comes before the game when the team announces a five-year contract extension for running back Jonathan Stewart.
Personal: Krispy Kreme doughnuts are a press box staple at Bank of America Stadium. With strawberries available for a little shortcake action, I create a new and quite tasty dessert by instead slapping my strawberries on top of an original glazed.
DAY 18On the 18th day, they rested again. Still good.
DAY 19Professional: Linebacker Thomas Davis, coming off three torn ACLs in less than two years, takes part in seven-on-seven drills. Nothing short of amazing what he's attempting to do.
Personal: My muscles have finally recovered enough for another hoops game, this time joined by five other members of the televison and digital media teams. I don't want to brag, but I will. I put the "elder statesmen" team on my shoulders and carried it to victory. Soon, though, I lost the ability to put one foot in front of the other.
DAY 20Professional: Rookie cornerback Josh Norman picks off four passes at practice. Or was it five? Or was it really two or three because he would have been flagged? No matter the number, it's a coming-out party, training camp style.
Personal: Kalil is kind enough to share the results of the players' annual PIG basketball tournament (think HORSE but only shorter). Jansen wins the 32-player event, edging Anderson in the final.
DAY 21Professional: As the final practice winds down, a wayward pass skips past Smith and settles a few feet from me. I scoop it up, then toss it to the ballboy, close enough for him to catch it at least. "You play in the NFL?" a fan yells. Clearly no, but I do live for the NFL.
Personal: At long last, another training camp comes to a close, and I head home. A stop for some Krispy Kreme doughnuts and some South Carolina peaches, and I cross back into my native North Carolina.