CHARLOTTE – Quarterback Will Grier was seated directly across from Josh McCown, who has 16 NFL seasons under his belt.
Pass rushers Brian Burns and Christian Miller shared a table with Mike Rucker, who finished with 55.5 career sacks.
The Panthers' annual Rookie-Alumni dinner gives the guys just starting out and the guys who've done it a chance to truly connect.
This year's event took place this past Tuesday at Fahrenheit, the rooftop restaurant with skyline views in uptown Charlotte. Its purpose is to help the rookies transition to the NFL. It's an opportunity to ask questions and get honest answers.
And it's always nice to enjoy some delicious food while talking ball.
All of the drafted and undrafted rookies were joined by the following alums: Rucker, McCown, Kevin Donnalley, Nate Salley, Alex Haynes, Tony Smith and Brenton Bersin.
All of the alums imparted some wisdom to the group before the food was served.
"Take notes so you can play fast when you get to camp," Rucker said.
"You can't make the same mistake twice," Diggs said.
"Understand that everyone learns differently. Figure out what works for you," McCown said.
"Never give up. I can't tell you how many times I was cut – by this team. Just keep working," Bersin said.
"Attention to detail. Find a way to get better every day," Donnalley said.
"Don't forget your why," Salley said.
"It's the little things. Athletic ability will only take you so far," Smith said.
The rookies nodded along as those messages were shared. Hopefully it sinks in. The reality is that every player's career is different. Some will play into their thirties. Others will fight for promotion from the practice squad.
As head coach Ron Rivera will remind them often, effort is the only thing they can truly control.
As the dinner continued, it was neat to see McCown and Grier – the only two quarterbacks in the room – chat at length. McCown has a lot of knowledge to share after 16 years in the league. And he pointed out to Grier that not once in his career did he have the same play-caller in consecutive seasons. It's a tough business.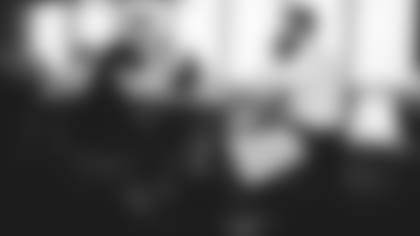 "We exchanged numbers and I'm here to help him throughout this journey," said McCown, who like Grier was drafted in the third round. "I think there is great value in having somebody who's gone through this that you can talk ball with and just talk about life in general. It's a great thing the Panthers do."
McCown, who lives in the Charlotte area and whose daughter attends Tennessee, said he watched Grier lead West Virginia to victory over the Volunteers in the 2018 season opener at Bank of America Stadium.
Grier threw for 429 yards and five touchdowns in the Mountaineers' blowout victory.
"I was really impressed with how he carried himself, how he threw the football, how he played the position and that continued through the season," McCown said. "I really think he was a heck of a get in the third round."
McCown knows the challenges that Grier will face as he adjusts to the speed of the NFL. But he believes Grier is in "a great spot" here in Carolina with Cam Newton.
"He doesn't have that pressure with Cam leading the way," McCown said.
"You always have to be ready to play, but he has to build a career and figure out what that's going to take and developing week to week. That's the key right now for him. He's in a good position to really learn."
View photos from event, which again took place at Fahrenheit in uptown Charlotte.