CHARLOTTE — Baker Mayfield's not going to lie. But he's not going to pitch a fit about it, either.
The Panthers' opening-week starting quarterback, now the backup to PJ Walker, admitted he'd rather be returning to his former job. He also acknowledged that he understood leaving Walker in place after how he played in last week's win over Tom Brady and the Buccaneers.
"Obviously, I want to play. I'm a competitor. We all want to play. That's the nature of this business; that's the nature of playing sports," Mayfield said Thursday. "My role right now is to help us win any way I can, and that's practicing and helping out in QB room, and doing scout team stuff and trying to get under their skin on defense. I'm enjoying what I'm doing right now.
"Obviously, I'd like to be out there, but PJ played his ass off and deserves to go out there again and play. So I'll do whatever I can to help this team win."
Mayfield missed the last two weeks with an ankle injury suffered during the loss to the 49ers. He's well enough to be active (he's no longer on the injury report at all), but before he was hurt, he was playing poorly, and he understands that's part of this equation too.
In the first five games of the season, he completed just 54.9 percent of his passes for 962 yards, with four touchdowns and four interceptions. The Panthers were last in the league in passing offense and third down percentage when he left (they still are, for the record), and his 71.9 passer rating is 33rd in the league among qualified passers. (Walker hasn't hit that chart yet with his 104.1 rating, since he doesn't have enough attempts to qualify for those rankings).
That's part of the reason Mayfield gets it, and knows now isn't the time to rock the boat or campaign to get his old job back. So he's taking a team-centric approach (and he also appears to enjoy the fact that people expect him to do something else).
"It's just one of those new things, that you have to roll with the punches," Mayfield said. "It's not my plan, obviously, like I said. I'm a competitor. But rolling with the punches and helping this team in any way I can. I came here to win, and if my role is to help PJ out from the sideline and help this defense out from the scout team stuff, I'm going to do it. I'm going to do it with everything I can. That's just the way I am. So I understand that, and I'm going to roll with it."
Teammates and coaches have been impressed with his demeanor now, saying it's not that much different than what they've learned about the former No. 1 overall pick since he arrived in July.
Wide receiver DJ Moore said Mayfield's handling things "pretty good."
"To go from that (starting)? Yeah, it probably is tough," Moore said. "But at the same time, you know the business, and you know what we signed up for at the end of the day. He was the starter, but he's the backup now, so he's going to motivate PJ in the best way he can."
Offensive coordinator Ben McAdoo said Thursday he hadn't seen a change either.
"Baker's Baker, man," McAdoo said. "He has no shortage of confidence, he's played a lot of football in this league, and I don't see anything different from him. He's helping out any way that he can."
It's admittedly a strange situation, but nothing about the Panthers' season so far could be described as normal.
So yes, Mayfield is three months removed from competing for (and winning) the starting job against Sam Darnold.
But when that happened, former head coach Matt Rhule, running back Christian McCaffrey, and Robbie Anderson were all still here. Mayfield's seen some things himself (he used to work in Cleveland, and referenced the fact he walked into a place that was 1-31 the two years before he arrived in 2018), but the events of the last few weeks around here have been a lot to take in, no matter anyone's context.
That might be part of the reason he was so willing to play along at the moment, because it's hard to compare to things that happened three weeks ago, much less three months ago, and he said he's been impressed with the way his teammates and interim coach Steve Wilks have handled things.
"I mean, I think everybody has hit on it a lot, how everybody in this locker room has handled all this change and the adversity that's been brought upon us," Mayfield said. "It's been handled extremely well; I'll say that. Proud of this group, proud of everybody in here. Especially last week, when you go through a game plan all week, have Christian involved the whole time, and see a guy that's put so much into this place to not be a part of it anymore on a Friday. To bounce back and play like that on Sunday, that's pretty cool.
"So this is a resilient group. And coach Wilks has done nothing short of a fantastic job so far. He's got this group playing with their hair on fire and passionate and believing in themselves, and that's great for everybody."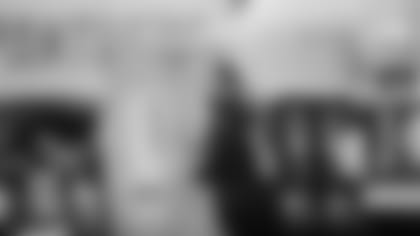 Of course, it's an unusual spot for Mayfield to be in, and he recognizes that. Asked if it felt inevitable that he might get another shot this year, whether by injury or another change, he shook his head and said, "I'm not going to put that into the universe at all."
He also made it clear he wouldn't ask for a trade (ignoring the fact that there's probably not much of a market for him at the moment), sounding sincere about wanting to stay and see this out and being ready to play whatever role he might have.
"I trust the opinions in this building. They see the work I put in constantly. I just want this team to win; that's just who I am," Mayfield said. "I want to be here. I've spent enough time with these guys; I want to be here. If that's out of my control, it's out of my control. Just roll with the punches."