SPARTANBURG – When quarterback Cam Newton threw that first deep ball on the opening night of training camp, it was as significant for him as it was for all the wide-eyed fans watching.
"It was a sigh of relief for a lot of people because I wasn't right at the end of the season," Newton said following Thursday's practice. "It was a sigh of relief for myself as well to throw like that again."
But that throw didn't signal the end of Newton's road back from offseason shoulder surgery.
"It's a process," Newton reminded.
"Still a work in progress," said Newton, who had a scheduled off day Thursday. "One thing I wanted to work on is just being honest with myself – knowing when my body is talking to me, knowing that it's OK to sit out a practice and focus on the body. I'm at a point now in my career now where I'm as hungry as ever but I have to be as smart as ever as well.
"I don't want people to just assume, 'Oh, Cam is back.' I'm doing a lot of work behind the scenes to make sure that I am able to practice with the capabilities I know I have and this team expects."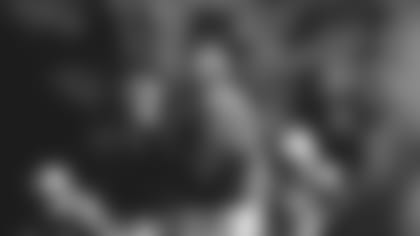 The 30-year-old has become increasingly aware of his mortality. Getting his throwing shoulder right – and keeping it right – requires regular maintenance. So as badly as he wants to be out there practicing all the time and taking every rep, he now weighs other factors.
"Everybody on the offense needs me to be my best self," Newton said. "My best self may be taking care of my body in ways that the field may not possess."
And it's not just the physical part. Sure, Newton needs to keep building strength, he needs to keep repping his compact throwing motion to establish muscle memory.
There are also mental hurdles to clear throughout this process.
"A lot of times you just got to get out your own head," Newton said. "When you're hurt for so long, you've just been telling yourself, 'Just do it, just do it.' Football players, our mantra is big macho man. Never showing signs of weakness or show that you're hurt.
"Where I'm at now, I may feel certain things and my mind may say, 'You're hurt.' But you're really not hurt. Because you've been hurt for so long, you don't know what 100 percent feels like."
We know what Cam at 100 percent looks like.
We know how good this offense can be when the former MVP is able to perform without limitations. We've seen it throughout the first week of his eighth training camp.
We all want to see it throughout the fall.
"I've got to uphold my end by taking care of myself first," Newton said, "and everything else falls in line."