INDIANAPOLIS – Who is the best player in this year's draft?
Heisman-winning quarterback Joe Burrow is expected to go No. 1 overall, but many believe dynamic edge rusher Chase Young has the most natural talent of all the 2020 prospects.
"I definitely think I'm the best player in this draft," Young said Thursday at the NFL Combine. "I showed it on my tape. Every game I think I showed it.
"I bring a lot to the table -- the whole package as a defensive end."
But what about Auburn defensive tackle Derrick Brown? There are those who believe he belongs in that conversation.
"I try to impose my will on people," Brown said.
He has had a lot of success doing just that. Nearly every offensive LSU player in Indy said Brown was the toughest opponent they had to deal with in 2019. By the end of the year, Brown said he faced a "double team frenzy," and for good reason.
"Trying to consistently dominate the game," said Brown, who added that his ability to create knockback at the line of scrimmage is his greatest strength.
Brown was consistently wrecking things for offenses as a senior in 2019, something he admits can't be said about his 2018 season. It's something teams have asked him about during interviews, but he's got a strong answer to that question.
"2018 you weren't as consistent as you were in 2019. How do we know we are not going to get that guy?" Brown said. "That guy don't exist no more."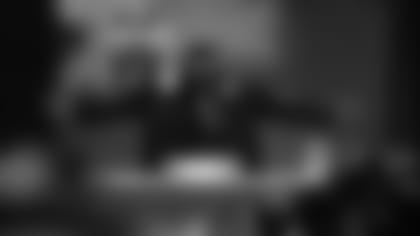 Like Brown, South Carolina defensive tackle Javon Kinlaw is another interior disruptor who wreaks havoc.
"I'm going to put my face in your chin and walk you back from there," Kinlaw said.
Yeah, have fun blocking that guy. Kinlaw said he's just scratching the surface of his pass-rush ability and he's still trying to learn how to best take advantage of his long arms.
"I'm just learning how to use these hockey sticks right here," Kinlaw said with his impressive wingspan outstretched.
Kinlaw may not have been a big star during the 2019 season, but he's become a big name during the pre-draft process. He's got top 10 talent, and he's also got an unbelievably inspiring story, having been homeless as a youth.
"I always tell people, I didn't go to junior college for football. I went there because I had somewhere to sleep and free food to eat. That's really why I went," Kinlaw said. "I didn't have the expectation like, 'Man, I'm going to go to the SEC and go to the league.' I just went (there) because I had somewhere to sleep."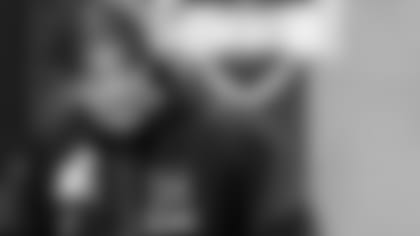 The question sounds simple enough, but not when directed at Clemson's Isaiah Simmons.
The star of Clemson's defense is generally considered a linebacker, but many view him as a linebacker/safety hybrid. He said he's played as many as five positions in one game, with the Clemson coaches finding ways to take advantage of his unique skill set.
"I think it's really beneficial for me. I know years ago it wasn't good to be a positionless guy. But now it's become a benefit for me just because of all the versatility I'll be able to do, play linebacker, play safety, whatever it is, I feel like it just helps me out," Simmons said.
"I think I can play in any scheme just because of my versatility, I can fit in anywhere. Depending on what position they need me at, I feel I can play it."
Simmons feels he's particularly valuable due to the mismatches tight ends and running backs are creating in the passing game. With defenses looking for an answer, Simmons is confident he can provide it.
"The game is evolving, so something has to be done to stop these Travis Kelces and George Kittles out there," Simmons said. "The game's no longer a 250-pound linebacker. It's more guys that are able to run side to side and are able to cover. It's just a necessity now with the tight ends and running backs."
Simmons isn't the only versatile defensive playmaker in this draft. Wisconsin edge rusher Zack Baun said one team described him as a "toy" with his ability to rush with authority and drop in coverage effectively.
"A do-it-all linebacker," Baun said.
LSU linebacker Patrick Queen would use that label to describe himself, and he knows that's a necessity in the modern-day NFL.
"That's a specialty for me, being able to cover people out of the backfield and cover tight ends. But you have to be able to play the run as well," Queen said. "You can't just have a linebacker that's able to cover, and then when it's time for them to run the ball you can't stop the run. I feel like I can do both."