CHARLOTTE – Anyone who saw – or heard – right tackle Daryl Williams suffer his knee injury during training camp surely thought he would miss at least part of the regular season.
But with exactly one week until Sunday's opener against the Cowboys, Williams is back on the practice field.
"I'm definitely ahead of schedule," said Williams, adding that the athletic training staff has been "huge" throughout his daily rehabilitation. "It feels good to be back out there with the guys getting some work done. It's awesome.
"At first when it happened I thought it was worse. But I'm back out there. Just going to take it day-by-day and see where I'm at."
When Williams dislocated his right patella and tore the medial collateral ligament in his right knee on July 28, no timetable was given for his return. And while everyone is excited about Williams' progress, head coach Ron Rivera isn't getting ahead of himself.
"It's good, but we'll see. We have a full week to see where everybody is," Rivera said. "We've come to no conclusions, no decisions on anything."
Williams of course wants to play in Week 1, but only if the timing is right.
"If I'm ready and it feels good, yeah," Williams said. "But definitely being cautious."
Offensive lineman Amini Silatolu, who underwent surgery August 10 for a torn meniscus in his left knee, also appears to be trending toward possibly being available for the opener.
"It feels great," Silatolu said after taking part in Sunday's practice. "We've been working hard with rehabbing in the weight room and on the field. I'm feeling really comfortable right now with the knee. No issues.
"We've got to see how it plays out Tuesday when we start practicing in full."
Silatolu was getting most of the first-team reps at left guard at the time of the injury midway through training camp. Greg Van Roten took over in Silatolu's stead and has made a compelling case for being the starter regardless of Silatolu's status.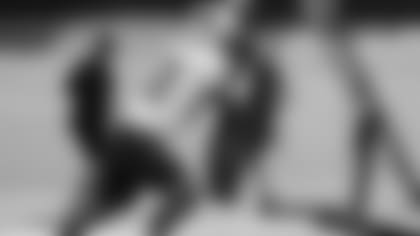 Tight end Chris Manhertz has made his way back just in the nick of time, taking his first practice reps this weekend since suffering a foot injury in June. He came off the Physically Unable to Perform list on the eve of roster cuts and made the 53-man roster along with Greg Olsen and rookie Ian Thomas.
"I'm grateful that I healed up just in time for the season," Manhertz said. "I feel great. Mentally, I'm sharp. It's just a matter of getting re-acclimated to the practice and the speed and the physicality. That should take no time, though."
Manhertz, who was the Panthers' No. 2 tight end behind Ed Dickson last season with Olsen on the shelf, could be back to his more familiar No. 3 role this season. The Panthers will have a decision make come game day - they went with three tight ends last year when Olsen was healthy but went with two tight ends and fullback Alex Armah went Olsen was out.
Manhertz said his injury, a broken fifth metatarsal, was a matter of "too much horsepower."
"I was running in a straight line and made a bad cut, and it went just like that," he said. "It's one of those things you can't control, but one thing you can control is your attitude with your recovery."
––––––––––––––––––––––––––––––––––––––––––––––––––––––––––––––––––––––––––––––––––
Senior writer Bryan Strickland contributed to this report.