CHARLOTTE — When you're on the road, you can be expecting it, but it can still feel like "torture."
But when you're at home, the crowd noise can be an advantage in one sense. It's still something you have to account for and prepare for during the week, knowing it could be hard to talk to teammates on the field and make sure everyone's running the same play.
"We know what's coming," Panthers defensive end Brian Burns said of the volume he expects Sunday when the Panthers host the Steelers at Bank of America Stadium. "The fans have been rocking for us the last couple times. It's been hype."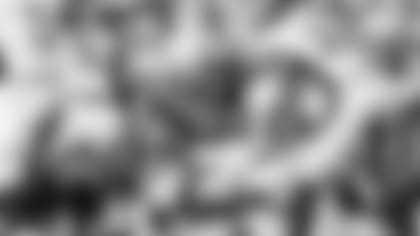 That's unquestionably a good thing in general for the Panthers and for Burns in particular, since pass-rushers can key on the timing of an opponent trying to use a silent snap count. Any little edge he can find becomes a valuable one, so he loves it when the opponent has to process while not necessarily being able to hear.
But it makes a defense have to think a little more also, and that's a thing that has to happen on Wednesday and Thursday and Friday if it's going to make a difference on Sunday.
"We've really got to be on point in terms of communication," safety Jeremy Chinn said. "A lot of it goes to pregame preparation, so guys are on the same page. I feel like that's something we have. We have a lot of chemistry between each other.
"We see certain things, know how we're going to play it, but it's also formation recognition, this is what we're trying to do, this is how we're getting attacked, so it's about being a step ahead that way."
When a team's on the road, the defense knows they can generally hear each other talk. So for linebacker Shaq Thompson (who wears the green dot on his helmet, meaning he gets signals in from the coaches through an earpiece), it's largely a verbal process. He relays plays to teammates in the huddle, and when they break and see how the offense is aligned, they adjust from there.
On the road, that's easier. At home, when the fans get loud, it's more complicated.
"I've played in situations here where it's been loud, when we have to resort to hand signals, but we do that anyway," said safety Xavier Woods, who directs traffic in the back of the defense, and has gotten credit from coaches for his ability to make sure everyone's on the same page.
That may sound simple or like a coaching cliche that gets repeated every week, but it's a months-long process that begins with players understanding each other's tendencies and preferences. Former Panthers linebacker Luke Kuechly said he and Thomas Davis could see a formation and exchange a glance after they broke the huddle, and each would know what the other was doing.
This group doesn't have the same benefit of years together, so they have to make sure practices are buttoned up. While interim coach Steve Wilks talks a lot about physicality (and had players go in full pads on Wednesdays earlier this year, the first day of the practice week, to underscore that message), he's consistently emphasized the need to "over-communicate."
Defensive players have a set of hand signals, effectively one for every defensive call. Thompson said they'd change from week to week (to keep prying eyes from picking up tendencies on film), and Woods said they go over each of them before the game to make sure everyone's reading off the same sheet of music.
But with injuries and some adjustments through the year, guys have had to adapt.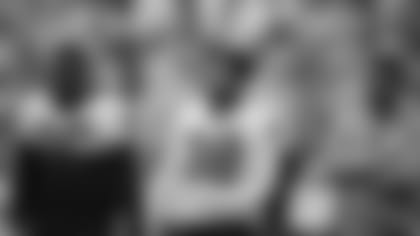 Defensive back Myles Hartsfield's an example of how demanding it can be for players to communicate on game day. He at least had the benefit of playing multiple positions in college (he once lined up at six different spots in a game against Arkansas when he was at Ole Miss), and this year, he's played nickel and both safety spots, versatile enough to plug in where needed. At safety, there's more of a burden of making sure players are aligned, while he can just focus on his responsibility more when he's playing nickel.
Some weeks, he goes in knowing he's playing nickel, but he prepares like a safety because he knows that how signals pass through the secondary changes dramatically based on who's where.
"Communication is a part of defense you just have to overcome," Hartsfield said. "You play the play before the ball is hiked. When one person moves, it can change the whole defense. So you have to know how people talk. X (Woods) is a big yell-at-you guy, Jeremy is more of a hand-gesture type. You have to know how each person receives it and talks through it.
"One week, I have to be the listener, and one week I have to be the communicator. It's knowing where I'm at and knowing what it takes to be successful on each play. It's knowing when to talk and when to listen, and when I wasn't at safety, knowing what I would call if I was at that position, to be ahead of the game."
Of course, the theory of "being on the same page" is often an ideal. Getting 11 players in a loud environment to all be thinking the same thing at the same time can be a logistical challenge. The problem is when one person doesn't hear the message the same way the others do.
"If we're all wrong, we're all right," Hartsfield said with a laugh. "If they say one thing and one guy is somewhere else, everything is a disaster."
And when the fans in the stands start offering their input, it can be more complicated.
Veteran long snapper JJ Jansen, who has played in more games here than any player, says there's a physiological component at play as well.
"First and foremost, it's sensory overload," Jansen said. "You've got bright lights and things flashing on the scoreboard, and now you've got a noise element. It raises everyone's blood pressure. Everybody gets a little antsier, a little more jittery. That can be good or bad. That certainly adds to it.
"Think about it; it's like being a young dad. The kids are yelling. They're blasting music. Someone's using the vacuum cleaner. The dog's barking. You just feel so overwhelmed. You want to step out; you want to quit for a second and take a break. That's a human reaction to sensory overload. On the road, it's like torture. It's loud, and you don't know when it's going to stop. So you have to stop it."
The Panthers did that to a certain degree last week at Seattle. While there were some false start penalties early, the way the Panthers ran the ball took some of the crowd advantages the 12s (the Seahawks' famously loud home fans) typically possess away. But in your building, the home fans are trying to do the same thing, so the defense and special teams have to be ready to adapt.
"A part of the game doesn't get talked about; when it's noisy, the communication level has to go way up," Jansen said. "The biggest thing is communication, on the field and on the sideline, because it's just more difficult when it gets loud like that. It forces you to be very intentional in your communication, look them in the eye, seeing their lips as they're talking. Also, it speaks to your preparation.
"If we get to that point in a game, have we talked through the plan, is everyone comfortable with it, or are we waiting for the game to discuss something? And now, the environment to communicate is very challenging. So I think you can eliminate a lot of noise on the road by preparation."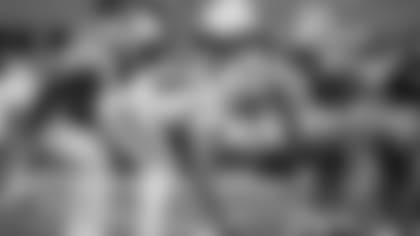 Often, that's just a function of time, the kind Kuechly and Davis enjoyed by playing together for years. Chinn said he's approaching that kind of comfort level when he's closer to the line of scrimmage and working next to Thompson. He's getting there with Woods.
But he thought back to last year when he got a master class in how to prepare through the week and learning to anticipate things from cornerback Stephon Gilmore. Chinn recalled both of Gilmore's interceptions with the Panthers (here against the Patriots, and in Atlanta when he ran tight end Kyle Pitts' route for him and stepped in front of the pass) as examples of plays that are made on Sunday, but only because they made them so often in the week leading up to it. He saw it again this year when he was injured and on the sidelines, when Donte Jackson and CJ Henderson had picks against the Falcons due to things they had talked about in the days leading up to the game.
"There were plenty of times this year; even when I wasn't playing, you see practice reps play out in the game," Chinn said. "That happens every week. Even if there's not a pick, you can see great position leading to a great tackle. All those things come from the work and preparation.
"Guys like Shaq, his understanding of the game, it's so slow to him. He makes those all the time. (Jaycee Horn) does it too, but he's also just a (physical) freak. One guy I learned from who did that kind of stuff was Gilmore. It was crazy how slow he would play. He has no stress, because he knows what to do in advance."
So they go through their plans in detail through the week, go over their signals on Sunday mornings before games, and each huddle gives them a chance to go through their checks one last time before each play.
It's a lot of prep work, to cover every possible variation they might see. Because when you're playing at home, and things get loud, it's harder to talk through an adjustment.
"It's all about the hand gestures and signals when the call comes in, it's quiet then, it's about going through the checks before we break the huddle," Hartsfield said. "That's a way to minimize the communication during the play because it's already loud. Third downs are extremely loud, so it's more important that everybody has to be on the same page.
"You try to keep things the same way, but you have to be more emphasized at home games. At away games, you can sometimes get away with making a check late (once you break the huddle) and doing all those things.
"Once you break the huddle at home games, it's extremely loud, so you have to know what everyone's doing."
View photos from Wednesday's practice as the Panthers prepare to take on the Steelers.