CHARLOTTE – Football wasn't always Eddy Piñeiro's dream. But once he chose that path, he knew he had to give it everything he had, because he had already seen what sacrifice looked like.
So his father, Eddy Piñeiro Sr., told him they'd take no shortcuts on that journey – even if it meant sleeping in cars along the way.
In 2015, 19-year-old Eddy Jr. began seriously cultivating his craft as a placekicker, and quickly earned the notice of the top college programs. A lifetime soccer player with a natural talent but little football training to speak of, he told his father about an opportunity to kick for Alabama coach Nick Saban at a summer camp in Tuscaloosa, over 12 hours away from their home in Miami.
The family was in a bind financially. They had recently lost their house, as Eddy Sr. struggled to find carpentry work in a tough economy. But he was determined to find a way to Tuscaloosa.
Eddy Sr. called upon his brother, Joel, for a $700 loan to finance the Alabama trip. That paid for a rental car for the long trip, and they could only afford to sleep in a hotel parking lot before attending the camp that would eventually change his son's life.
In what seemed like a far-reaching bet at the time, Joel Piñeiro left a message for his nephew in the check's memo line: "Eddy Jr., pay me back when you're in the NFL."
And when he first read it, Eddy Sr. couldn't help but laugh.
"Oh my God, if this is the way you're going to get paid back, forget it. You're not going to get this money back," he told his brother. "We started laughing, obviously not knowing what the future had held for him."
Eddy Jr. didn't know what would come of his trip either, but he always knew why he wished so deeply to succeed in sports. He wanted to provide for the family who had risked as much as they could for his goals.
Eddy Piñeiro Sr. emigrated from Cuba at 9 years old during the 1980 Mariel boatlift to join some of his family members in Florida. He met his wife Grace, who emigrated from Nicaragua, and they raised Eddy Jr. with an older sister, Gicely, and younger brother, Adam, in Miami.
Eddy Sr. played professional soccer for two years with the Fort Lauderdale Strikers in the American Soccer League. He mainly supported his family through carpentry work, installing floors, kitchens, and bathrooms, while his wife was a homemaker.
"My dad was just supporting all of us," Eddy Jr. said. "I just saw my dad struggle (while I was) growing up, just seeing him not make enough money for all of us and different things like that. So I was like, 'OK, I've got to change this. I've got to change the dynamic of my family.'"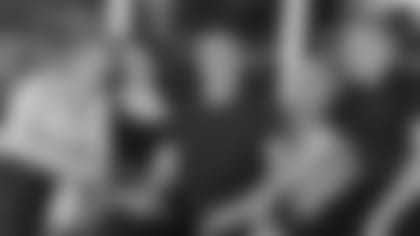 Taking a chance to kick in front of Saban became the first domino to fall in a succession that led to Piñeiro's eventual career in the NFL.
But success in football wasn't Piñeiro's initial dream. He actually gave up his first passion to pursue it.
Before he embarked on the 12-hour drive to Tuscaloosa with his father, Eddy Jr. gave himself an ultimatum. If Alabama offered a scholarship, he would stick with football. If not, he'd refocus on building a career in the game he loved first.
As the son of a professional soccer player, a young Piñeiro spent his childhood with daily 5:30 a.m. wake-up calls to train with his father, who he called his best friend. They practiced two to three times each day, connecting over the game Eddy Jr. says he still loves more than anything.
The two frequented college soccer matches, where Eddy Sr. said his son fell starstruck as veterans Munga Eketebi and Luchi Gonzalez (currently an assistant coach for the United States men's national soccer team) would catch up with him after games.
"Every time I would go somewhere, they would be like, 'Oh, your dad was the best soccer player I've ever played with,'" he said. "So growing up, I'm like, 'Damn, I've got to be better than my dad.'"
Piñeiro was named the 2014 Miami Herald Soccer Player of the Year after scoring 38 goals as a senior at Miami Sunset High School, an accolade he'll proudly claim today.