CHARLOTTE – Football and futbol. For Panthers punter Michael Palardy, their similar spelling is only a small part of how they are linked.
"Soccer is in my blood. It's something I love," Palardy said. "Really without it, I probably wouldn't be in the position that I'm in right now."
Palardy's passion for kicking a ball was born through soccer and perfected through football. So Thursday, Palardy seemed like a natural fit to take part in the International Champions Cup's announcement that it's returning to Bank of America Stadium for the fifth time in the last six summers.
"It's a great venue for soccer," Palardy said of the Panthers' home stadium.
Palardy said soccer was his first love growing up as he aimed to follow in the athletic footsteps of his older brother, Mat. And Thursday's event highlighted the power of sports beyond the final score as Relevent Sports Group, which owns and operates the ICC, kicked off its legacy partner program in Charlotte.
The ICC – which will be contested across three continents this summer - intends to partner with a soccer organization in each of its host cities. Thursday's event was held at the first partner in the project.
"We are very, very excited about what this little round thing can do for people," said Daniel Araujo, executive director of the Creative Player Foundation, which hosted Thursday's event in the leaky warehouse in west Charlotte that it calls home. "The kids ask me, 'Why is it raining inside?' I say, 'We want to make it real, like we're playing outside.'
"With this donation from Relevant Sports, we can say that starting on April 1 we're going to be fixing the roof."
When Araujo's days as a soccer player, coach and administrator came to an end about six years ago, the native of Uruguay came up with a way to keep his head in the game while keeping underserved kids' heads in the books.
"What we do here is use the soccer ball as a tool of education and opportunity," Araujo explained. "For us, the ball is an excuse. They love to come and play here, but our main thing is reading and comprehension.
"We want these kids to be the first generation of their family to graduate from college."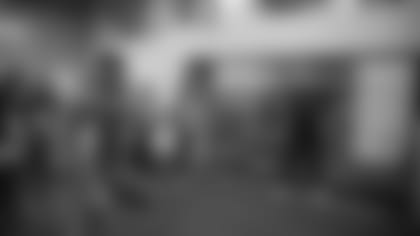 Palardy, who got to interact with some of the kids in the program, came away impressed.
"The Creative Player Foundation has done an unbelievable job of impacting those kids' lives," Palardy said. "I've been a part of sports my entire life and I have watched it unite people from all different walks of life. Knowing that they are using soccer to make that impact in Charlotte just goes to show the amount of good in this community."
Palardy said he'd never done one of the jersey swaps that have recently become popular after NFL games and that a long history in soccer, but that changed Thursday. John Arne Riise, a former AS Roma player who holds the record for most international appearances for Norway, swapped jerseys with Palardy.
Riise, like Palardy, is looking forward to Bank of America Stadium again hosting some summer soccer of significance.
"The stadium is massive," Arne Riise said. "Last year was an unbelievable atmosphere. It's good to be back."
Principal partners in the July 20 soccer game between Arsenal and AS Roma at Bank of America Stadium descend on Charlotte.