SPARTANBURG – For as long as Luke Kuechly and Greg Olsen have been Panthers, they've shared the experience with Ryan Kalil and Thomas Davis.
Until this season. Kalil retired after the 2018 season and Davis signed with the Chargers. Both of them were massive in establishing the locker room culture.
After moving into his dorm room at Wofford College, Kuechly reminisced.
"I'm going to miss my morning (golf cart) ride with Ryan," Kuechly said. "We're going to miss Thomas' big monster truck contraptions that he always drives around. Small stuff like that is what you miss most about guys. Just time spent with them in the lunch room and dorms…
"You can't replicate guys like Thomas and Ryan."
No, you can't. But you have to embrace the change.
"A lot of new faces. A lot of young guys. That's the NFL. Change is the only constant," Olsen said. "We have to adapt and find new guys to fill those leadership roles. We've got a little over a month to do it."
Kuechly and Olsen will no doubt miss their buddies. And head coach Ron Rivera must now identify new leaders as his team prepares for 2019. The departures of Kalil, Davis, Julius Peppers, Mike Adams and Captain Munnerlyn have created tons of opportunity to others to emerge.
"We have some guys that are poised to step up into those positions and ready to assume those leadership roles," Rivera said. "It's going to be very important that guys do step up and become guys that our guys will get behind and follow."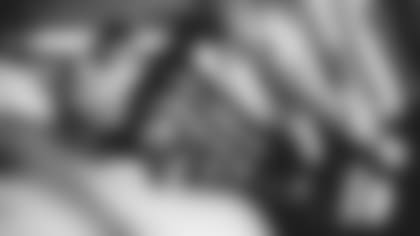 The transition is made easier thanks Kuechly and Olsen's presence. Kuechly took it upon himself to make sure a group of veterans had golf carts waiting for them at training camp. Olsen has always been a vocal leader willing to set an example for young guys. When both of them speak, people listen. They set and enforce the standard.
And training camp at Wofford College provides the perfect setting for team-building. There's quite honestly not much else to do.
"We don't have a lot of free time and we have curfew every night, so we are not exactly tearing up the Spartanburg strip," Olsen said with a smile.
But tearing up the Wofford practice fields? That's a different story.
And whether you're a 13-year vet like Olsen or a wide-eyed rookie, that first practice of camp is a big one.
"First day, everyone is always a little anxious and jittery," Olsen said. "Got to get that first day under your belt and make sure you haven't forgotten how to play."
View photos of Panthers players arriving at Wofford College for 2019 training camp.