CHARLOTTE – EA Sports sent a man with a bunch of fancy equipment to Bank of America Stadium with one major objective.
"Oh, the reason I'm here is the Greg Olsen stuff," associate acquisitions specialist William Gibson said.
So Gibson came to Charlotte to rectify the issue … and to get some scans of other players while he's at it.
Olsen was planning to get the scan done Monday until Gibson told him that shaving would make for a more accurate scan. So he returned with a clean shave on Tuesday, ready to make some magic.
Here's an inside look at the conversation that took place once Olsen took that long-awaited seat.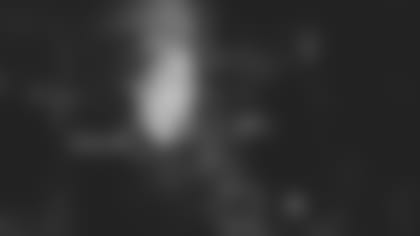 Will: Face out toward me.
Greg: Did I do a good job shaving?
Greg: Thanks. I didn't brush my hair because you told me it didn't matter.
Will: Yes, but I will have it as much off of your forehead as possible.
Greg: How's that? I've been waiting 13 years for this. I feel nervous.
Will: It's OK. I've never lost a patient.
Will: This will be bright, but I'll give you a countdown.
Greg: I'm ready. So this is my better side. My hairline on that side isn't as good.
Will: And 3, 2, 1. … OK, so the next pose is a real easy one. We just need your natural smile.
Greg: I never thought you'd ask.
Will: This next pose gives us your eyelids and your lips so when you talk it looks more like you.
Greg: Sounds good. Compared to what I've looked like, this will be great.
(Tight end Ian Thomas walks into the room)
Greg: Just don't get me and Ian confused. That would be a really tough mix up. Well, you could make me look like Ian and it would be an improvement.
Will: OK now I just need your relaxed face.
Will: That's a very intense relaxed face.
And that feels like the right place to end this. Hope you enjoyed this #content from the one and only Greg Olsen.
Take a look at the set up inside Bank of America Stadium as a handful of players got updated face scans for the Madden video game.