CHARLOTTE – Injuries take away opportunities for some and create opportunities for others.
With safety Da'Norris Searcy in the concussion protocol and rookie cornerback Donte Jackson nursing a groin injury – both starters haven't practiced this week – Rashaan Gaulden and Corn Elder are preparing for expanded roles against the Bengals.
Gaulden, the 2018 third-round draft choice from Tennessee, has been splitting reps with veteran Colin Jones at practice.
"I'm really confident in my craft," Gaulden said following Thursday's practice. "It just depends if the coaches are confident in me."
Gaulden had his first extended action last week at Atlanta, playing 27 snaps in place of Searcy.
"I made some mistakes and made some plays," Gaulden said. "We'll see if I can get some grass this week and see what I can do with my time."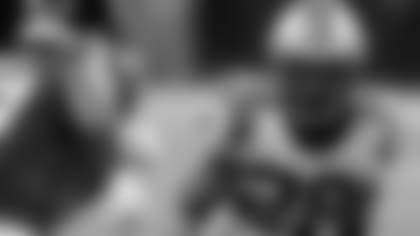 Rookies are going to mistakes, and when they occur in the secondary, they're always magnified. But Gaulden has been making steady progress.
"He's done well," head coach Ron Rivera said. "He's really tough on himself. When he makes a mistake, he tries to correct it and you see him working through it. He asks questions and he's very aware of his opportunities when he's on the field."
Jones, who has started 13 career games as a fill-in, believes Gaulden is capable of rising to the occasion.
"RG has really bought into the process and he's put the time in to be ready," Jones said. "Having a mental edge allows those physical skills to shine. The more you play, the more you can eliminate those mistakes."
Elder technically isn't a rookie, but he's pretty close to it. The 2017 fifth-round pick's entire first season was wiped out due a knee injury, and his 20 snaps against Atlanta in place of Jackson were a career high.
"I knew I was the next guy, so I had to stay prepared and be ready for my moment," Elder said.
If the Panthers play it safe with Jackson, it'll be Elder who is tasked with helping to slow down a Bengals attack that's scored 34 points in each of the first two games.
"I'm glad to be out there competing. I'm ready to go," Elder said. "I feel like we won't miss a beat."
FUTURE OF THE BIG NICKEL: With linebacker Thomas Davis suspended, the Panthers haven't yet featured the "big nickel" or "buffalo nickel" package that we've grown accustomed to seeing.
"The biggest thing that's happening right now with our big nickel package is we're missing a player," Rivera said. "A big reason why we developed that package is we felt we had three pretty good linebackers."
That package will likely return when Davis re-joins the team in Week 6, but Rivera believes Gaulden could flourish as the "big nickel," a role he excelled at during his college career.
"In the future, if you're looking for a guy that's going to potentially play that spot, Rashaan Gaulden is going to be the guy," Rivera said. "He'll have that opportunity."