CHARLOTTE – It's "Salute to Service" week for the Panthers, and we all know how much that means to Ron Rivera. Carolina's head coach grew up on an Army base, and that experience shaped him as a person and a leader.
Two of his assistants – defensive coordinator Eric Washington and linebackers coach Steve Russ – also were shaped by their time in the service.
After his playing days ended at Grambling State, Washington was commissioned at the United States Naval Academy. Russ played college football at Air Force and had two years of active service before starting his NFL career as a seventh-round draft pick with the Denver Broncos. He later went back to coach at Air Force.
"You see it in the way they work," Rivera said of the assistants' military backgrounds. "Very efficient, very thorough and take a tremendous amount of pride in what they do."
As Washington said, no one equates the game of football with what happens on the front lines, but there are principles that ring true in both team environments.
"I think the thing that carries from one to the other is that the mission and the men are more important than yourself," Washington explained. "Whether you are coaching football or are in position to preserve and protect our freedoms, the mentality is the thing that endures. The mentality of doing your best and the mission being at the forefront – there is that spirit and that sacrifice."
"You have to take care of your people. It can't just be words, they have to genuinely feel that. I'm here for them and it's not the other way around. It can be construed that way sometimes, but I know the role I have to play," Russ said.
"That's one of the biggest lessons I took away (from the Air Force). If you aren't that way in the NFL, there aren't a lot of coaches that make it."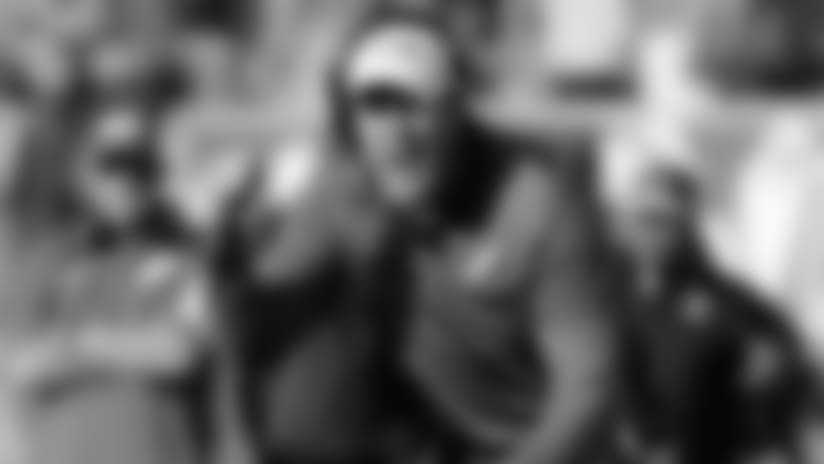 Ironically enough, Washington and Russ got their starts in coaching at the same place.
"When I separated from active duty, Steve and I, that's when we got together at Ohio University," said Washington, who was there with Russ from 2001-03. "That was my first job after I got out of the Navy."
"We were the new guys and the youngest guys on the staff," Russ said with a smile. "He's someone I gravitated to. We had some shared experiences."
From there, Washington and Russ took paths to various stops before finally reuniting under Rivera here in Carolina this year.
Rivera, whose father, Eugene, served in the Army, has an appreciation for the military that's hard to put into words.
That's why the annual "Salute to Service" game is an important one to Rivera and so many others – like Russ, who is in his first year as an NFL assistant coach.
"I know how much service men and women look up to our players. I look up to them. They allow us to do what we do," Russ said. "To be able to salute them is special for me. And I know how much it means to them."
Rivera, Washington and Russ have all heard variations of the same story. They've heard about service men and women tuning in to watch NFL games from all over the world.
For a few hours, it's a connection home. And if we're going to talk about connections between football and the military, that right there is perhaps the most significant one.
"My wife was in the Air Force and she flew planes," Russ said. "She'd be over in the Middle East or the Pacific and it would be three o'clock in the morning and the NFL games would be on in the entertainment area. She saw firsthand the joy that brought, just for them to be able to link to home."