From his first press conference in Charlotte after being drafted in the second round of the 2018 NFL Draft, cornerback Donte Jackson has brought energy to Bank of America Stadium. During his first regular season game against the Dallas Cowboys this past Sunday, the rookie's energy could be felt and seen throughout his performance.
One thing I unabashedly appreciate is a player who is always aware of the camera's presence. I am always on the lookout for expressions, interactions, moments — the usual — but when a player says "Hey! Take a picture!" and I turn around a see a pose or personality pointed at my lens, I not-so-secretly eat it up. Jackson is always aware of the camera at any given moment. This first moment came my way as I walked by the defensive backs warming up along the visitor's sideline. This was a very subtle pose, but one that told me he was ready for the spotlight.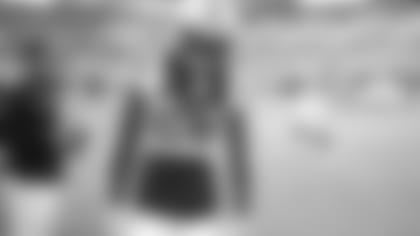 During team stretch, a video camera got in front of Jackson and he started speaking emphatically while leaning into their lens, his dreads swinging back and forth into his face. It was a visual I felt captured Jackson's personality because he is a player who is no stranger to speaking his mind.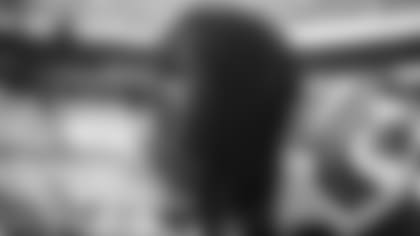 During the game there were two big tackles that Jackson was part of that elicited incredible reactions from the rookie. The first was after a tackle on the Cowboys' running back Ezekiel Elliott. Panthers' linebackers Luke Kuechly and David Mayo were quick to celebrate with the young defensive back, which ended with Jackson letting out a yell with his entire body as he walked between his teammates. Jackson's raw energy is made even more intimidating by Elliott's defeated expression, in the lower left corner, looking up in Jackson's direction as he is helped to his feet by his teammates. This series of photos were expertly captured by my second shooter, Andrew Dye.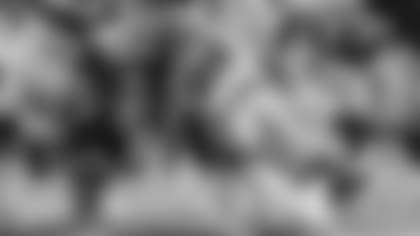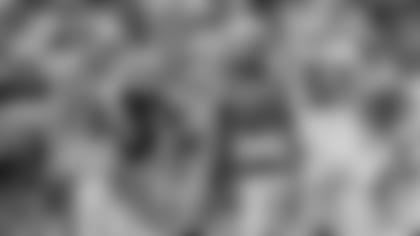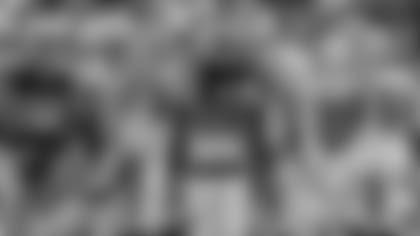 The second one, of which there are two angles of the tackle and the reaction, came from a joint tackle between Jackson and safety Mike Adams. The top photo is my perspective from the home sideline, the bottom is of Dye's on the visitor's sideline. I was further away, while Dye was almost right in front of it and captured the sheer force with which Jackson made his tackle.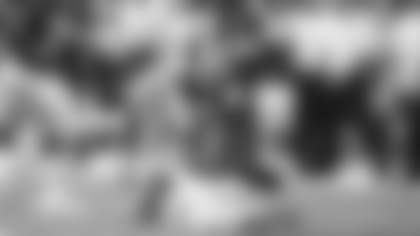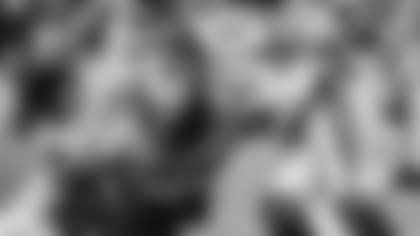 I decided to post both of these because taken at different angles. They give two views of the same reaction and allow the viewer to see just how intense these players can be when they make big plays. It is even more exhilarating when you are a rookie and trying to make the best impression on your coaches, teammates and your opponents.
The top photo is mine, which shows Jackson, full body, standing over his freshly tackled prey, fists clenched and flexing while yelling, looking like the Incredible Hulk.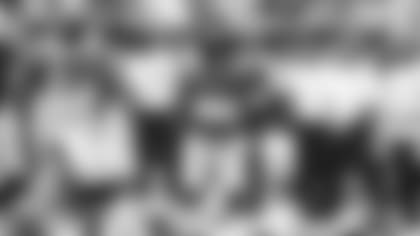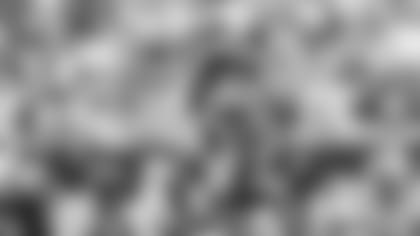 Dye's photo is again, closer, taken from a low perspective and from the side so you see the muscles flexing in his arms and head back as if he just finished screaming and is still taking in the moment.
While Jackson was a force to be reckoned with on the field, full of energy and emotion, one of my favorite photos of him from this game was a quiet moment where he was on the sideline, helmet on, still game ready, but watching the video board, maybe taking a moment to imagine what his next big tackle would look like on the big screen.