When reflecting on the Panthers' season through photos I'm drawn to images that resonate with meaning rather than visual pizazz. Along that same line, the frames I find myself looking at repeatedly or enjoy editing the most are in-between moments or even frames that might be considered "accidents."
A perfect example of this is a photo of Christian McCaffrey from the game in Cleveland. The helmet in the foreground to the right of the frame creates a blue-hued blur, but it works for me because of the complimentary-colored orange hues to the left of the frame. You see McCaffrey's face and just enough of his shoulders to where he doesn't look like a floating head (which would ruin it). It is definitely not a photo that would jump out to most people, but the colors coupled with the isolated shot of McCaffrey makes it work on many levels for me. I included this in the "Gameday Snapshot" gallery from this game and made it the gallery cover for the website because I felt it to be the most visually striking photo of the day.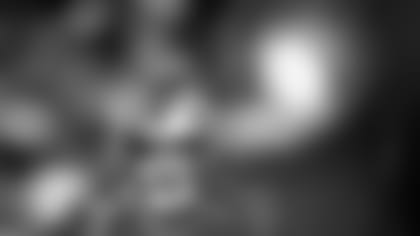 As much as I enjoy happy accidents in photography, I also enjoy predictability from time to time, especially when it comes to game day rituals. I knew during every single pregame, before Cam Newton started practice throws with the team, he would ceremoniously walk over to the group of wide receivers and go through unique handshakes with each of them. Legendary photographer Robert Capa, who captured some of the most intense, intimate and emotional photos of war, coined the phrase "If your photos aren't good enough, you're not close enough." This photo is more of a favorite because of how close I am able to position myself to get up-close shots of what others mostly see from the sideline or the stands or not at all. Also worth noting, this photo is a result not of striking my hand in between players and pointing my camera upwards; I am physically inside their huddle, crouched as low as possible, my lens aimed right at their faces.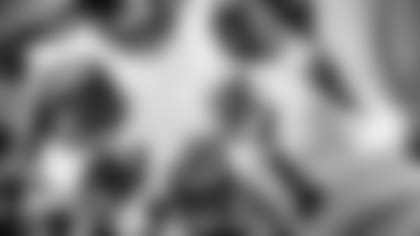 Along that same line, I love getting close for quick portraits of players during on-field stretch. Some players aren't open to having a lens a few inches from their face and I respect their space as much as I can. There are a few, however, who see a camera and turn the personality all the way up. Rookie cornerback Donte Jackson loves cameras and it shows. I loved the fact that I was able to get so close to him for this shot. His dreads were in his face and he made no motion to push them away, so I knew he wanted his picture taken as they were.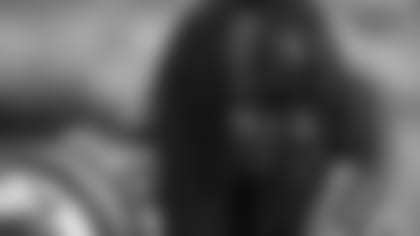 This next photo is my hands-down, all-time favorite fan reaction photo to date. As I was in the east end zone I kept hearing a young girl's voice yelling "You've got this, Cam!" over and over as the offense made their way closer and closer. Sure enough, there was a touchdown and when Newton retrieved the football from his teammates he immediately made a beeline for the young girl with the leather football helmet whose yells of encouragement quickly turned into those of celebration. When she was handed the football she yelled repeatedly, "Let's go!" with an arm raised triumphantly in the air, those around her joining the jubilation. I love the "Sunday Giveaway" that Newton and the Panthers perform after touchdowns, but this one in particular left my whole face smiling long after the moment passed.
This photo was a favorite for similar reasons. It was an unexpected moment and one that demonstrated to me how quick-witted Newton is. The fact that he managed to recover from falling while running backwards, and then had the idea to pick up the pylon that he tripped over and give it a quick kiss, as if to say "I forgive you" was hilarious. Even some Eagles fans laughed at his antics, which is no easy feat, especially in Philly.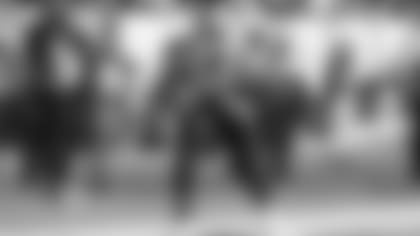 The next two photos involve center Ryan Kalil, who knew 2018 would be his final NFL season. The first demonstrates a random fun interaction with Carolina legend Steve Smith. When Smith saw Kalil on the sideline, he immediately dug his fingers into Kalil's lush beard, which made for this picture-perfect moment. And then there was a very somber moment on the field after a loss to the Buccaneers in Tampa. Kalil was joined by fellow captain Thomas Davis, who knelt down and put an understanding arm around his teammate. I feel photos like this remind people that underneath the armor, away from the field of battle, these men are still human.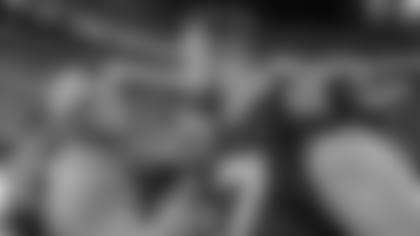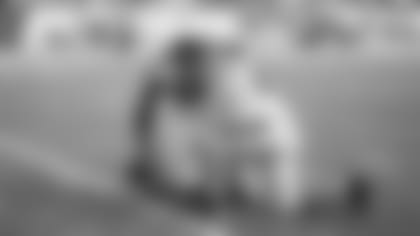 This photo of Newton and his oldest son, Chosen, walking back to the locker room after a game struck me as symbolic, especially should Chosen decide to follow in his dad's footsteps in a couple of decades. Time will tell with this one.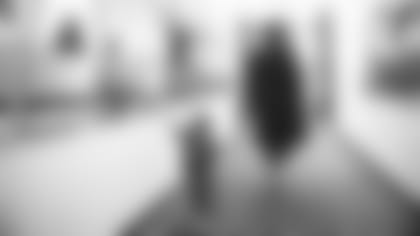 Of course I cannot leave out some of the most fun photos I captured all season long: "The Drip Chronicles." This series started out at training camp and continued throughout the season and I have to admit, these were some of my favorite photos to take. The poses were the same in order to maintain consistency (Newton's idea), the outfits were unique and eye-catching, and sometimes there were special guests (McCaffrey, Davis, Newton's children and Torrey Smith with his Crocs). Maybe it's silly to say, but I enjoyed and looked forward to capturing every single session. I hope the Drip Chronicles, or some variation on a theme, resurface in 2019.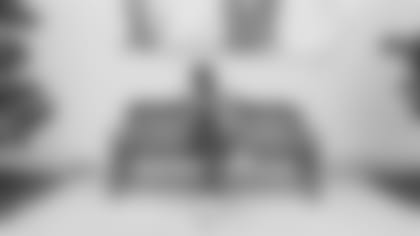 In looking back at these photos, I realize that there is not a single action photo, so I made an effort to find one. This image is a favorite because if you had seen in real time how effortless this leap by McCaffrey was during the game, you would have done what I did, which was say (a different version of) "Holy crap!" McCaffrey's athleticism during a personal record-breaking season made for a lot of incredible game day frames. It was tough to pick just one of him, but one of him hurdling a defender and staying on his feet seemed most appropriate.