We've all rested and recuperated. We've all binged "All or Nothing," which has us HYPED for football again.
Now it's time for training camp. Spartanburg, here we come.
Here are some of the biggest questions facing the Panthers as they prepare themselves for 2019.
So much hinges on Cam Newton's throwing shoulder. The star quarterback made his highly anticipated return to practice at the end of the spring, throwing -- with a new, compact throwing motion -- to moving targets during mandatory minicamp.
He's made tremendous progress since undergoing offseason shoulder surgery, and now everyone is eager to see what he does (or doesn't do) at training camp. I'd expect the Panthers to continue to take a cautious approach with Newton once camp gets underway. Yes, he's feeling fantastic, but it's most important to make sure he's still feeling that way when Carolina opens the regular season against the Rams.
Rising stars on the outside?
A lot is expected of those four entering 2019, and they'll be battling it out day after day at Wofford. Moore and Samuel appear poised to break out in big ways after flashes of brilliance last season. Bradberry, the physical No. 1 corner, is in a contract year and Jackson has a lot of room to grow coming off a rookie season with plenty of twists and turns.
Look for iron to sharpen iron in the Spartanburg heat.
What's going on at nickel and safety?
So former third-round pick Rashaan Gaulden is a leading candidate for the free safety job. He's also a strong option at nickel. To state the obvious, he can't do both at the same time.
That said, the Panthers need to evaluate some candidates at nickel and safety as they start mapping out plans for the wide variety of offensive attacks they'll face in 2019. Corn Elder? Damian Parms? Cole Luke? How will Ross Cockrell and Kevon Seymour play into things? All guys to keep an eye on.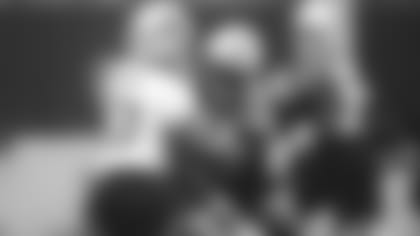 Will Burns and Little prove they're ready?
First-round edge rusher Brian Burns (the only draft pick yet to sign his rookie contract) and second-round offensive tackle Greg Little are talented enough to make an immediate impact. But it's not that simple. When the pads come on, we'll get a better sense for their readiness at this level.
Burns, with his incredible burst and ability to bend the corner, has tools to help in obvious passing situations from the get-go. Little was selected to be the left tackle of the future, but it's not an easy spot to step into as a 21-year-old. We'll see if he can pass the crash course that is training camp.
If Little isn't the starting left tackle in Week 1, who would it be? Daryl Williams, a right tackle throughout his career in Carolina, could be sliding over. Williams got some work there in the spring and is progressing nicely after a knee injury wiped out his 2018 season.
Which running back will emerge from the pack?
An interesting competition has developed behind workhorse running back Christian McCaffrey. Cameron Artis-Payne is back for a fifth season, but Carolina is intrigued by two rookies – Jordan Scarlett and Elijah Holyfield. Then there's Elijah Hood, who missed the entire 2018 season with a knee injury.
Head coach Ron Rivera has expressed his desire to take some of the load off McCaffrey. Can one of those backs prove they're the man for the job?