CHARLOTTE – The continuing string of injuries along the offensive line and the loss of one of the league's top tight ends has to be considered a cause for concern, but head coach Ron Rivera in the face of the adversity chose a couple other C words: confident and comfortable.
And, the team's franchise quarterback with a C on his chest, sounded confident and comfortable about how the Panthers' healthy players will handle the challenge Sunday against the Falcons.
"If it is concerning, I've still got to do something. And if it's not concerning, I'm still going to have to do what I've got to do anyway," Newton said on the day All-Pro right tackle Daryl Williams (knee) went on injured reserve and Pro Bowl guard Trai Turner (concussion) missed practice. "At the end of the day, this is the National Football League where I don't think 32 teams in a year in the history of the football season has all not had injuries.
"It's what this game is. It's an unforgiving game at times, but at the same time, you just have to roll with the punches and make due with whatever hand you're given."
That hand, from Rivera's point of view, is a playable one. The Panthers chose to keep 10 offensive linemen on their 53-man roster for the first time since 2013, and while the projected starting tackles (Williams and Matt Kalil) are on IR, Carolina added veteran tackle Chris Clark on Wednesday after trading for tackle Corey Robinson on cutdown day.
The recent additions are candidates to bookend Taylor Moton at tackle, while Rivera said Amini Silatolu, Tyler Larsen and rookie Brendan Mahon all got looks with Turner in the protocol after not feeling well after the victory over the Cowboys.
"We've got a number of guys who can work the position, so we feel pretty confident and comfortable," Rivera said about the right guard spot before elaborating on the rash of injuries up front and the right tackle slot minus Williams.
"You do get concerned about it, but I do feel very comfortable with the depth that we have," Rivera said. "We did some things consciously as far as the number of offensive linemen we kept on the roster initially, and so far we've been able to pull from those guys. We feel pretty comfortable about it, and I like the work they've put in by the guys that are available.
"We'll continue to work guys, different combinations of guys, over the next couple of days and draw our conclusions based on what we've seen."
At tight end, where Greg Olsen is out indefinitely with a foot injury, the Panthers have rookie Ian Thomas, veteran Chris Manhertz and also fullback Alex Armah, who has worked as a tight end at times.
"The game plan doesn't change at all. We think those three guys can carry the load," Rivera said. "We're very comfortable with what we have at the position right now."
Newton for his part – and obviously he plays a huge part – pointed toward another C word in terms of the changes afoot: curious.
"I'm excited to know and see what we're capable of," he said. "But at the end of the day, it's our job as professionals to max out on our window."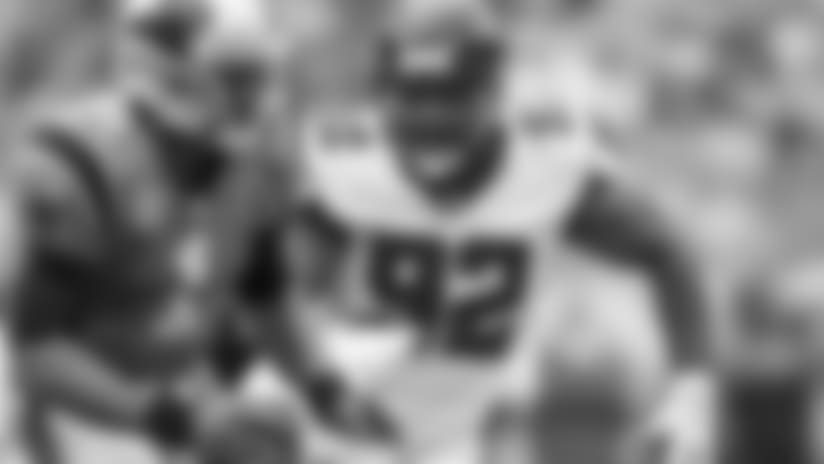 Poe is good to go: After calling Mercedes-Benz Stadium home for the 2017 season, defensive tackle Dontari Poe will make his return to the ATL in Week 2.
And he's ready to have a good time.
"It's going to be fun. It ain't no different for me than it is for anybody else," Poe said about the Panthers' lone visit to Georgia this season. "It's a regular football game, and I'm going to treat it as such. I'm going to have some fun."
It will be the first time in Poe's career he will enter a once friendly territory in enemy colors; he spent his first five seasons with Kansas City before joining Atlanta in 2017.
As a one-year member of the Falcons, Poe started all 16 regular season games and accumulated 23 tackles, 2.5 sacks and two pass deflections. His last appearance for the team came in a 15-10 loss to the eventual Super Bowl champion Eagles in a NFC Divisional round playoff matchup.
With Poe in tow, the Panthers defensive line is seeking to capitalize on a strong Week 1 performance that saw quarterback Dak Prescott under constant pressure from start to finish. When asked about facing a less mobile quarterback like Matt Ryan, Poe showed he has much respect for his former QB's arm, saying, "He can still sling it, no matter where he is."
In addition to watching out for Ryan, Poe zeroed in on his likely assignment Falcons center Alex Mack - a challenge he is eager to take on.
"He's a good O-lineman. That isn't a secret, and I like playing the best, no matter who it is so I'm excited about it," Poe said.
He also took a moment to break down what Mack brings to the table, a clear sign that Poe remembers their past battles - both in Atlanta practices and with the Chiefs.
"Quick, good crafty dude. Strong guy, strong hands. I'm going to have to be technique sound," he said.
"I'm just happy to play like a dog and we'll see how it goes."
Carolina preparing for all possibilities with Hurricane Florence: During his Wednesday press conference, head coach Ron Rivera discussed how the team would be handling the impending arrival of Hurricane Florence, a storm that is currently projected to affect various parts of South Carolina, North Carolina, Virginia and Georgia.
"Our thoughts and prayers go to everyone that's in the path of this hurricane," Rivera remarked. "We for the most part have several contingency plans. You know, to have something in place for our players, for their families."
The team is expected to travel to Atlanta on Saturday but the possibility of severe flooding, rain and wind as a result of the hurricane could change the team's itinerary. But owner David Tepper, GM Marty Hurney and Rivera are keeping an eye on all developments as they become available.
"We do have a few plans and each day that goes by, we'll see where we are before we make any decisions," he said.
–––––––––––––––––––––––––––––––––––––––––––––––––––––––––––––––––––––––––––––––––
Senior writer Bryan Strickland and digital media intern Jelani Scott contributed to this report.