CHARLOTTE – As the running backs coach and assistant head coach-offense, Jeff Nixon devotes a chunk of his time at practice to the Panthers' younger backs, rookie Raheem Blackshear and practice-squader Spencer Brown.
Walking off the practice field this week, Nixon said he was excited about what they bring to the run game behind the experience of veteran D'Onta Foreman and Chuba Hubbard. And if last week's win over Tampa Bay is any indication, there's a chance all four could see the field in some capacity through the rest of the season.
Offensive coordinator Ben McAdoo says he wants to spread the ball around, and Nixon likes the depth of talent he has in the running backs room.
"Starting the year, I thought we were really deep at the position," Nixon said. "We have a talented group of guys, who really are all three-down backs just kind of waiting for an opportunity to get a chance to play."
Interim head coach Steve Wilks stands firmly behind the Panthers' "committee" approach to the running back rotation; it's a message he has repeated since star Christian McCaffrey was traded to the 49ers last Thursday night.
Wilks said he liked the reps distribution in Week 7, which produced season-high 173 rushing yards. Foreman led the way with 118 yards on 16 carries, while Hubbard contributed 63 yards on nine attempts before leaving the game with an ankle injury that has sidelined him throughout this week's first two practices. Blackshear didn't gain any yards on his first two NFL career attempts. Still, his efficiency as a kickoff returner (228 yards on eight returns, including a 48-yarder) has flashed his potential.
And with Hubbard's status for the Falcons game up in the air, it's a good thing the Panthers have belief in Blackshear.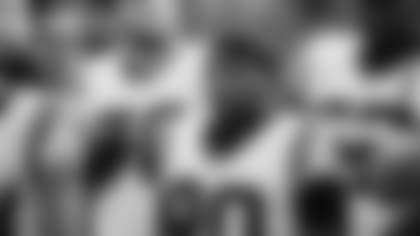 Nixon said the Panthers were interested in Blackshear when he came out of Virginia Tech this year, but he spent the preseason with the Bills before the Panthers signed him in Week 3. Since he got to Carolina, Blackshear has been a bright presence in meetings. Foreman said he appreciates Blackshear's willingness to ask questions, and Blackshear appreciates the knowledge Foreman brings from his time behind Derrick Henry at Tennessee.
"I ask a lot of questions, getting wisdom from guys," Blackshear said. "(Foreman) is a guy who's been around the game, so just to have him around, asking him some questions, picking his brain a little bit to take stuff from him and add it to my game. … He has given me the wisdom he has. It's a blessing."
There's also the possibility the Panthers could elevate Brown off the practice squad for the Atlanta game, giving them a third option if Hubbard is unable to go. Brown was on the Panthers' practice squad for much of his rookie year in 2021, and he went through training camp at Carolina before he was waived/injured in late August.
Brown returned to the practice squad less than two weeks ago, and he said he has spent time getting caught up to speed. A lot can change when away from the building for a few weeks, and Brown came back to a different head coach.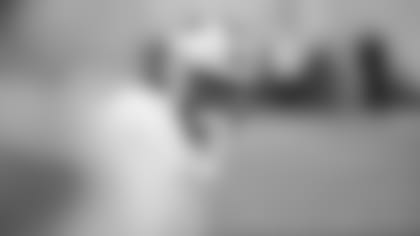 "I'm just making sure I'm on top of everything, getting a couple of extra catches in," Brown said. "I'm making sure everything's squared away, just in case."
Nixon said he sees all of the Panthers' running backs as three-down players, but he thinks using all of them has a benefit.
"You can keep guys fresh during the game," Nixon said. "It's definitely beneficial for our team once we start getting into the fourth quarter when you need to run the football, and you need the running backs to really step up and finish the game."
McAdoo said he saw how the offense's overall improvement against Tampa Bay, particularly staying on the field on third down, gave them more opportunities to deploy different personnel. With more plays, more players get the ball. They also showed some different looks, with Blackshear going into a quick pre-snap motion on the first play of last week's game, when he was out there alongside Hubbard.
McAdoo liked what he saw last week, and he's hoping to see that continue into the Falcons' game.
"Those guys, they've been chomping at the bit to carry the ball and catch some passes all season," McAdoo said. "They had that opportunity on Sunday, and they took advantage of it. Now we've just got to keep going."
Wilks professed his dedication to running the football in his opening press conference as interim head coach. He feels confident in the talent and game plan heading into the rest of the season – especially after what he saw last week.
"That's the mindset I wanted to create upfront, just blue-collar, hardworking, pushing the pile; I thought we did that," Wilks said. "What we did in that game is going to help us win games down the road."