CHARLOTTE – If there's anyone on Carolina's roster who knows the challenge ahead against the San Francisco defense, it's right guard Austin Corbett.
Corbett played three seasons with the Rams, divisional foes of the 49ers in the NFC West. So he's familiar with San Francisco's physicality, style, and culture – particularly with their sharp front seven – and he has been spreading the message to his teammates along the Panthers' offensive line ahead of their Week 5 meeting.
"He always said it was the most physical game every year, so that's what we're ready for," Christensen said. "We've got to be ready for a bloodbath – just really a physical, physical game. We're excited for that up front. That's the type of game we love."
Heading into a matchup against an ailing Panthers offense, the 49ers are first in the league in total defense, scoring defense, and yards allowed per play. They're second in rushing defense, passing defense, and sacks, and fifth in red zone defense.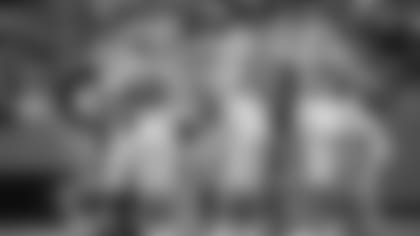 San Francisco's defense held a surging Geno Smith and the Seahawks to 7 points in Week 2 and didn't allow a touchdown to reigning Super Bowl champions Matthew Stafford and the Los Angeles Rams in a 24-9 win in Week 4. They've allowed an average of 11.5 points per game across four weeks.
"They're excellent at what they do; they've been great on defense for a long time," head coach Matt Rhule said. "They've got great players. They've got a great system. Their defensive line is as good as it gets."
Setting the edge of that defensive line is Nick Bosa, a two-time Pro Bowler who leads the league with six sacks through the season's first four weeks. He wrapped Stafford up twice in last week's win over the Rams.
"Just a phenomenal talent, but a guy that also works hard with that talent as well," Corbett said. "Just a great get-off, power, and ability to adjust in-game, has a variety of moves. But at the same time, all their guys bring that same juice, energy, and finish. It makes it a challenge across the line."
Upon viewing film on the 49ers, Christensen said his main observation wasn't that they were "overcomplicated" defensively. It's the fact they're intense and fundamentally sound.
Since San Francisco's challenge is relatively straightforward, it's up to Carolina's offensive line to match the 49ers' intensity level and sharpen their fundamentals.
"I think their front seven is as good as any in football, and I think that's something they take pride in," Corbett said. "Through playing them three times last year (with the Rams), a bunch of years before that, it's something that they have instilled with their culture. Their guys really preach to anyone that comes in, whether a new signing or a rookie. That's just who they are.
"We know what they're going to do. And I think they kind of take pride in knowing that we know, and we're going to do everything we can to stop it."
– Safety Jeremy Chinn will be out for at least the next four weeks after he was placed on injured reserve with a hamstring issue Wednesday. Veteran safety Juston Burris, who has started 20 games for the Panthers across the last two years, was elevated from the practice squad to fill his roster spot.
Rhule said keeping the 29-year-old Burris, who has been with Carolina throughout the offseason, was a contingency plan they feel good about.
"Early in the beginning of the season, we made the decision to keep Juston Burris on practice squad, knowing that he was a guy – because he was a little banged up during training camp – once healthy, could play at a really high level in this league," Rhule said.
Safety Marquise Blair is another option from the practice squad. He has league experience from time with the Seahawks and was elevated last week. Myles Hartsfield (primarily a nickel with some experience at safety) and Sean Chandler (mainly a special teamer when the secondary is healthy) are also options.
"Obviously, losing someone like Jeremy Chinn is difficult," Rhule said. "He's a great player, but we don't want to rush it. His health comes first, and I want to make sure that he has a chance to heal. …
"We have a lot of confidence in Myles and Sean, and we kept Juston for this reason. He's a tremendous pro and person. And, when healthy, can be a really good player."
— Quarterback Baker Mayfield emphasized fixing specific things they see on tape, and that message of accountability echoed throughout the team on Wednesday.
"Christian McCaffrey is very talented. But he also takes a lot of accountability," head coach Matt Rhule said, pointing to one of his captains as an example. "He's where he's supposed to be. And makes the plays he's supposed to make. So we need more of that from a lot of guys."
McCaffrey said one of the frustrating things about the situation they're in now is that they see correctable mistakes.
"Each player on this team, we have a high accountability," McCaffrey said. "The fact is we haven't been good enough. I'm in the meetings; I know what's being coached. Bad football is not being coached. It's up to us to do it.
"As a leader on this team, it starts with me and starts with all these guys, but we have to make the plays when the number is called. And that's not happening right now. And we have extreme urgency to get it done."
Asked if he sees that kind of accountability throughout the locker room, McCaffrey replied: "We're getting it fixed."