CHARLOTTE – The Panthers got a couple of offensive linemen back for Sunday's practice, but left tackle Matt Kalil stayed inside with an undisclosed ailment.
"(We're) just trying to take care of him and get him a little bit of rest," head coach Ron Rivera said.
Kalil struggled in his matchup with Miami defensive end Robert Quinn during Friday's preseason game, but the last thing the Panthers need right now is another lingering injury on the offensive line.
After right guard Trai Turner and center Ryan Kalil got some snaps to jumpstart team drills, quarterback Cam Newton lined up behind a line featuring Tyler Larsen at center, Brendan Mahon and Greg Van Roten at guard and Taylor Moton and Blaine Clausell at tackle. Larsen (elbow) and Mahon (calf) returned from injuries Sunday.
"It's a little worrisome because what you really want to do is build that continuity," Rivera said. "Hopefully this is just a little bit of a blip, but at the same time it's giving us the opportunity to see what Taylor Moton can do."
Moton, who started the summer in the competition at left guard and who's since moved over to fill in for Daryl Williams at right tackle, took all the starters' snaps at left tackle Sunday.
"I just look at it as an opportunity," Moton said. "Right now if the team needs me at left tackle, that's where I'll play and I'll do it to the best of my ability."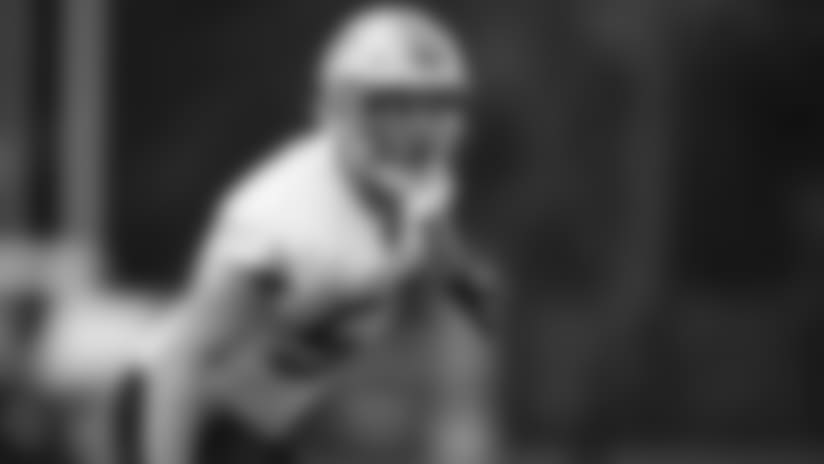 Linebacker Ben Jacobs wants to be a coach someday, but not today.
So while spending the Panthers' first two preseason games as an unofficial assistant coach while he sat out with "some strains here and there" was fun for Jacobs, missing such valuable reps was not.
"You want to be out there," said Jacobs, who practiced Sunday for the first time since injuring his groin at Fan Fest on August 3. "It's funny, you hear guys complaining about camp and how hard it is, but the reality is you want to be going through that with your team. You don't want to be on the sideline.
"All you can do is get healthy as quick as you can, refocus and get out there."
Rookie linebacker Andre Smith (hamstring) has been out of action since the preseason opener against the Bills, an inconvenience for him to say the least given the level of competition at the position.
"I like this linebacker class; it's a very good one," head coach Ron Rivera said. "I like what these guys have brought to the table – a bunch of young guys really competing.
"It's going to be tough. We've got a good group of guys, and when you've got 10 guys you really like, there are going to be some tough decisions."
The Panthers made a decision Sunday to add some depth at tight end. With Chris Manhertz still not practicing and Jason Vander Laan out the last few days with an undisclosed injury, the team signed undrafted rookie Jason Reese out of Missouri. To make room, Carolina parted ways with oft-injured wide receiver Fred Ross.
Two players remain out in the secondary. Safety Da'Norris Searcy is in the concussion protocol but has improved enough to be out at practice for some work on the exercise bike Sunday. He was joined by cornerback Cole Luke, who remains out with an undisclosed injury.
Taylor Heinicke has experience battling for a roster spot in the preseason, but that doesn't mean gameday is simply business as usual.
"It's tough to tell yourself that it's just another day," said Heinicke, now halfway through his four preseason opportunities. "That's what I try to do, but when you run out of the tunnel and everyone is yelling, you get that adrenaline rush.
"But I try to ground myself, remind myself that it's just another day at the office."
Heinicke and Garrett Gilbert appear to still be running neck-and-neck behind starter Cam Newton. Heinicke was the first backup to play Friday against the Dolphins. After a slow start that included an interception on a ball that was jarred out of the hands of rookie receiver DJ Moore, Heinicke directed an impressive touchdown drive that featured two big connections with receiver Curtis Samuel.
Gilbert followed a similar pattern when he came in, eventually leading a touchdown drive that featured two big runs by Kenjon Barner.
"I think I've played pretty well, but there's always room for improvement. There were a couple of balls last game that I felt like I underthrow that could have maybe led to some more points," said Heinicke, adding that he and Gilbert are taking the competition part of the equation in stride.
"We have a great relationship. He's become a close friend. We're just out here trying to make each other better."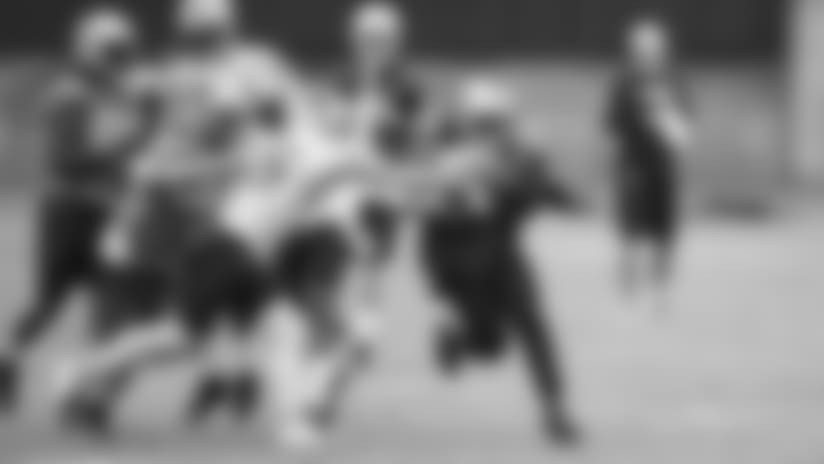 During his five seasons in Denver, running back C.J. Anderson became very familiar with the Patriots. Including the postseason, he faced them five times, more than any other non-AFC West team.
With New England coming to town this week for preseason game No. 3, Anderson was asked to share his favorite memory against the Patriots.
"That's easy: 2015, it's snowing, I catch a pitch for 48 yards, overtime, touchdown, game over," he said. "Eventually that helped us get home field advantage and we know the rest."
The rest includes the Broncos beating the Patriots again in the AFC Championship to set up Denver and Carolina in Super Bowl 50. And since Anderson was going down memory lane, it was an opening to ask him a burning question.
"I think he did," Anderson admitted. "Now the question is, does that change the outcome?
Two plays after Cotchery's bobble was ruled incomplete, Broncos outside linebacker Von Miller strip-sacked Newton and scored to give Denver a 10-0 lead.
––––––––––––––––––––––––––––––––––––––––––––––––––––––––––––––––––––––––––––––
Staff writers Bill Voth and Bryan Strickland contributed to this report.