Do you have a preferred position? "Wherever the coaches play me," he would repeatedly say.
It's the kind of response typical of most offensive linemen. They do what they're asked without hesitation.
But here's another thing typical of most offensive linemen – they like to have a home.
And after a couple years of switching back and forth from right and left tackle, Moton has set up shop on the right side of the line next to Pro Bowl right guard Trai Turner.
"I think for anyone it's more comfortable to know you've got a prominent position," Moton said after a recent training camp practice. "But at the same time, as camp goes on, I don't know what might happen. It's a crazy game and you always have to be ready for sudden change.
"I make sure I pay attention and know the whole scheme so I'm ready to go at guard, left tackle, shoot, even center. I want to know the whole offense so I'm ready for it."
That's the reality for NFL offensive linemen. They're often cross-trained in the event of a catastrophe, which the Panthers have experienced before.
But as the Panthers map out their plans for 2019, Moton is the starting right tackle, and it's a no-brainer.
It wasn't always that way. Some observers wondered if Daryl Williams would reclaim that position. It was Williams who started every game at right tackle in 2017 on his way to second-team All-Pro recognition.
And if you recall, Moton made his first career start in the 2018 season opener at left tackle, with Williams lining up at right tackle until suffering a season-ending knee injury in that game against the Cowboys.
But with Williams done for the year, Moton went on to start the remaining 15 games at right tackle and he flourished.
Pro Football Focus listed the offensive tackle as one of the NFL's 10 breakout performers, backing the assessment statistically by giving him the 15th best pass-blocking efficiency rating among tackles. Williams, meanwhile, has been running with the first team at left tackle since returning to action, and rookie Greg Little has been rotating in behind him.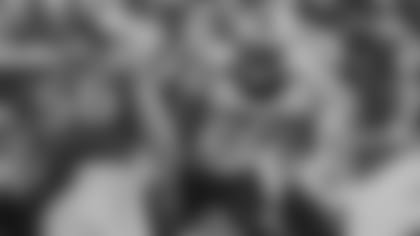 Moton, a second-round pick in 2017, isn't the type to make any grand proclamations about being one of the best right tackles in football, but he knows he's got to carry himself with that kind of bravado.
"I really feel like if you're not confident in yourself, you won't make it in this league very long," Moton said. "You have to know you belong and that you can do the job. And as the years go on I do get more and more confident.
"You have to have the mindset that you're the best guy on the field. I have to play that way."
"We have a tremendous front seven," Moton said. "Going up against guys like Gerald McCoy every day, this D-line is going to make me a better player.
"We have to do our jobs on the O-line so everyone else can do theirs. We all know it starts up front."
Photos from the fourth day of training camp at Wofford College.