SPARTANBURG – Another day, another practice featuring multiple Curtis Samuel highlights.
The third-year wide receiver came into camp with more momentum than any other Panther, and through four practices, he's lived up to the hype. It's becoming routine that when you see someone catching a pass, you're often left thinking, "Oh, that was Samuel – again."
Despite his stop-and-go injury-hampered first two seasons, Samuel has never lacked in confidence. But these days, he seems to be playing at a completely different level.
"I think his confidence is very high," head coach Ron Rivera said. "He's worked very, very hard … He's done what we've asked him to do – and more. That's why you see him playing with so much confidence."
In Sunday's 1-on-1s, Samuel went 2-for-2. For his first grab, he had to reach back to catch a slant from quarterback Cam Newton. This was Samuel's second rep:
Nice route, good adjustment, but as cornerback Kevon Seymour was walking back to the huddle, he said: "Damn, that was a good ball."
So was this pass from Newton that sailed just so slightly over Cole Luke's fingertips and into Jarius Wright's hands: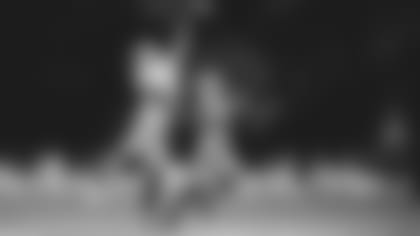 Overall, Newton had a solid practice after Saturday's maintenance/recovery day.
"He came out, threw some really good balls, had some really good sessions, did a lot of good things," Rivera said. "A lot of positives, so I was really happy about that."
–Newton's iffiest throw of the day came in 7-on-7s when he targeted tight end Greg Olsen. Cornerback Donte Jackson had a bead on an interception until safety Eric Reid batted the pass away.
–A couple plays later, Newton appeared to connect with DJ Moore on a deep dig until Jackson raked the ball out of Moore's hands.
"Even though he was confident last year, he wasn't sure. I think this year he's sure," Rivera said when asked about the difference in Jackson from his rookie season. "You see it in the way he's doing things, the way he works, the way he's preparing for every practice. You do see a much more mature young man."
–Stomachs dropped for a few moments when Newton hit the turf during a team drill. He was fine. He just got his feet caught up when defenders got too close to the red jersey.
–Center Matt Paradis and offensive lineman Daryl Williams each practiced after sitting out Saturday. They're still being held out of 1-on-1 blocking sessions, but they each participated in team drills.
–Wide receiver Chris Hogan left early for undisclosed reasons. Defensive tackle Kyle Love, who appeared to tweak a leg Saturday, did not practice. Defensive lineman Gerald McCoy had a veteran's day off.
–Tight end Ian Thomas, who was limited during the spring with a leg injury, is still being brought along slowly.
"We don't want to throw him out there and have him take 50 reps a day," Rivera said. "He's a solid, young football player that's got a good career in front of him, but we've just got to make sure he's ready to roll so we can start using more of him."
–Linebacker Jared Norris broke down the team before practice with: "1,2,3, juice!"
That came a day after linebackers coach Steve Russ greeted his group with: "If you're juiceless, you're useless."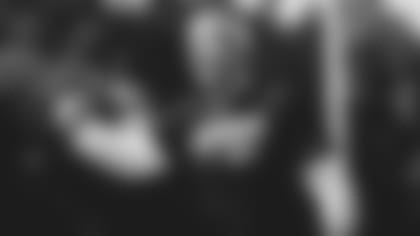 –After coaches allowed full contact for the final rep of a 9-on-7 drill, undrafted safety Corrion Ballard popped the ball away from fifth-round running back Jordan Scarlett. There was much rejoicing by the defense.
–Sunday's punt return group featured Moore, Christian McCaffrey, Rashad Ross, Terry Godwin and Jaydon Mickens. It's anyone's guess who will be back there come Week 1.
–The nickel corner spot is also very much up for grabs. Cole Luke took first-team reps Sunday after the majority of those went to Corn Elder the first few days.
–Cornerback James Bradberry isn't flashy. So this new look was notable: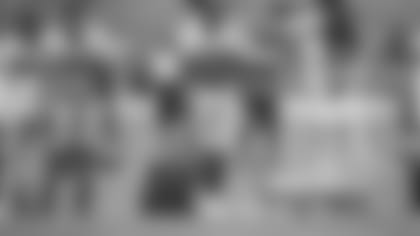 –Defensive lineman Mario Addison is a big fan of The Joker. I'm a big fan of these gloves: