SOMEWHERE IN THE AIR BETWEEN SPARTANBURG AND CANTON — You know, up here at 30,000 feet, you really get a perspective on what's going on.
And what's going on right now is EVERYTHING. ALL THE THINGS. ALL THE TIME. ALL AT ONCE. (Not to be confused with the recent movie of a similar title, which was a mess, and may have changed the way I look at hot dogs for the rest of my life.)
There's so much happening during a training camp practice, that it's practically impossible to digest it all. People try, and we pull out snippets which sometimes create a factual representation, but it's important to take a step back every now and then and realize the scope of what's happening on those fields for two hours every day (which is itself, just a small portion of what players are doing every day at camp).
Of the themes that have emerged over the first two weeks, it seems likely that this defense (while still thin in a couple of key spots) is pretty good. That whole "second-in-the-league-last-year" thing was never a full and accurate representation of what was happening considering the run and red zone defense, but it wasn't bad, and it is getting better. That's mostly a back-to-front thing.
Also, there are more good offensive linemen here than there have been in some time. We'll find out if it becomes a good offensive line. But yeah, they have more players now.
And yeah, quarterbacks, plural. They're interesting. That new one, he ain't afraid to offer one up. That can be good and also bad. And the slightly less new one, you can tell why people like him, beyond the fact he shows up early every day and has a fantastic smile. The old one hasn't been that bad, either.
That said, the biggest takeaway from the first week and a half of camp is that it is the first week and a half of camp. No use hyperventilating about a tweet about a depth chart now. These things are going to sort themselves out. Just like all this mail.
----------------------------------------------------------
Hey Darin, just wondering what your thoughts were on the quarterback situation. I like the idea of competition between Baker Mayfield and Sam Darnold, but I feel at some point we need to let Sam go. I'm worried if we keep him, it will take away much-needed reps from Matt Corral. If Baker is our guy, then is it really a good idea to keep Sam just in case? — Mike, Fountain Inn, SC
A little harsh in tone right off the top, but this is the thing people want to know about.
If Mayfield ends up winning the job (and objectively speaking, he's been the better quarterback over the last four years), it's probably not going to surprise a lot of people. But he is going to have to win it by demonstrating that he's better.
Darnold has been the more consistent of the two of them so far in camp, but you'd probably expect that since he had a four-month start on the learning. There's a tendency in modern fandom to make players either the greatest of all time or the worst ever. There's a lot of middle, and that's where most of the league lives. I know he's become a piñata for a lot of people, and they brought competition for him here for a reason, but Sam still has value, and he can be an efficient player (as he showed the first four games last season before Christian McCaffrey got hurt and the season went off the rails).
Head coach Matt Rhule recently mentioned that only 12 teams started the same quarterback in every game last season (reminder, there are 32 teams), so the reality is you need more than one over a 17-game season.
As for Corral, he's showing in camp why they liked him so much in the pre-draft process. But he is still a rookie. He is still learning how to do things like "get in and out of a huddle" and "line up under center." So it's probably in his best interest not to rush him out there before he's ready. If he had to play a game right now, the playbook probably wouldn't be a very thick one, for no reason other than he's still so new.
Multiple things can be true at once. You can think Mayfield will win the job at some point, and also understand the need for Darnold, and still accept that Corral could turn out to be good later. It's not an all-or-nothing proposition that has to be decided right now.
----------------------------------------------------------
So first and foremost, I received my shirt, and I'd like to thank you for that. At the time of writing this question, I haven't had a chance to wear it yet, but it certainly feels very comfy. So thank you!
I'm curious, how many roster spots does it look like will be dedicated to wide receivers? It's pretty clear three are taken already by DJ Moore, Robbie Anderson, and Terrace Marshall Jr.. Andre Roberts was brought in as a return specialist, which would be another spot, and Brandon Zylstra is a core special teamer (giving that shout-out to emergency kicker, too) which is another spot. It also feels like Rashard Higgins is going to lock up a spot, though of course, nothing is given. If that all stands, that's six right there. Does this seem like a year of at least seven, giving a guy like Shi Smith his chance to prove himself, or even Keith Kirkwood, or does it look like it could be maxed out at six to keep roster spots open for more depth in other positions like the secondary, and defensive line? — Eric, Brick, NJ
First off, you're welcome, Eric. I got a shipment of merch to our Friends Of The Mailbag before camp started, because I value the contributions of all of our people here. You're like family.
As to the receivers, you forgot at least one. C.J. Saunders (who you can read all about here) is out there running with the starters as a slot receiver. He's small, and it's tempting to think of him as an underdog, but he's out on the field making plays.
When Jaycee Horn endorses a receiver, you know he's legit. "He can definitely sneak up on you," Horn said at camp. "By now, every DB knows when you go out there against him, you better have your cleats tied and be ready to work if C.J. is lined up across from you."
He's little. But he runs sharp routes, is where he's supposed to be, and catches everything. Quarterbacks like throwing it to him.
It's going to be a fascinating competition, complicated by the fact they are probably going to end up keeping three quarterbacks. Six is kind of the standard number of wideouts, but they might not be able to keep as many as they normally would at some spots.
Honestly, beyond Moore, Anderson, and probably Marshall (who is having a much better camp), it's hard to say anyone's safe.
That's a good thing for the team, not a bad thing.
----------------------------------------------------------
Sam Mills is going into the Hall of Fame this year, right? Tell a little more about Sam, let the new fans know about him. — Mike, Climax, NC
Seriously though, Sam Mills is the kind of player and person you might not be able to write too much about (though I have done my best).
Mills provided the early teams their substance, and their later ones their spirit. His play on the field (making a Pro Bowl at age 37 in 1996) was a lot of the reason a second-year expansion team went to the NFC Championship Game. And Mills made more plays than perhaps any of the veterans on that roster.
The first win in franchise history came when he correctly analyzed and executed what the Jets were trying to do and picked off a Bubby Brister pass and returned it for a touchdown. In the playoffs after the 1996 season, his interception of Troy Aikman effectively ended the Cowboys' dynasty.
And as an assistant coach, he was a leader and an inspiration. The Keep Pounding speech before the Dallas playoff game following the 2003 season began as something to pump up a football team for a game.
As the years have shown, it has become far more than that.
We hope you enjoy it and follow along with all the rest of our coverage of Hall of Fame weekend here.
It's a special time for Panthers fans. There have been players, and other football come through Charlotte end up in Canton. In Sam Mills, the Panthers truly have one of their own there now.
After a few days in camp and guys starting to come into their own, aside from getting consistent QB play, what one position would give the Panthers the highest impact if we could improve it either through player development or through an acquisition? — Chris, Monroe, GA
One of the low-key big additions of the offseason was defensive tackle Matt Ioannidis. And when he got a day off, the defense still had a good day, but you could tell the difference.
Ioannidis is both quick and strong. He made a lot of money in Washington by being a pass-rusher, but he's stout inside and adds to the run defense. He's been a good player, when well, and everything we've seen to this point suggests he's going to be good.
That's a long way of saying; they could probably use some defensive tackle depth. That's a spot where veterans tend to be a little more available as teams make final cuts. Good luck finding quarterbacks or corners, but you can find run-stuffing defensive tackles. And they may well look for one over the next few weeks.
I mean, if an elite pass-catching tight end happened to be available, you'd take one of those. But they're less frequently available.
----------------------------------------------------------
Hey Darin, every time Luke Kuechly made a play, we heard the Luuuuuuuuuke. Any chance? Any chance we can hear it again just with Frankie Luvu -- Luuuuuuuuuvu? He made some great plays last season. I think he deserves it, and we can remember good old times. Or do we have to ask Luke for permission? — Julius, Hennef, Germany
I think Luke would not only not mind; I think he's already in on the bit.
Luvu brings a tangible energy to the field and to the locker room, and the practice field with his Siva Tau. They call him Uce (and not coincidentally, that rhymes with juice).
But you can jump around with your hair on fire all day; if you don't make plays, nobody is going to be fired up by you.
But already in training camp (he punched out a fumble Wednesday), he's showing that he has the ability to impact games. They're going to ask him to play more snaps than he's used to, but they're also deeper at the position.
----------------------------------------------------------
Hey Darin, I get the panic that the fan base is having over our linebacker position, but we could actually have a decent LB core. Do you think that Damien Wilson and Cory Littleton are an upgrade to what we had last year? What are the chances Littleton can regain the status he obtained with the Rams? — Ethan, High Point, NC
Part of the problem with any linebacker who plays for the Panthers is one of perception. I'd challenge you to find a non-Chicago team over the last 50 years that can stack up a lineup of inside linebackers that can top Sam Mills, Micheal Barrow, Dan Morgan, Jon Beason, and Luke Kuechly. That's a lineage.
So when your inside 'backers are just regular players, the comparisons make it look worse than maybe it is.
I think Wilson is absolutely a bigger option which should help in the run game, and Littleton is active and athletic. But if Littleton is playing as much as he did with the Rams, it might mean that something's wrong with Shaq Thompson, and they don't want that.
Shaq has emerged as one of their top players on defense, as well as one of the leaders in the locker room. He's chilling and helping coach in training camp, but the expectation is that he'll be back on the field by the start of the regular season, which helps in a few levels.
Between Thompson, Luvu, Littleton, and Wilson, they have a solid four dudes for what is either two or three places on the field, depending on the formation. They think rookie fourth-round pick Brandon Smith has potential as a nickel linebacker down the road, and he's gotten some good work in camp so far.
There might not be a Mills of a Kuechly out there now, but Panthers fans might be a little spoiled — players like that are extremely rare, which is why I'm on the way to Central Ohio.
----------------------------------------------------------
Hey Darin, a coolest two-fer. What is the coolest piece Panthers memorabilia in your collection, and what is the coolest memory you have of being a Panthers writer? — Andrew, Charleston, SC
I still think one of the neatest things I've ever seen with my own two eyes was the finish of the playoff game in St. Louis after the 2003 season.
The elevators in that old barn were kind of trash, and they locked them at the two-minute warning to let coaches and team officials go down after the game. So reporters had to choose to go early or risk missing something. So I went downstairs with like six minutes left in regulation. Which meant watching the finish, and overtime, and double overtime, from a few feet behind the Panthers bench on the sidelines. Watching that game go back and forth and seeing linemen just leaning against each other with no force exerted because they were exhausted remains vivid in my mind.
And then Steve Smith Sr. did that thing, and it was like that cool scene in the last Star Wars trilogy where everything goes quiet all at once, and the absence of noise brings its own kind of violence. That was one of the loudest buildings in the league, and when Smith scored a 69-yard touchdown on the first play of double overtime, it was dead silent. And then watching Jake Delhomme walk off the field with his arm around the shoulder of former NFL Europe teammate Kurt Warner, that was an image you never forget.
As for memorabilia, I tend to prefer the strange and unusual. So this Fat Cats T-shirt Kevin Donnalley gave me in 2003 is pretty near the top of the list. I mean, look at Todd Steussie and Jeff Mitchell. What a couple of animals. And a young Jordan Gross and Jeno James (my favorite poet who has ever played here). I don't know that I've ever worn it, but I know it's bad ass.
When I started working here in 2020, my boss presented me with this fine Armanti Edwards mini-helmet, which has a place of honor on my desk. Appalachian State guys have to stick together, and I have 20 minutes of material on why the Edwards project didn't quite work out if you're ever that bored.
No one should ever be that bored.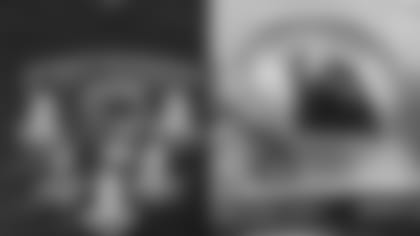 ----------------------------------------------------------
Hey Old Guy, Santa came by early, and one of his reindeer left a "package" in my mailbox. If you happen to see the jolly old soul, thank him for me. Now, back to work. Can you explain the process and all of the options with respect to uniform choices? I thought I understood some of this, but apparently not. I know there are rules like 'home team choice' and special NFL designations like 'Color Rush' and 'Throwback,' but why in the world would the Panthers choose to wear white jerseys for the first nine consecutive games? How many different color jerseys do the Panthers have? — Howard, Star, NC
Howard's obviously used to people leaving less friendly packages on his doorstep.
The short answer is, each team gets to choose what they wear at home. And if the home team chooses white, the other team can't also choose that. So for the Panthers, that means either black or the alternate blues.
Normally, teams would wear the alternate jersey with the alternate helmets, which were approved for one game this year. But since the Panthers are going black-on-black against the Falcons on Thursday Night Football, that effectively takes away one of the alternate games (and they only were allowed three to start with).
And since you'd rather not wear black when it's still hot as blazes outside, they're wearing blue next week in Washington for a 1 p.m. start. (I may or may not be wearing seersucker for the same reason.)
It is a weird confluence of events, but sometimes things just fall a certain way. Would you like more flexibility for the blue tops, or for preseason not to count towards the limit? Sure. But the trade-off is that players like Brian Burns are hyped for the blackout game, and I get the sense a lot of fans are too.
----------------------------------------------------------
Starting off with some shameless, yet still very true, brown-nosing: Augusta and you have absolutely been killing it with the camp coverage. Augusta for best off-season signing award? Now, I know it's early in camp, but I feel like two things that are hard to follow and therefore cause some consternation when viewed from 1,000 miles away are A) CMC seems to be having a quiet camp. Is he fully 100 percent and are we ready to see him run (and catch) away with the comeback player of the year accolades? And B) the secondary seems to be taking some hits in camp, and while we are signing new guys (two this week alone) and yes, we have Horn coming back, it's hard not to squint and raise some eyebrows at the makeup of the squad formerly known as Thieves Ave. — Nate, Grand Prairie, TX
Thanks, Nate, and yes, Augusta has been a great addition to the staff. The digital team gets in our own little foxhole during camp, and we work all day and into the night, and we come out of the experience closer together, just like the football team. And we're learning that she's well and truly one of us. She jumped in from day one ready to work, and despite not being here very long, has written one of the coolest camp stories in some time (about McCaffrey's trade with a young fan that went beyond the surface interaction. If you haven't read it yet, what's wrong with you? Go read it unless you hate happiness.)
Speaking of McCaffrey, don't let a lack of headlines fool you. He's fine. When he's on the field, he's making plays. It makes sense not to use them up in July and August because we already know he's a special player.
When they've gone to inside run work, you can see his explosiveness. I know there are people out there who want to turn him into a slot receiver, but he's really good at being a running back, and letting people do things that they're really good at and not things they're less good at is a sound management strategy.
As for the secondary, I think it has the potential to be better than last year's, and last year's was pretty good.
Jeremy Chinn is a year better, and adding Xavier Woods at safety could make a huge difference. Coupled with a very deep cornerback room (CJ Henderson's having a good camp), that group has the potential to be very good.
And because I am not above liking the people who say nice things to me or about me, I'm making Nate this week's Friend Of The Mailbag and will get the appropriate honorarium on the way soon.
----------------------------------------------------------
OK, let's go lightning round to wrap it up this week:
Just wanted to say thanks for the merch. I will wear mine to the exhibition game next month. Appreciate it. — Omer, Wilkesboro, NC
Security has been alerted, and will be on the lookout for the best-dressed person in your section.
Did the Gaffney Peachoid ever get that rash taken care of? — Travis, Gastonia, NC
There are things in my life I hope never change. Like Travis, for keeping his eye on the ball, and his mind on the most important topics. And like my outlook on life, that one side of the iconic Peachoid is as rosy as ever.
Not sure it had anything to do with this guy's request, but thank you and Panthers press people for getting a mic on reporters' questions at various pressers! Makes a huge difference for the fan! Tip of the cap! — Craig, Elkhorn, NE
We do it for the people. And it ever stops working, you can blame @pantherstatsguy (He's also here for all your uniform questions ... trust us, he loves it).
Wouldn't it be nice to have Cam Newton on the team to have plays with two quarterbacks on the field with either Baker or Sam? This will make the offense that's already dangerous better. — Isadore, Kenly, NC
We found Mick Mixon's burner account, everybody! One of the retired Panthers Radio Network announcer's revolutionary ideas (among many) was putting two quarterbacks on the field at the same time. In many ways, Mick remains a man ahead of his time. When this inevitably happens somewhere, some time, it is my solemn vow to make sure Mick gets all the credit.
Why? But then again, why not? — Michael, Durham, NC
How much wood would Xavier Woods chuck chuck, if Xavier Woods chuck could chuck wood?
I should probably stop now. See you back in the 'Burg; stay tuned to Augusta and the rest of the team back there the rest of the week while I go Hall of Faming.