CHARLOTTE — NFL coaches often talk about the traditional jump a player will make from his rookie to his second season. But making significant progress from Year 2 to Year 3 can sometimes predict the rest of a player's career.
Panthers cornerback Donte Jackson knows this. Former second-round picks have expectations. Plus, after your third season, you're eligible for a contract extension.
"I know it's a big year for me," Jackson said last week.
After starting all 16 games as a rookie, Jackson started only 10 last year. Three of those starts instead went to Ross Cockrell. The other three were DNPs as Jackson sat out Weeks 4-6 with a groin injury. 
"This offseason I really invested my time and my money into improving my body so I wouldn't have to worry about getting out there (and not being) 100 percent," Jackson said.
To that end, he turned to a trusted source: former NFL defensive back and current ESPN analyst Ryan Clark.
Clark owns Traction Sports Performance, a training center in Baton Rouge, La., where he and Jackson both played their college ball 16 years apart. The LSU products first got to know each other while Jackson was going through his pre-draft process. So when he needed some advice late last year, Jackson sent his tape to Clark.
"Maybe around the Seattle game, he reached out to me because we have a good relationship, and he asked me to watch it," Clark said on Thursday. "I went back, watched it for him, critiqued it, talked about it. We discussed it. After that, he said, 'Man, I'm gonna see you as soon as the offseason starts."
Many players say that kind of thing to Clark during the season, but don't follow through.
"Donte was different," Clark said.
Jackson knew he needed to work on the details within his game. It's something his new head coach Matt Rhule and defensive coordinator Phil Snow mentioned to him. So Jackson connected with Clark.
"Just improving my eyes and improving my details," Jackson said.
But he also wanted to learn how to power through injuries, so he focused on his groin, hamstrings, and hip flexors to build up strength. Clark wanted Jackson to get stronger, too, particularly in his core.
"He's built in a way that NFL defensive backs need to be built," Clark said. "His core is in a different place than it's ever been, which allows you to be able to distribute weight, it allows you to have the center of gravity that you need to get in and out of cuts.
"Everybody knows, if Donte gets out of his cut the same time you do, he's getting to the ball first. Unless your name's Tyreek Hill, you're in trouble. So that's what we worked on."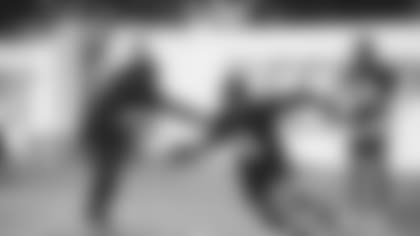 Private instructors often aren't well-versed with the terminology and techniques of a client's team. But that wasn't the case with Clark, who knows Panthers' defensive pass game coordinator/secondary coach Jason Simmons well. Clark's best friend is Falcons' defensive pass game coordinator/secondary coach, Joe Whitt Jr., who worked with Simmons for years in Green Bay.
"I think that was one of the great things in the offseason, was that when Jason found out he was training with me, there was never a question," Clark said. "(Simmons) always knew that (Jackson would) be taken care of, that he'd be getting the best coaching, the best technique, just as if he was in the building."
When it comes to technique, Clark touted Jackson's ability to make interceptions, saying Jackson has already proven he can do it with seven in his first two seasons. But Jackson has to improve his consistency.
"He has to get the ball, not give up big plays, and not rely so much on his speed, but be able to rely on technique — his eyes, his discipline," Clark said. "That's what we worked on more than anything, and I think he's ready to execute those things."
It's all especially important when going against the high-caliber receivers in the NFC South. As Clark put it, players like Mike Evans, Chris Godwin, Michael Thomas, Julio Jones, and Calvin Ridley are going to get theirs.
"I've played this game a long time. I've analyzed it a long time. I've trained people for a long time. You'll lose some," Clark said. "But playing that position, you've got to have your wins, and I think (Jackson's) prepared to do that."
"I see a competitive, talented, tough, grown man that's really ready to go be a play-in-play-out, day-in-day-out corner," Rhule said. "He's been one of the real bright spots to me. His maturity, his toughness, his leadership, his work ethic have so far all been outstanding. I think his best football is about to be played."
As much faith as Rhule and Clark have in Jackson, he now needs to turn his offseason work into on-field results.
"I think you can never tell until you get out there and you're faced with good-on-good, until you're faced with opposition," Clark said. "I can say this: He's never been more prepared to excel in his life. I don't think he's ever been in this shape. He's never been this strong physically. He's never grasped the techniques in the way that he does now. He's never executed them in the way that I've seen him execute throughout the offseason.
"But until you get out there and it's live people, and there's people moving around that want to take food off your plate, you don't know."
Jackson understands he has a lot to prove in Year 3. But despite the ups and downs of his first two seasons, he still doesn't lack confidence. 
"I'm expecting a big year from me," Jackson said. "I know that I can be one of the best corners in this league."
And if that happens, his offseason coach will be watching.  
"I kept telling him, (James) Bradberry is gone now, you're going to be the guy," Clark said. "You're going to see more No. 1 receivers, and you've got to stand up, and you've got to show people that you can do it — because if you show people you can do it, you'll make a lot of money. 
"He really put the work in, so I'm really excited and looking forward to seeing what he can do this year."
View photos of third-year cornerback Donte Jackson from Carolina's production day.