Listed at 6-foot-4 and 260 pounds, the young tight end is a matchup problem. And when he starts running, it's easy to see why he was an enticing choice for the Panthers with the first pick of the fourth round in the 2018 draft.
Playing behind Greg Olsen, Thomas flashed at times in his first couple seasons, recording 52 receptions for 469 yards and three touchdowns. Yet, he hasn't been a full-time starter.
While that should change this year, Thomas isn't taking anything for granted.
"I mean, I'm not sure if I have a starting role yet," he said Tuesday.
Thomas likes his new quarterback, Teddy Bridgewater, saying the signal-caller gets people in the right spots to make plays. Plus, Thomas figures there will be some opportunities for tight ends underneath given the speed of Carolina's wide receivers.
"It helps a lot. It puts more stress on the safeties, more stress on the linebackers," Thomas said. "So whenever they see that speed, for the different concepts that we're working on, the tight end might pop open in the middle."
Thomas has learned a lot since entering the league. While the pandemic affected some things, he spent this past offseason training in Orlando.
"I felt like I still had the same preparation," he said.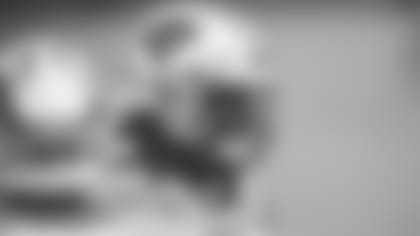 Thomas also learned plenty from Olsen, who set the standard at the position for nearly a decade.
"On and off the field, taking care of my body, running routes, blocking, little things to get you an advantage on the field — it's a lot to list," Thomas said. "I'm very grateful for that. I know he taught me to take my game to the next level."
Head coach Matt Rhule has been pleased with what Thomas has put on film in camp.
"He is a really talented player, and it's his turn to step up and play, along with Chris Manhertz. Ian's got the ability to get down the seam and also block at the point of attack," Rhule said. "He has all the ability to do it, he just has to go out and do it. He just needs the reps to play.
"Sometimes when you're playing part-time, you're afraid to make a mistake. You're afraid (and say), 'Hey, if I don't do something right, they're going to pull me out.' Sometimes you just need to know that, 'Hey, they're going to stick with me.' And he's someone we're going to stick with. We believe in him."
If Thomas can emerge as a dangerous receiving threat, he'll make the Panthers' offense that much more difficult to contain.
He looks the part, but Thomas knows he has to prove he can execute consistently at a high level.
Tuesday's practice was almost exclusively 11-on-11 work. After exiting the Atrium Health Dome, the players had a short individual drills period before the offense and defense went to separate sidelines for the rest of practice. Rhule said the club was able to get in about 89 plays.
"With no preseason games, really no OTAs, we thought it was important to get the guys some situations — having to react in the red zone, having to react backed up, having to react to sudden change, how to react to two-minute," Rhule said. "Sometimes, you have to just play those situations out and learn from them."
"You gain a lot. You're putting the pressure on yourself to know plays, to run plays, to do different things under situations that coach put us in. When a coach isn't coaching us up during practice, it gives you a lot to look at on film and a lot to correct on film. So when you can just go and play, I guess it shows the coaches what you know and don't know. It shows yourself what you can improve on."
— Rhule said the Panthers added defensive end, Jalen Jelks, because the front office felt he "fits the way we play." Rhule likes how hard Jelks plays, saying it's just as crucial as pass-rushing ability.
— Also on the defensive line, Rhule said the coaching staff wants to find a way to carve out a role for Efe Obada to impact games consistently. Rhule called Obada a powerful defensive end who can also play inside.
"He's the kind of guy that helps you have a good defense," Rhule said.
— Wide receiver Omar Bayless (knee) and linebacker Jordan Kunaszyk (ankle) were held out of practice on Tuesday. Bayless' knee was swollen, and trainers wanted to pare down his workload just in case. Bayless has impressed during camp, with Rhule saying he thinks the undrafted rookie can help Carolina this year.
— Finally, players will be off tomorrow before getting back on the field Thursday, Friday, and Saturday. The club will also have an off day on Sunday, coaches included. The head coach said this approach was best from a sports science perspective to prevent soft tissue injuries.
View photos from Tuesday's practice at training camp.