CHARLOTTE — It seems like every year, every backup quarterback around the league picks from a handful of clichés when speaking to the media during the preseason.
"You're always just a play away."
"I'm going to stay ready, so I don't have to get ready."
"I prepare like I'm the starter every week."
This isn't to say that these players aren't telling the truth. But Teddy Bridgewater was asked about what advice he'd have as a former backup to reserve Panthers quarterbacks Will Grier and PJ Walker. Bridgewater's response showed refreshing candor.
"Just always stay ready," he began. "I shared a message with those guys a couple days ago about how when my opportunity came last year against the Rams, and I wasn't prepared. I had my mind made up that I was behind Drew Brees, the previous year he never missed a game. 'Man, I'm never going to play.' That was my mindset.
"You can always talk the talk, 'I'm going to be ready when my number's called.' But you never know until that opportunity presents itself."
Bridgewater, who had been Brees' backup since the start of the 2018 season, thought he'd done enough to prepare. But when Brees injured his thumb in the first quarter of Week 2 last year, Bridgewater had to play.
He finished that game 17-of-30 passing for 165 yards, taking two sacks and fumbling once, though the Saints recovered it. New Orleans lost, 27-9.
"I was embarrassed because I put out some awful football," Bridgewater admitted. "When I had my opportunity, I didn't deliver, and I was truly embarrassed.
After making it back from a career-threatening knee injury, Bridgewater felt like he had too much support from his inner-circle to throw away the opportunity.
"I told myself I never wanted to experience that again," he said.
So Bridgewater got back to work, learning how to individualize his preparation instead of just mirroring Brees.
"I had to truly find my identity again," Bridgewater said. "I thought, if I did what Drew Brees did, then I'd have success. And after that game, I didn't prepare the way I thought I did.
"I told myself, 'Man, I have to find my own process and find something that works for me.' I've been able to do just that for the past year and it's been working for me."
The next week, Bridgewater made his first of five consecutive victorious starts, leading the Saints to a 33-27 win in Seattle. 
Sharing that story with Grier and Walker seems par for the course for Bridgewater's leadership. Head coach Matt Rhule recently saw Bridgewater playing Madden with Grier, using the Panthers' playbook Bridgewater had created on the game.
"I think he's confident enough in himself that he knows that he wants to help the team, help the guys around him. That's just kind of who he is," Rhule said. "He's kind of always out there coaching and giving feedback to the guys, to the receivers, running backs, and guys on the offense so we're all on the same page.
"I've been very impressed with his demeanor and the way in which he coaches the other two quarterbacks and helps them."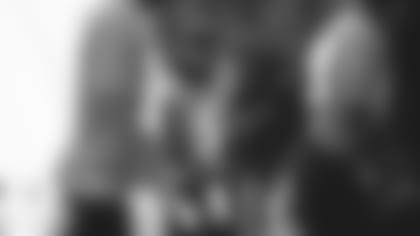 Bridgewater is far from the only quarterback willing to share his knowledge of the game with others. But that knee injury gives him a unique perspective on football, and he's grateful for it. He related it to Washington quarterback Alex Smith, who on Sunday was cleared to practice after suffering a devastating leg injury midway through the 2018 season.
"It's stories like that that motivate me. It's like, man, I know what it took — even though no injury is the same — but I know what it took to be counted out, and you just have that small circle around you that truly believes in you. That's motivation more than the doubters," Bridgewater said. "Everyone asks, 'How'd you overcome it?' It was a small circle of people who believe in me. That's why when I go out there, and I take that field on Sundays, I hold my head up high and I smile.
"I'm thankful that the good Lord gave me another opportunity and that I have that supporting cast that I have."
— Rhule excused defensive tackle Kawann Short and running back Mike Davis from the first portion of practice to take their children to the first day of school.
"I believe very much in family, and I think being a father is the most important thing that I am and our players are. So I asked the players to please take that time," Rhule said.
Rhule added that he'll be dropping off his daughters at the bus stop on Thursday morning. Fortunately, he said, their bus comes early.
— Bridgewater provided some comic relief when he brought up members of the offense potentially running a 4x100-meter race — including him. When asked who would complete that team, he picked Christian McCaffrey, Robby Anderson, and Curtis Samuel. But then Bridgewater joked he might fake a hamstring injury to have DJ Moore or Donte Jackson sub in for him.
"I think Teddy has a high opinion of himself in terms of his speed," Rhule said with a laugh. "I have not seen it yet, let me just say that."
— And finally, though Rhule stayed true to his word that he wouldn't be putting on pads to fire up the team, he did go through the defensive line bags on Monday morning, as seen on "Panthers Training Camp Live."
"I just walked by the D-line, and I was just having a little fun with them," Rhule said. "They were all doing it, and I said, 'I can do it — watch.' I got off the field and walked in to my phone, and guys I've coached before started sending it to me laughing at me."
"At least I didn't get hurt," Rhule added, tongue in cheek. "That's the positive thing."
View photos from Monday's practice as the Panthers put on pads for the first time in camp.