Football season is officially over. The confetti has fallen, champions have been crowned and awards have been handed out.
However, there are still a few awards to dole out this weekend – Academy Awards, that is. The 92nd Oscars take place Sunday, where Hollywood will recognize the very best movies of 2019.
But who says the Academy Awards have to be confined to just movies? We decided to put our own spin on Hollywood's biggest night by handing out our own Panthers Oscars.
It's the Oscars' biggest prize, and it's a big one for us, too. For a Panthers team that finished the year with 14 interceptions (T-8th), there are plenty of worthy nominees, but one separated itself above the rest. That's because cornerback Donte Jackson literally levitated to secure his second interception of the game in Week 3 against the Cardinals.
BEST ACTOR: Christian McCaffrey
Now, this one may seem obvious, as CMC proved himself to be the Panthers MVP on the field this season. But what you may not know is that McCaffrey's got some acting chops on camera, too. What can't this guy do? After the infamous Black Cat Incident at MetLife Stadium in Week 4, McCaffrey found inspiration to write, direct and star in his own ad for Nerf. With the help of left guard Greg Van Roten and the Panthers' own black cat, Sir Purr, McCaffrey turned a performance certainly worthy of Oscar recognition.
BEST SUPPORTING ACTOR: Colin Jones
As compelling as Van Roten's performance was in McCaffrey's masterpiece, we decided to take this award in a different direction. There's no denying the spotlight was oftentimes on CMC, but there was another rusher who didn't garner nearly as much acclaim. In Week 9 against the Titans, safety Colin Jones rumbled for a five-yard gain on a fake punt to convert a critical fourth down. Beyond his lone rush, Jones was an unsung hero on special teams for the Panthers – and he has been for years. After eight years in Carolina, the special teams captain ranks second all-time in career special teams tackles in franchise history (61).
BEST FOREIGN LANGUAGE FILM: Jamie Moreno and Luis Moreno, Jr.
In Week 5, McCaffrey defied physics and front-flipped his way into the endzone for a touchdown against the Jaguars. As impressive as the score may have been, the result was even more impressive. The Panthers' Spanish radio broadcasters Jamie Moreno and Luis Moreno, Jr. gave fans an instant classic, celebrating the touchdown in all its glory. It's one you'll have to hear for yourself to fully appreciate.
While the real Oscar for screenplay may go to the movie with the best script, we interpreted this award a little bit more literally. So, we're here to honor the best screen pass run by the Panthers this season, which came in Week 9 against the Titans. Facing a third-and-14 with just under two minutes until halftime, wide receiver DJ Moore hauled in a tunnel screen and cut his way through the defense to pick up a first down. Two plays later, the Panthers were in the end zone thanks to Moore's catch, which helped Carolina take a 17-0 lead into the half.
BEST COSTUME DESIGN: Ross Cockrell
In the modern NFL, "drip" comes above all else. Whether it's designer brands, extravagant colors or intricate accessories, selecting the game day arrival outfit has become a science. However, one Panther bucked the system this season. Week in and week out, Ross Cockrell opted for comfort over style, function over fashion. He was unapologetically himself, and that's why Cockrell is a Panthers Oscar winner.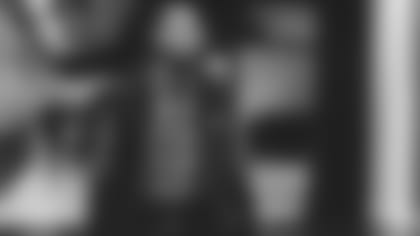 The Panthers put up 37 touchdowns this year, and with McCaffrey accounting for 19 of them it would be easy to find a way to hand him this award, too. Instead, this one's going to the lone defensive touchdown scored on the year. In Week 5, edge rusher Mario Addison swarmed Jacksonville quarterback Gardner Minshew and knocked the ball loose, conveniently bouncing it directly into fellow D-lineman Brian Burns' hands. Burns proceeded to sprint 56 yards to the endzone for the first touchdown of his young career. The play was an early exclamation mark for the Panthers defense that finished the year second in the league in sacks (53).
BEST ANIMATED FEATURE: The Madden Updates
Animation has come a long way in recent years, but sometimes, things still look like they're stuck in the past. The Panthers experienced that firsthand this year when the popular video game "Madden 20" released in August. As the game has evolved over the years, the player likeness has become uncanny – but not for everyone. Particularly Panthers players like Shaq Thompson, Tre Boston, Trai Turner and Ian Thomas. But finally, by Week 15, the Madden crew got things corrected, and the updated versions were so spot-on, we decided they deserved some recognition.